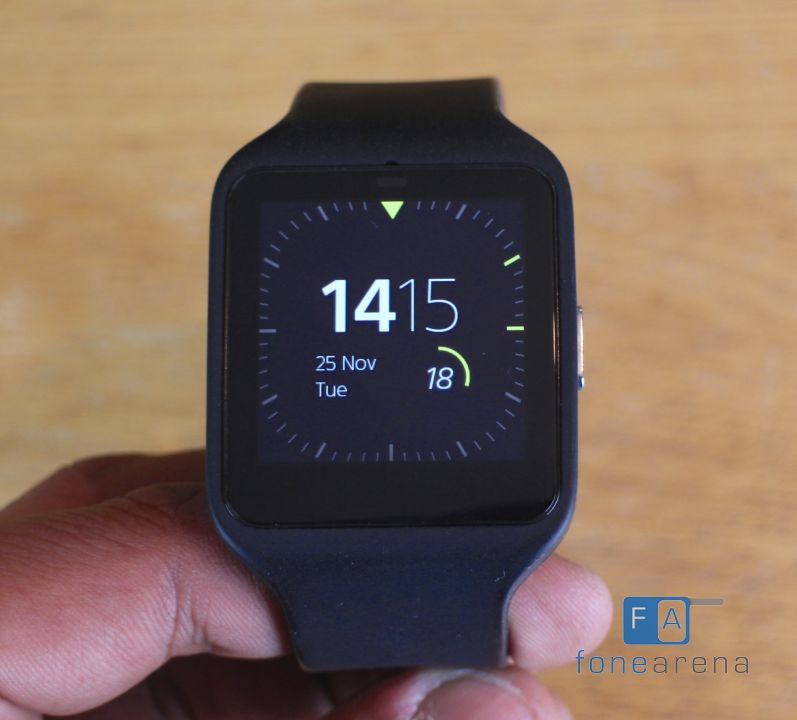 One of the biggest trends in technology at the moment is wearable devices such as smartwatches and whilst many manufacturers have begun launching their first devices this year, Sony's already on the third generation of the Sony Smartwatch range. Whilst this year's smartwatch shares many similarities with its predecessors (such as durability and overall design), it features a few major differences and the biggest of these is its powered by Google's new Android Wear operating system.
Whilst previous devices were powered by Sony's proprietary user interface, the adoption of Android Wear has meant Sony can stop focusing on the software and instead look to innovate in hardware and design. Has this move paid off or should Sony have continued using its proprietary OS?
Video Review
Excellent build quality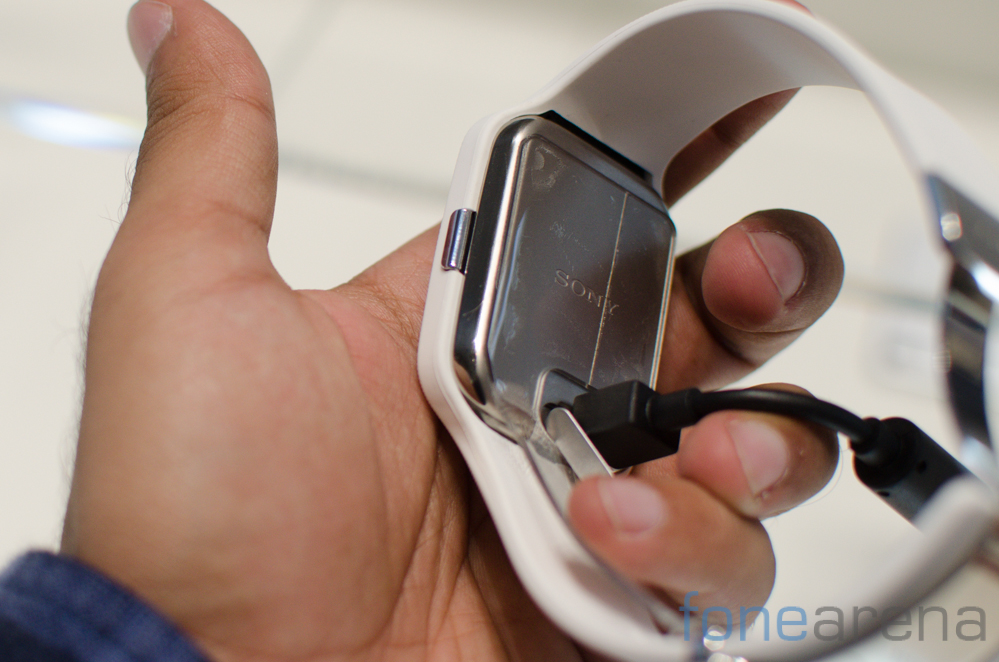 The Sony Smartwatch 3 looks just like any other smartwatch and like the Sony TalkBand, it features a removable 'core' module which in this cases houses the display and all the components of the watch including the charging port. The core is remarkably slim for such as powerful unit and can be easily popped out from the existing watch strap allowing it to be substituted with one of a different colour. It's worth noting that Sony has adopted for its own proprietary watch strap design meaning a standard watch strap won't be compatible and you'll need to buy an alternative strap from Sony.
The front of the Sony Smartwatch 3 has a 1.6 inch transflective display with 320 x 320 pixels resolution – which offers 282 pixels per inch density – which is vibrant at full brightness and legible under direct sunlight (although it can be difficult to see details on the display in sunlight). The auto-brightness feature on the Smartwatch 3 works satisfactorily and is usually quick to adapt to the ambient lighting conditions.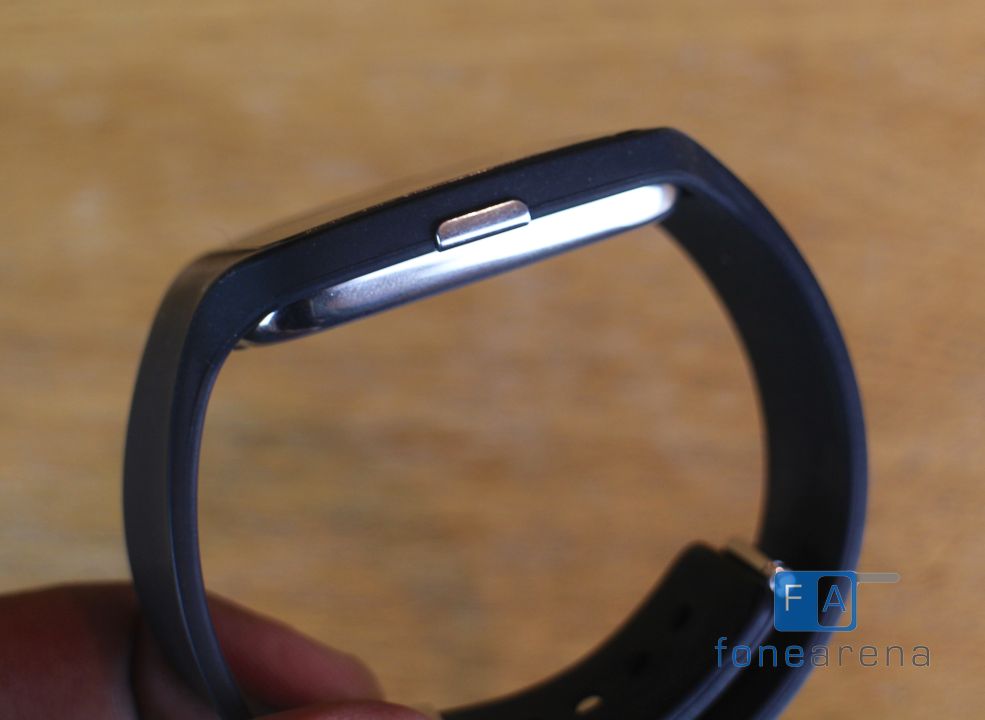 The one area where Sony have personally triumphed in smartwatch design is with the included micro USB charging on the rear of the core module. The use of a micro USB solves a personal hate of mine where you have to rely on a custom cradle to charge your smartwatch which can make them difficult to replace. The use of a micro USB port means that instead of having to carry a cradle around, you can charge the Smartwatch 3 from any computer or plug socket using the most common type of charger in the world (over 90% of mobile devices use micro USB).
Dust and waterproof too
The Sony Smartwatch 3 also capitalises on the advancements in the durability of Sony's mobile range and offers IP68 protection against the elements. This means you can use the smartwatch up to 2 metres underwater for up to two hours meaning you can take it with you in the shower or the swimming pool; this is exactly the level of protection you want from your watch and the Smartwatch 3 trumps the competition here.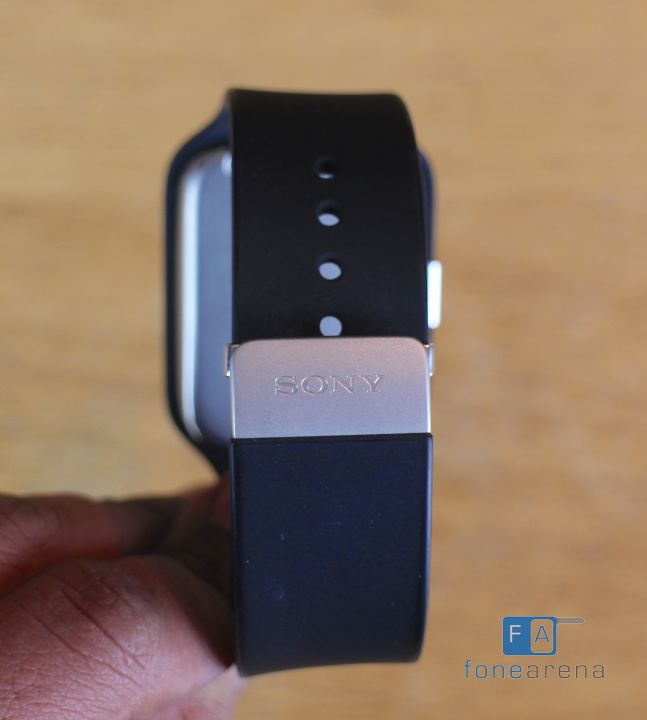 The Smartwatch 3 is surprisingly powerful for such a small device as its slim core houses a 1.2GHz quad-core processor with 512MB RAM and 4GB onboard storage. Unsurprisingly there's no way to expand this storage but it can come in handy for playing music whilst you're exercising without needing to use your smartphone. Smartwatch 3 is compatible with any Android smartphone supporting Bluetooth 4.0 or above and can be paired using either NFC or Bluetooth and the Smartwatch 3 was adept at keeping a stable connection to our Galaxy Note 4.
GPS – Incredibly useful but a battery drain
By far the most interesting feature about the Smartwatch 3 is the inclusion of a GPS sensor – which isn't present on rival smartwatches – and although useful to have, it does impact heavily on the battery life (by up 25 percent in a 60 minute session.)
At the moment, support for the GPS unit is limited to just Google's own My Tracks and as long as its connected to your handset, My Tracks is effective at logging and mapping your run for you. When in use, the GPS symbol appears at the top of your screen and we found that with the drain on the battery when using GPS, it was more practical to leave the feature switched off.
The option to use GPS – for those to whom fitness tracking is key such as an aspiring athlete – is a feature that allows the Smartwatch 3 to stand out from the competition. With future software updates bringing enhancements and bug fixes, we'd hope that Google and Sony could work together to improve the battery life when using GPS.
Android Wear will get better and better
The latest version of Android Wear comes pre-installed on the Smartwatch 3 to take advantage of features such as the GPS and offline music playback that Google added in the latest update. Unlike the Android smartphone platform, Android Wear is cannot be customised by manufacturers and the software on the Smartwatch 3 is identical to that found on other devices such as the LG G Watch R and the Samsung Gear Live.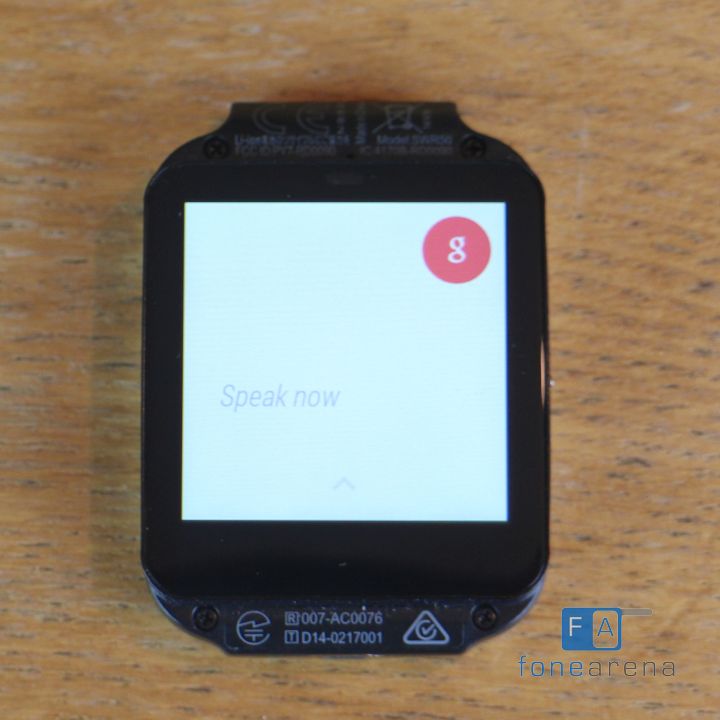 Android Wear is still in its infancy but having used proprietary platforms from both Sony and other OEMs in the past, Google's take on wearables is refreshing. The platform seems stable (which is more than can be said about early generations of Android) and the integration with Google Now is polished.
One area that is particular refreshing about Android Wear is the use of voice control and using Google's existing voice recognition servers, you're able to interact with your smartwatch easily without touch it. Voice Input is cool, natural and as long as you can get past the strange looks in public, a lot of fun; talking to your wrist does remind us of the James Bond era. Unlike voice recognition on smartphones, we found that the Smartwatch 3 still understood me when using voice input on a busy street or in a shopping centre.
Android Wear itself also offers compatibility with a large collection of applications; one key factor that affects the usability of a smartwatch is how you can interact with notifications and this is where Android Wear excels. When an app is compatible with Android Wear – if you install an app on your smartphone, the compatible Android Wear version (if offered) is automatically installed on your smartwatch – you can interact with it directly from your watch.
An example of this is Tweeting and Plume, two very impressive Android Twitter clients. When receiving notifications for either of these, you can use voice input to reply to the tweet or you can Retweet it. Furthermore, Tweetings offers the ability to favourite tweets and also browse your timeline, mentions and direct messages directly from your watch.
Another example of the close compatibility of Android Wear and Android apps is WhatsApp; as we recently revealed, WhatsApp rolled out the blue tick feature that indicates when you've read a message (unless you turn it off). When receiving a WhatsApp notification on Android Wear, you can open that message, read it in full and reply all directly from you watch. However, it's worth noting that this also has a slight downside as opening a notification in full on your watch does automatically display the message as read in the application.
The one area where we'd like Sony to improve the software is in the selection of watch faces. Currently Sony only have a couple of alternatives aside from those included with Android Wear and none are inspiring. There's a range available to download from the Google Play Store (and presumably many more will be added soon) but the selection definitely pales in comparison with our expectations.
Battery life – Not as good as promised
The Sony Smartwatch 3 features an embedded 420 mAh battery that Sony claim offers between 2 and 5 days battery life on a single charge; these are impressive boasts indeed especially as rival watches have 300-400 mAh battery capacity and last on average a day before needing a recharge.
Like smartphone claims, the Smartwatch 3 does not last the full five days which is surprising given how honest Sony were about the two-day battery life on the Sony Xperia Z3. In practical use, the battery life on the Smartwatch 3 depends solely upon your usage; for those with very low usage, you might be able to stretch it to four days on a single charge but if you play on having notifications sent to your watch all day long (like we did), it's more likely to last between one and two days.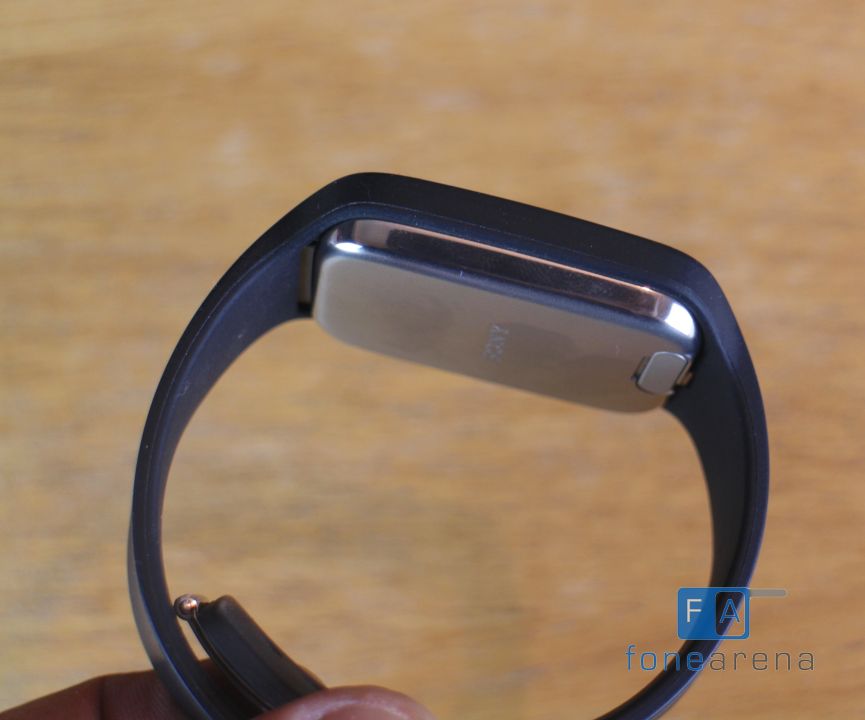 Throughout our two weeks of testing, we lasted on average 41 hours on a single charge and varied usage bought battery life from as little as six hours (when using GPS heavily) to as much as four days with very little usage. Depending on your usage, we'd expect you to get at least a day's usage and in most cases as much as two days usage on a single charge.
It's worth noting that disabling the Always-On feature can improve your battery life by as much as 20 percent but does mean you'll need to press the side button to wake your smartwatch (we found that the proximity-sensor based wake-up rarely worked properly).
Conclusion
Overall the Sony Smartwatch 3 is one of the best Android Wear smartwatches to date. It is very much a Sony product and follows the design philosophy of other Sony devices as it is stylish, very well made and packed full of functionality. There's almost every feature you could want in a watch and a few that will become very useful as Google's Android Wear platform evolves with future updates.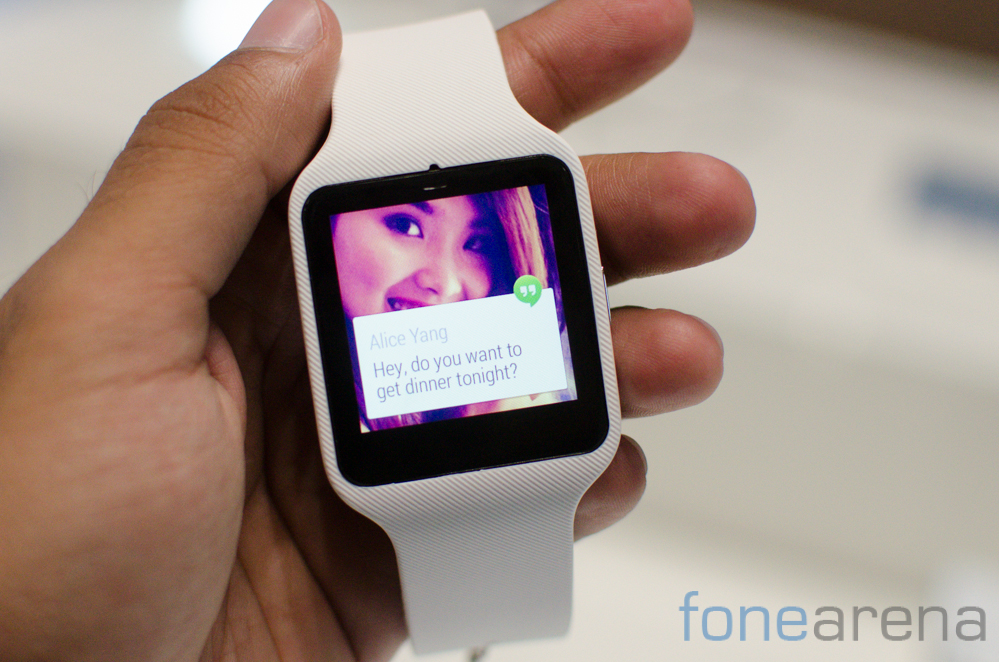 There's just one problem – the Sony Smartwatch 3 does look a little bit dull. Unlike a smartphone that can be hidden away in a pocket, a smartwatch needs to be aesthetically pleasing and Sony could definitely do with launching some vibrant watch straps (neon orange anyone?). Luckily this is an easily solvable criticism and Sony has already committed to launching alternative watch straps; we can only hope that a few vibrant colours will make an appearance.
Whilst it might be a little dull in black, there is no denying that Sony is showing its rivals how to make a wearable; the Smartwatch 3 is sophisticated, charming and delivers everything you ask of it. I've previously been weary of Android Wear and questioned whether Google could do well in the wearables market but having immersed myself in Android Wear for two weeks, I can safely say that the Smartwatch 3 is one of the best smart watches ever made.
Special thanks to Clove Technology for lending us the Smartwatch 3 for the review. Check out their whole wearables range.