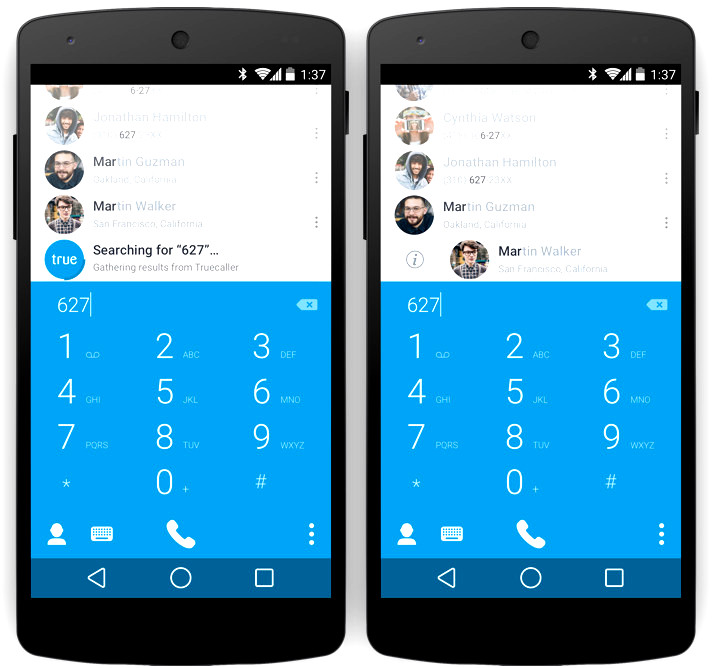 Developers of Truecaller Caller ID app has launched Truedialer, a smart dialer app for Android. It was launched for Windows Phone 8 few months back, it recently got updated with real-time Caller ID features for Windows Phone 8.1 users. It replaces the standard smartphone dialer with a new dialer that offers relevant information about contacts such as name, profile photo and more before placing a caller, since this has Truecaller technology built into the app. This requires data connection, similar to the Truecaller app.
Highlights of Truedialer
Automatically search for information about a number you are dialing from the Truecaller's database
Automatically fill in missing contact information in your call log with information from Truecaller's database.
Protect yourself from spam and scams. If the number you're about to dial has been reported by Truecaller's community as an unwanted number, you'll be warned before placing the call.
Quickly dial your favorite contacts with T9 search (predictive text)
Regarding the new app, Nami Zarringhalam, co-founder and Chief Strategy Officer at Truecaller, said,
Until now, phone dial pads have not truly improved since the feature phone days. With the same infrastructure that powers Truecaller, our ambition with Truedialer is to replace the phone's phonebook app, and be invaluable to users, just as Truecaller has changed the way people receive calls and find contact information. Truedialer's launch is a major milestone for the company from being focused on a single app. Users can expect Truedialer and Truecaller to complement each other to form the perfect phonebook experience.
Download Truedialer (Free) – Android | Windows Phone