Worldwide smartphone shipment has reached 327.6 million units in Q3, 2014 reporting a 25.2% of increase from the same period a year ago, as per a latest report from IDC.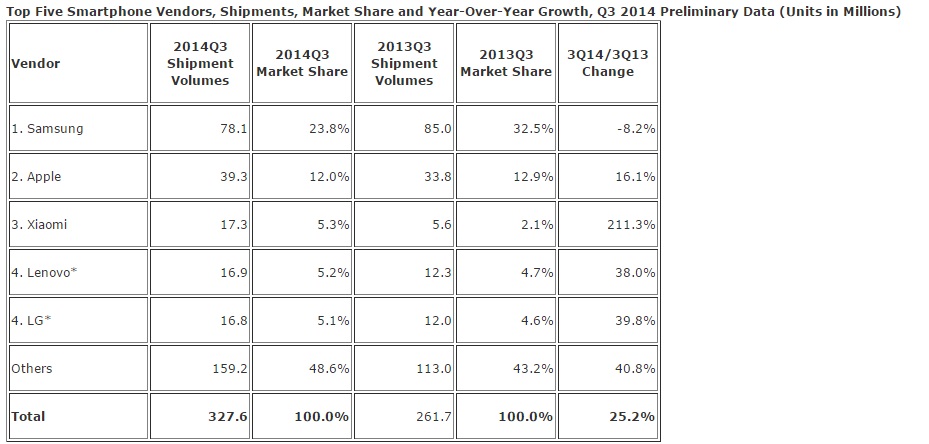 This quarter, Xiaomi has made into the list of top 5 smartphone makers. The Chinese company has become the world's third largest smartphone maker and its total shipment reached 17.3 million units. The report suggested that the company's focus on China and adjacent markets, as well as the launch of its Mi4 smartphone in August, drove the company's triple-digit year-over-year growth in shipment volumes during 3Q14.  Smartphone shipment increased by 211.3 percent to 17.3 percent from 5.6 percent
"Despite rumors of a slowing market, smartphone shipments continue to see record-setting volumes. We've finally reached a point where most developed markets are experiencing single-digit growth while emerging markets are still growing at more than 30 percent collectively,"

said Ryan Reith, program director with IDC's Worldwide Quarterly Mobile Phone Tracker.
Samsung continued to top the list of vendors with 78.3 million units followed by Apple with 39.9 million shipment including the 10m iPhone 6 and iPhone 6 Plus units they sold over the launch weekend. Meanwhile, Lenovo and LG tied for fourth place with sales of 16.9m and 16.8m units, with both companies benefiting from mid-range devices and lower price points for new releases.