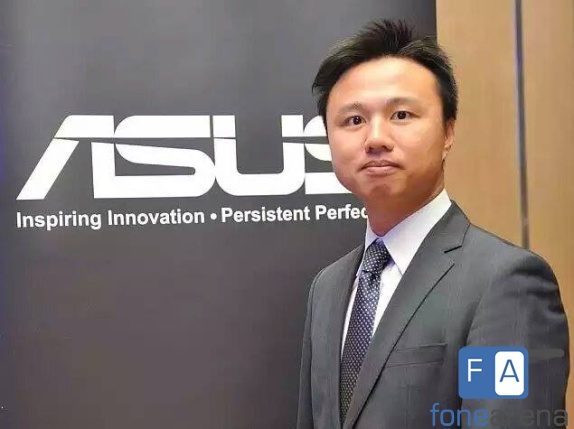 We got to spend some time with Peter Chang – Regional Head, South Asia and Country Manager for ASUS India and talk to him about the company's progress in the sub-continent.
ASUS is offering a wide range of products ranging from netbooks to smartphones and is quickly making a name for itself in the market.
With the ZenFone series of the smartphones, the expectations was running high and with limited stocks there were bound to be disappointed consumers along with happy ones. In our talk, Peter tells us how important the Indian market is for ASUS and explains the limited product availability scenario among other things.
On with the interview..
FoneArena: Peter, first of all, we would request you to present yourself for our readers. And, do spread light about the position you hold at ASUS.
Peter: I am the Regional Head – South Asia & Country Manager for ASUS India – System Business Group. My current role at ASUS involves outlaying the planning for product, pricing and positioning for all System Business Products which includes the Notebooks, the Tablets, the Desktops and the Smartphone Family. I am also responsible for syncing ASUS India Strategies with the Headquarters in Taiwan.
I started in ASUS as Product Manager and since then I have contributed to numerous divisions viz. Account Sales, Market Development Manager, Regional Director and Country Manager.
FoneArena: Peter, you joined ASUS as a product manager and you have been a part of the company for more than a decade now. The industry has evolved over time and do you think ASUS has adopted well with the changes? Is there anything that you folks could have done differently?
Peter: We have been recognized as the number-one Taiwanese brand in the Best Taiwan Global Brands Awards 2013. I believe that we have made best of decisions in terms of bringing in innovation and delivering the incredible to the users.
And yes, the industry has evolved and so have we. Rather, we have been pioneers in numerous verticals including hybrids, Ultrabooks and introduced many one of kind devices like Bamboo Series etc. and we recently introduced our ZenUI with Zenfones. We aspire to be the World's most admired leading enterprise in a new digital era and constantly surpass ourselves to re-innovate.
FoneArena: Mr. Chang, you were in charge of regions like Turkey, Israel and Africa in the past. Under your guidance, ASUS was number 1 in Turkey in 2012. How different is the Indian market from the regions you had earlier worked in.
Peter: When it comes to Indian market, it has too diversified dynamics with each region having its own market trends and preferences and certainly way different than any other market. India has become amenable to the newest of technological offerings and we are extremely elated to serve them with the best. To productively operate in a country like India, a company needs to have an all-round focus and ASUS is doing exactly that.
In India, it's both value and price that work for the customer at large. Hence you need a different strategy from the global markets. Our prime strategy has remained in offering product line considering all the aspects including security, responsiveness, and other exciting features, in order to offer the most complete and satisfying computing experience.
FoneArena: ASUS has introduced various product portfolios in India. The Notebooks and the tablets family were the first ones to get here, and now you have your smartphone business too. For a brand like ASUS, which is the key category of focus at the moment?
Peter: The key focus is always to deliver the incredible. The focus is not towards a particular category but to broaden the offerings which are all quality adept. Keeping the focus and dynamics of the market in mind, we formulate different strategies. We premeditated to proceed as per the understanding of what our users are thinking, feeling, and doing – what they value. It was essential for us to attain the disposition that we start with people and comprehend their expectations from us.
Furthermore, we don't stop until we've surpassed our consumers' expectations and if we haven't, we keep trying. We're very critical of our own work when it comes to only delivering consumers our very best.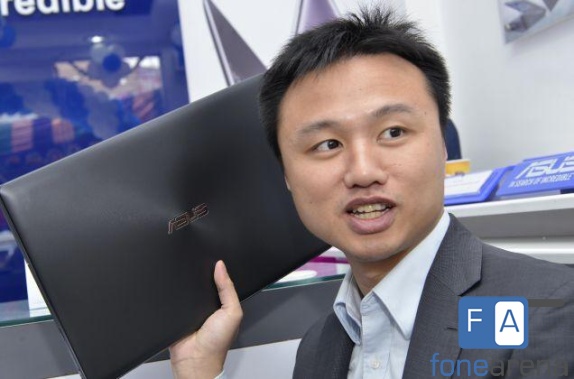 FoneArena: The mobile penetration rate in India is growing exponentially. Many brands are seeing it as a huge opportunity to tap into. Where does India rank in ASUS's global map? There is a huge time gap between the global announcement and the India launch why does that happen? And, is that scenario bound to change?
Peter: India is an important market for us. It is diverse with each region having its own market trends and preferences. The products that are introduced to Indian market are strategically well thought of in terms of the market dynamics.
Every ASUS device has defined entry scheduled across the world. It has to be in line with its availability, the region specific requirements and guidelines and much more. The time gap that you mentioned has diminished to great extent and the products are introduced within few months of launch at our HQ. As we move ahead and in view of response from Indian market especially what we have received for our Zenfone Series, we believe that the difference is set to reduce further.
FoneArena: With the introduction of Zenfone series, ASUS has already set a high benchmark in the industry. ASUS has changed the dimension of the Indian market in certain ways with its pricing.
With such a killer price tag, does ASUS make any profits? Or do you see yourself breaking with it?
Peter: As i said earlier, India is a market where a combination of quality, quantity and value plays an essential role. Bringing in the Zenfones, we wanted to deliver the best product with great value. The response we have received has proved that Indian consumers understand what's best for them and who is truly valuing them. We have had a tremendous experience with this series and has resulted us to enhance our efforts towards Indian market further.
With any new product line, investment is certainly needed. However we have also clearly worked upon the long term strategy so anything we offer will not be short term – we work towards sustaining it for longer time in order to yield profits.
FoneArena: While, the pricing has been very aggressive, the lack of stocks has more often than not left the potential consumers disappointed. Is there any timeline before when we can expect all the three smartphones to be available widely?
Peter: The company is constantly acting in order to meet the demand. The Zenfone series stocks have been refilled numerous times till date and are being restocked at regular intervals. The company is ensuring the availability of stocks in both online and offline mediums in order to amplify the reach for every existing and prospective customer.
We are confident that with the online medium and extensive presence pan India, we will be able to complement the incredible response that we have and are receiving for the entire Zenfone Series. We are making sure that we have all the units of the series available this festive season and will soon update you with exact figures.
FoneArena: The Zenfone 4 is currently available in two models and one of those variants comes with slightly upgraded hardware. Why do we even have two versions?
Peter: Our entire series has been directed to cater to users across the country with different interests and purposes. All our variants feature different screen sizes and you'll be surprised to see how both the variants as you highlighted have got great response in the market. Price is a sensitive point and even difference of a grand makes it grand. We are just focussed towards keeping our customers satisfied and we believe that this series has been so far successful in achieving that.
FoneArena: At this point in time, ASUS smartphones are sold on Flipkart. Do our readers ever get to buy them from brick and mortar stores?
Peter: Along with the successful association with Flipkart, we are now leveraging our extensive channel and exclusive stores to further augment our reach and ensuring availability. We have been very aggressive with our retail expansion and we believe it's best to leverage the same for our consumers' convenience.
FoneArena: We are aware that you are expanding your retail presence across India at a rapid pace. What is the point or strategy behind those exclusive stores when you are selling your products on an e-commerce?
Peter: eCommerce association has been for our Zenfone series. Apart from the same we have series of products across variants which have been doing great from our offline stores. Both the platforms have their own positives and are suitable as per the devices. As these platforms continue to co-exist, we would also be leveraging both for our ultimate focus of ascertaining convenience for our users.
FoneArena: How is the tablet and PC business doing in India? Do you have any sales number that you could share with our readers? And, also how many ZenFone's have you sold till date and what figures are you aiming for this quarter?
Peter: In Notebooks we have 8% share, for Tablet it is 5%, and we have had continued have double digit growth in the last few years. Zenfone Series as of in Q3, we should be able to cross 2 lakh units while the target for Q4 is more than double.
FoneArena: There are currently 3 devices in the ZenFone series. When can we expect the next-generation smartphones from ASUS to launch in India? What's the company's roadmap like?
Peter: We are working on the second generation of Zenfone series and we will update you soon about it. In view of the phenomenal demand and continued response of the buyers, we aim to be one of the top 5 vendors in India by 2015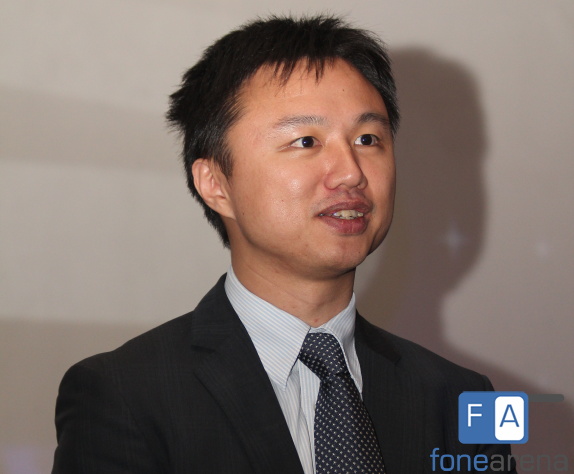 FoneArena: Android is serving your smartphones now. Do you plan to utilize other mobile operating systems like Windows Phone or Firefox on your devices?
Peter: We are now announcing the Android 4.4 KitKat update in our devices and with the ZenUI interface – it has given a great response. So, for now we are not looking at any other options.
FoneArena: ASUS recently entered a new category – wearables. The ZenWatch with Android Wear is quite impressive. How important was it for ASUS to come up with a new product like a smartwatch? Is it something to do with staying in the race or did you guys plan it before?
Peter: ASUS has always believed in constant innovation and we want to match the consumers' expectations. The wearables have been planned from a long time and we were in a phase of testing them. As the development started with wearable, we were positive that ASUS ZenWatch will receive an encouraging response in the market, hence we launched in IFA 2014.
FoneArena: When are you planning to bring the ZenWatch to India? And, what price segment can our readers expect it to fall under?
Peter: After all the segments that we have entered, Zenwatch is the most awaited segment for ASUS. With our constant efforts to avail all the latest and forthcoming technological innovations at the earliest to the Indian masses, the all new ASUS ZenWatch would be available by Q1, 2015 in India.
FoneArena: In the past you have partnered with Google to come up with two Nexus tablets. How is your relation with Google now? And, can we expect anymore ASUS manufactured Nexus products in the future?
Peter: Our association with Google is in various angles. It's not only about Nexus, but also Android phone, Android wear, Chrome book, Chromebox etc… Our association continues and you will get to see more products introduced together.
FoneArena: Service is another key aspect in a market like India. How focused is ASUS on providing quality after sale service for its consumers?
Peter: Since our entry into the Indian market with laptops and tablets, we have made sure that we proved best services in the country. We have around 150 service centres across country to help people with their queries. We ensure to attend every individual and provide best after sales service and assist them with their doubts.
FoneArena: What is your take on the Indian market? What are the challenges you are currently facing here?
Peter: Indian Market is flourishing and expanding with the dynamic behavior of the consumers. Consumers are raising their expectations with the launch of different products in different segments and are now ready to adapt to change which is the only constant. As we have currently entered into smartphone segment, we have received a great response from the Indian market. We are affirmative that we will have similar response for all our forthcoming innovations.
Well, that's it! Thanks for your time!