Yesterday, the HTC One M8 Eye was rumored to arrive next month. Today, a press render has emerged from Weibo that shows the phone, which features a 13MP duo camera instead of a 4MP Ultra pixel one on the existing HTC One M8.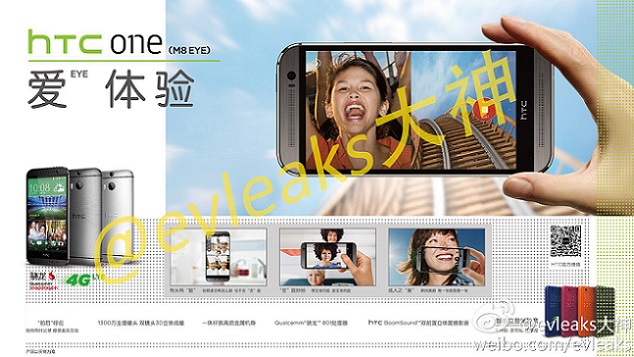 Other features of the smartphone will most likely be same as the One M8 including a 5 inch 1080p display, 2GB of RAM, Android 4.4.4 KitKat and the iconic stereo BoomSound speakers on the front. Also, HTC is keeping the 5MP front facing camera constant on the One M8 Eye. @upleaks who is a popular leakster, is claiming on Twitter that the HTC One M8 Eye will be available only in India and China. He also seconded the 13MP duo camera report and added that the phone will not support NFC.
It is being said that HTC will announce the One M8 Eye on October 8 at the 'Double Exposure' Event where the company is also expected to announce a GoPro competitor camera dubbed as RECamera that has been leaked last week.