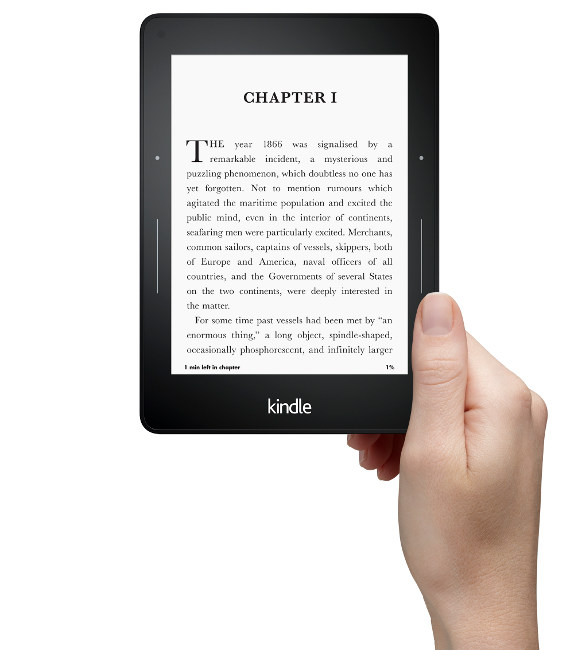 Amazon has introduce Kindle Voyage, the company's new eBook Reader. The 7th generation of e-ink Kindle has a 6-inch display at 300 PPI pixel density and the the built-in light has a new display technology with higher contrast that makes it 39% brighter. It has a new light sensor on the top so that front light automatically adjusts the brightness of the display based on the surrounding light.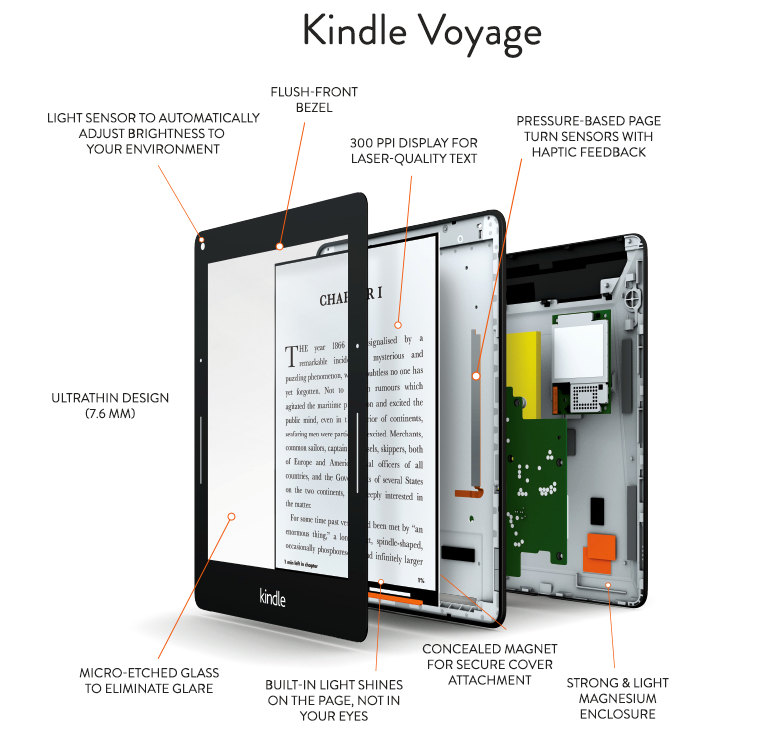 The Kindle Voyage also has exclusive flush-front display stack uses specially strengthened glass, designed to resist scratches. The glass is micro-etched in order to diffuse light so that you can read without glare. Another new feature is the new PagePress page turn feature that has a force sensor under the bezel so that you can simply rest your thumb on the bezel and turn the page by lightly pressing. It also offers you haptic feedback to let you know that you have turned the page.
The new Kindle Voyage is also slim at 7.6mm thin, which is the most thinnest Kindle yet. It weighs 188 grams, making it lighter than the Paperwhite. It has WiFi 802.11 b/g/n support and the memory has finally been increased to 4 GB, compared to 2GB on Paperwhite, so that you can store more books. Amazon promises battery life up to up to 6 weeks (wireless off). It is also available in 3G version with all these features in addition to built-in 3G and EDGE/GPRS support.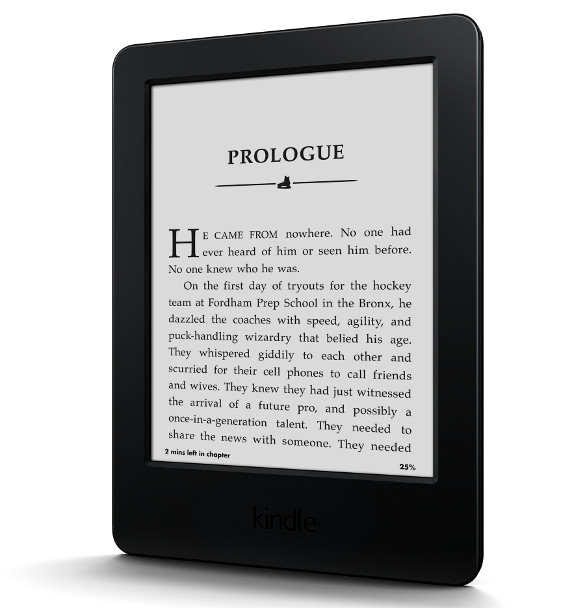 Amazon has also refreshed the $79 Kindle with Touch feature. It has the same 6-inch 1024 x 768 pixels screen, but it has 20% faster processor and has 4GB of internal storage. It comes only in WiFi variant.
The new Kindle and the Kindle Voyage are available for pre-order starting today in the U.S. The WiFi variant of Kindle Voyage starts at $199 and the Wi-Fi + 3G starts at $269. All these would ship in October.