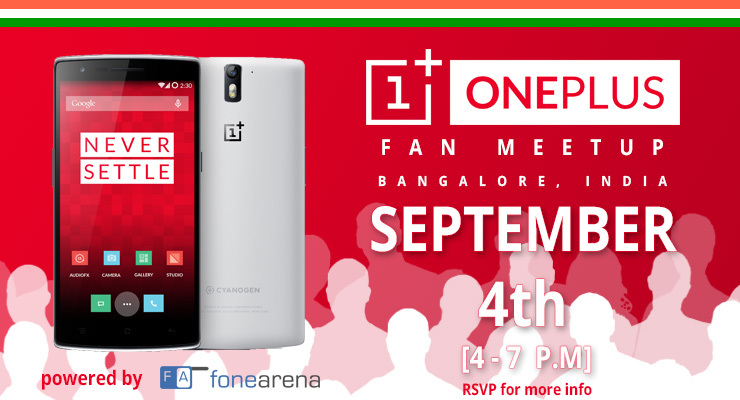 We are sure most of you guys know that the OnePlus One is coming soon to India.But guess what? the OnePlus Team is already in India! We decided to team up with them and host the first ever OnePlus Fan Meetup in India, and in Bangalore to be more precise, later this week. We know a lot of you folks already use a OnePlus One in India and many are eager to get hold of one. So, this might be your golden chance.
Carl Pei – Director, OnePlus Global challenged me to do the #IceBucketChallenge video last week and along with it, we decided to do something that's really cool and here we have the Fan Meetup!
A few members of the OnePlus Team will be present at the event along with some of the members from the FoneArena team. You can interact with all of us and also get a chance to play with the device if you still haven't seen it yet. Also, this event gives you an opportunity to get all your queries answered.
To make our meetup even more interesting and fun, the OnePlus team will be giving away some of the coolest and elusive OnePlus branded merchandise like T-shits and bags.We might also  give away a OnePlus One unit to one of the lucky fans at the venue. Doesn't that excite you? We can't just wait to meet all of you! If you are interested to be a part of our meet up, then go ahead and register yourself for our grand event in the link below and we will get back to you.
CLICK HERE TO RSVP – for the OnePlus India Fan Meetup in Bangalore on on September 4th, Thursday between 4PM to 7PM.
Note: Space is limited and we can't promise to accommodate every one, but we will make sure that the folks who RSVP first get a a chance to be our meetup.