Motorola is set to launch Moto X+1, Moto G successor and the Moto 360 on September 4 event. Meanwhile, it looks like the company is already making another smartphone that is being allegedly known as the Driod Turbo.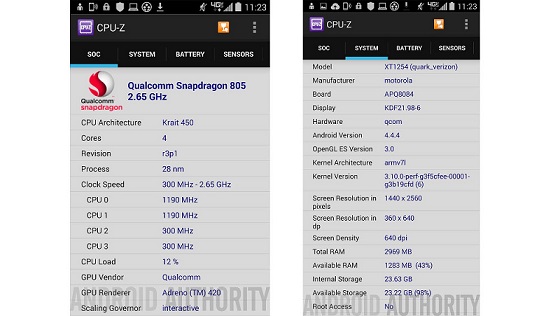 The smartphone is said to be available with Verizon Wireless as per a Android Authority who received a tip from an anonymous source. As per the leaked screenshots, the device is listed under its model number of XT1254 (quark_Verizon) and the site points out that the 'XT' has been used in previous Motorola RAZR handsets for Verizon. It must be noted that Motorola and Verizon had previously teamed up to introduced the DROID ULTRA, DROID MAXX, and DROID Mini in July 2013.
The leaked screenshot further reveal specifications of the Motorola phone such as 2.65GHz quad-core Qualcomm Snapdragon 805 processor, an Adreno 420 GPU and a powerful 3GB of RAM. There is also a mention of 32GB internal storage but no word of microSD card slot. The smartphone has a Quad HD display with a resolution of 2560 x 1440 and a 360 x 640 DPI, which the site claims would indicate the DROID Turbo is likely using a 4.59-inch display. A 20MP rear and 2MP front facing camera is mentioned in the screenshot. Finally, the device will run on Android KitKat 4.4.4 and also shows a 4G LTE logo in the notification panel.