India's smartphone market has recorded a 84 per cent year on year growth in Q2 2014, as per the latest report from International Data Corporation (IDC). Country's smartphone shipment stood at 18.42 million units registering a quarterly growth of 11 per cent.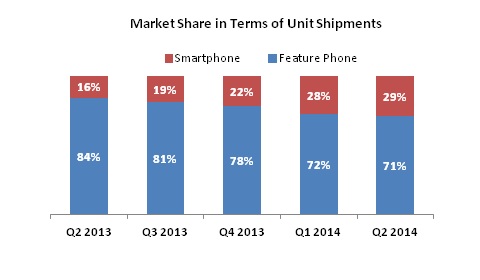 The overall India mobile phone market (smartphones and feature phones) stood at 63.21 million units in the quarter, witnessing a five per cent quarter-on-quarter growth against Q1, 2014, according to a report by IDC. However, the report suggests there is still a lot of room for growth for smartphones as 71 percent of the market is still feature phones.
"IDC observes that a new entry level price point is being breached by the Indian home grown vendors every quarter. These devices are not equipped with high end specifications and RAM is typically 256 MB. This ultra low cost segment may not sound a viable option to the repeat buyers, but it works well on the targeted segment"

said Karan Thakkar Senior Market Analyst at IDC India in an official release.
IDC said that the sub $200 category of the smartphone market is increasing in terms of the shipment share as the contribution from this category stood at 81% in Q2 2014. With the influx of Chinese vendors like Xiaomi, Oppo, Gionee and Mozilla's plans to enter the smartphone category at $50 level, the low end segment of the smartphone market will become crucial in the coming quarters. The shipment contribution of 'phablets' (5.5 inch – 6.99 inch screen size smartphones) in Q2 of 2014 was 5.4 percent of the overall smartphone segment. The phablet category grew by 20 percent quarter-on-quarter in terms of sheer volume.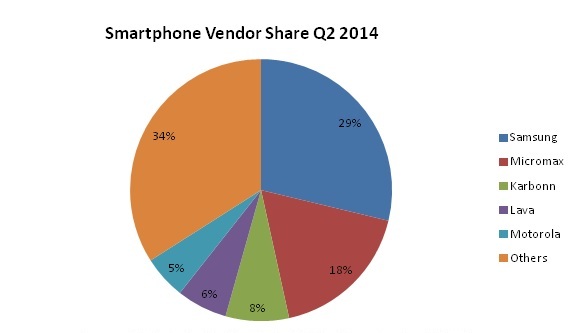 Giving insights about smartphone vendor market share in Q2, IDC stated that the Indian handset market is currently led by Samsung (29%) with Micromax (18%) at No. 2.  While Karbonn, Lava and Motorola took 8%, 6% and 5% share receptively.
"Smartphone market is expected to more than double between now and 2018 and much of this is expected to be driven by the migration from feature phones to smartphones. The user expectations are simple i.e. best-in-class user experience at affordable prices. With the introduction of Mozilla and Android One, the sub 200$ segment is anticipated to become even more appealing",

said Kiran KumarResearch Manager, Client Devices, IDC India.