Xiaomi unveiled MIUI 6, a major upgrade to MIUI ROM at an event in Beijing on the fourth anniversary of MIUI. This bring a completely new flat user interface that is simple and is also colorful. It has new notification center with toggles for music control panel, notifications for new messages, missed calls, reminders, app notices, and more.  It has smart blocklist and visual menu for voice service calls.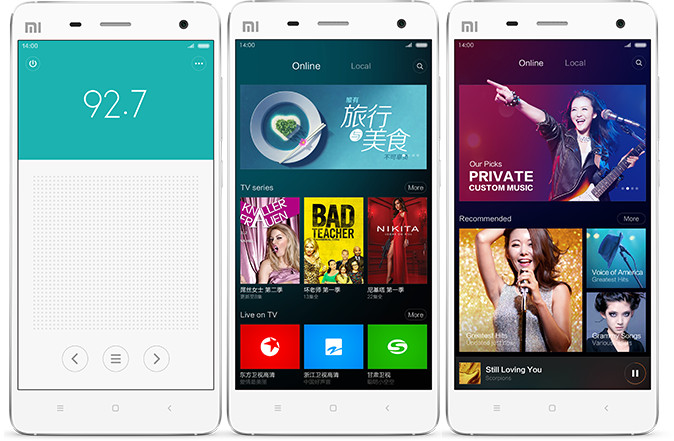 Features of MIUI 6
Access the Notification Center from any screen, including the lock screen.  Just swipe down and swipe up to call out the global search panel.
Receive subtle prompts for less important notifications when you're in the middle of a task, but distinct alerts for more important notifications.
Beyond managing tasks on Calendar, #MIUI6 allows you to subscribe to your interests ranging from games, holidays, to TV shows and more.
Identify, mark or block unwanted calls with several detailed options.
One-click access to customer service making voice service calls easy. Currently supports services by China Mobile, China Unicom, China Merchant Bank, Alipay, SF Express, and almost 50% other used service numbers.
Redesigned Mail app to put all mails with the same subject into one folder so that you can see what's new at a glance. An attachment list also allows you to view and save attachments directly.
Swipe on on your screen to turn swap the camera facing.
MiCloud backs up photos over Wi-Fi. Add date and location as labels for photos taken or create a shared photo stream with your family and friends
Over 5,000 beautiful MIUI themes designed by renowned designers
All-new Mi Space also breaks the icon's traditional grid layout to bring new ways for you to interact with your phone. This allows the interface to access your favorite game or other platform.
Mi Life lets you explore new restaurants, purchase movie tickets, or book hotels and the MIUI Directory lets you track packages, make medical appointments, or pay phone bills.
Comes with power-saving modes to adjust the standby time of your device.
Built-in Permission in MIUI 6 prevents unauthorized apps from accessing your data without your permission.Virus Scan helps you check and kill virus before installing any app.
Built-in Clean Master app, Xunlei download engine and Data Usage counter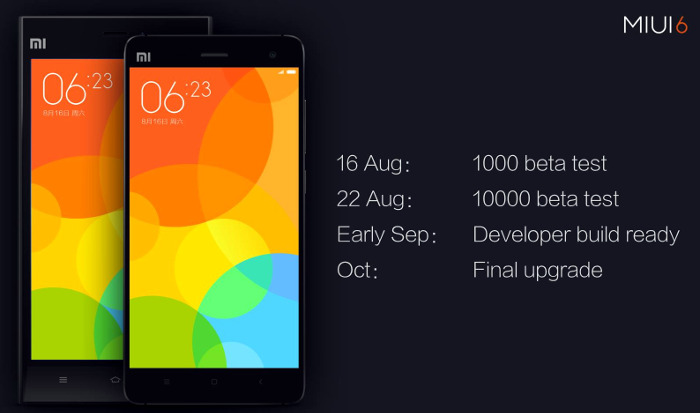 The MIUI 6 will be tested by 1000 beta testers, and it be tested by 10000 by August 22. The MIUI 6 developer version will be available for public in early September. By the end of 2014, Xiaomi Mi 2/2S/2A, Redmi devices and Redmi Note will get the update. The Xiaomi Mi 3 and Mi 4 are also expected to get the update later this year.
Via: MIUI, MIUI Forum