Acer has launched Chromebook 13  the world's first Chrome OS-based laptop with an Nvidia Tegra K1 processor.  It is also Acer's first Chrome OS laptop with a 13.3-inch display. Photos and specifications of the Acer Chromebook had surfaced in June.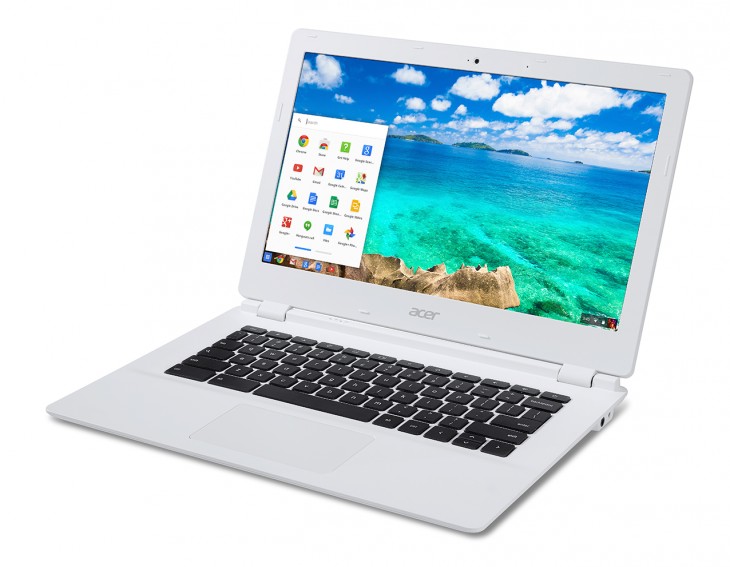 The Chromebook sports a greyish-white plastic chassis, a large trackpad and a black full-size keyboard. It is is fanless and weighs 3.31 pounds and measures 0.71 inches wide. Chromebooks are typically powered by Exynos or Intel Pentium processors; with 192 "supercomputer-class graphics cores,".The Nvidia Tegra K1 is a powerful mobile quad-core processor with strong performance. It is particularly good for graphics with the 192-core GPU.
Acer is promising up to 13 hours on a single charge, which should keep you running for most of the day. Other specifications include  two USB 3.0 ports and an HDMI port along with support for 802.11ac Wi-Fi, and 2×2 MIMO antenna. The Chromebook 13 is available in two screen configurations- 1366 x 768 display and a full HD, 1920 x 1080 display.
The Chromebook 13 is available for preorder from Acer starting today, with shipments expected for September. The lower-resolution model sells for $279, with a 16GB SSD and 2GB of RAM. While you can get the the full 1920×1080 display Chromebook 13 for $299.