Microsoft owned Nokia was rumored to be working on a selfie centered smartphone under the codename 'Superman'. First images of the phone with 5MP front facing camera have surfaced in a new leak.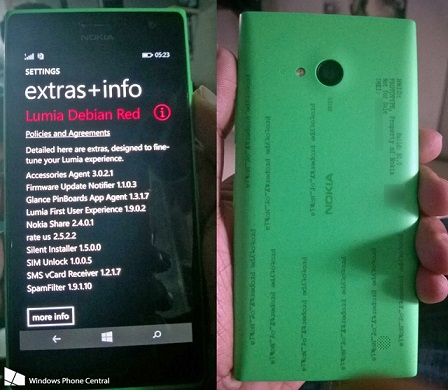 The photo of the Lumia 730 or the selfie phone were obtained by WP Central that shows the phone in green color. The same color scheme can be spotted on previous Lumia devices. The phone will sport a 4.7-inch 720p touchscreen and a 2000 mAh battery, said the report. Other specifications of the internal hardware of the phone are not known yet.
The device is also apparently running a new version of Nokia specific software, called "Lumia Debian Red". According to WP Central this could be company's version of the Windows Phone 8.1 Update 1 that is expected to be available to the general public later this year. Also, this might be a codename for the update as firmware names go in alphabetical order, starting with A for Amber, Black, Cyan and now D for Debian Red, said the report.
It isn't clear what the new update will add in terms of features. The Lumia 730 looks like a successor of Lumia 720. Last month Lumia 830 was spotted with 'Nokia by Microsoft' branding. Meanwhile, earlier this week, Microsoft released first Windows 8.1 update for developers.
via:WP Central