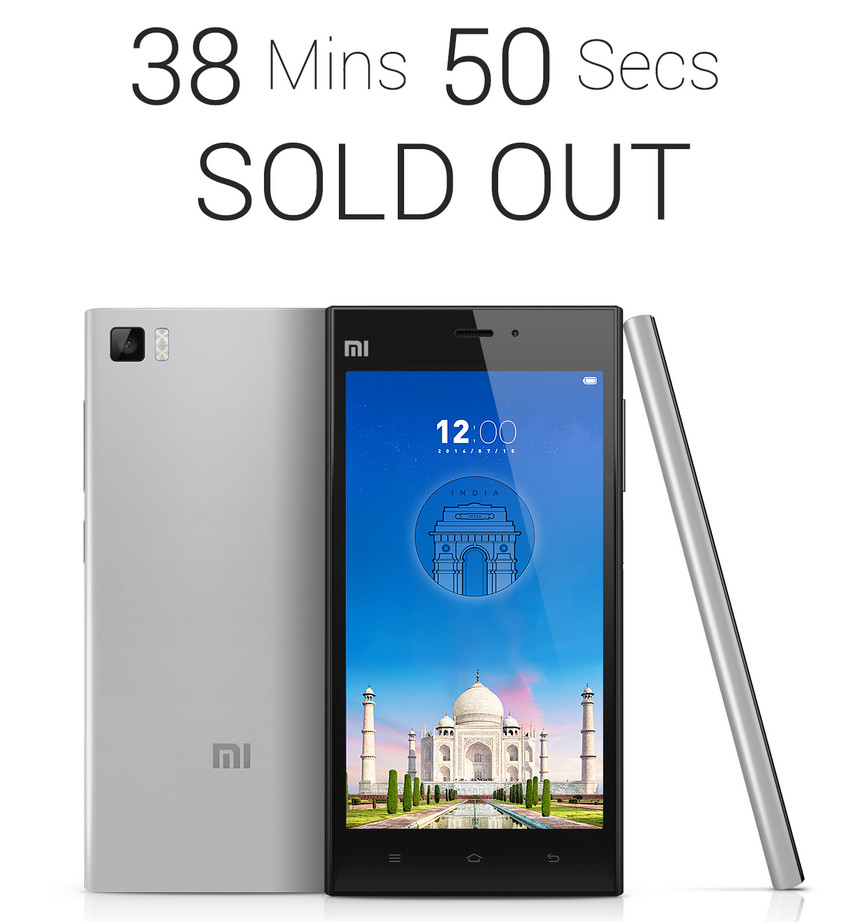 Xiaomi launched the Mi3 smartphone in India for Rs. 13,999 last week. It went on sale for priority customers and Flipkart first customers yesterday. Today it went on sale for everyone those who have registered till yesterday, 21st July. Xiaomi India already announced that only limited stocks would be available and over 100,000 people have registered for today's sale. Few minutes back it tweeted that all the units of Mi3 has been sold out in 38 minutes and 50 seconds.
Most of the users were unable to buy the smartphone due to high traffic. We are working hand in hand with Flipkart to improve the buying experience, said the company. It has already started taking registration for the next Mi3 sale till 28th July and the sale begins 29th July 12PM. Remember, only limited stocks would be available even next week.
Hope Xiaomi would stock more units for upcoming sales. Check out our Xiaomi Mi3 review, if you are planning to get the phone.
Update: Xiaomi and Flipkart have released official press note regarding the sales of Mi 3 in India.
Commenting on the sales, Manu Jain, India Operations Head, Xiaomi, said,
We are pleasantly surprised and delighted with the overwhelming response we have received from our India fans. We would like to apologize to our fans who couldn't purchase the Mi 3 today. We are responding immediately to the commitment shown to us by our customers by focussing on the following – we are working with Flipkart to ensure the experience of purchase is improved further and technical issues are resolved. We know some of our fans must be disappointed. We want to make it up to them. Hence for the next sale on July 29th only, we will ensure that customers who missed out on today's sale are automatically registered to buy a Mi 3 on 29th. We underestimated the demand we would receive and we are taking steps to ramp up the supply as soon as possible. That being said we are committed that over the next few months, every fan in India will get to own a Mi device
Michael Adnani, VP-Retail and Head- Brand Alliances, Flipkart said,
It is very encouraging to see the scale of response towards Xiaomi Mi3 that is exclusively available on Flipkart. We were confident of the success of Mi3 in India. It has done extremely well internationally and we naturally wanted to be able to bring this world-class device to our customers in India. We are working with Xiaomi to ensure that the purchase experience lives up to our Flipkart promise of excellence.