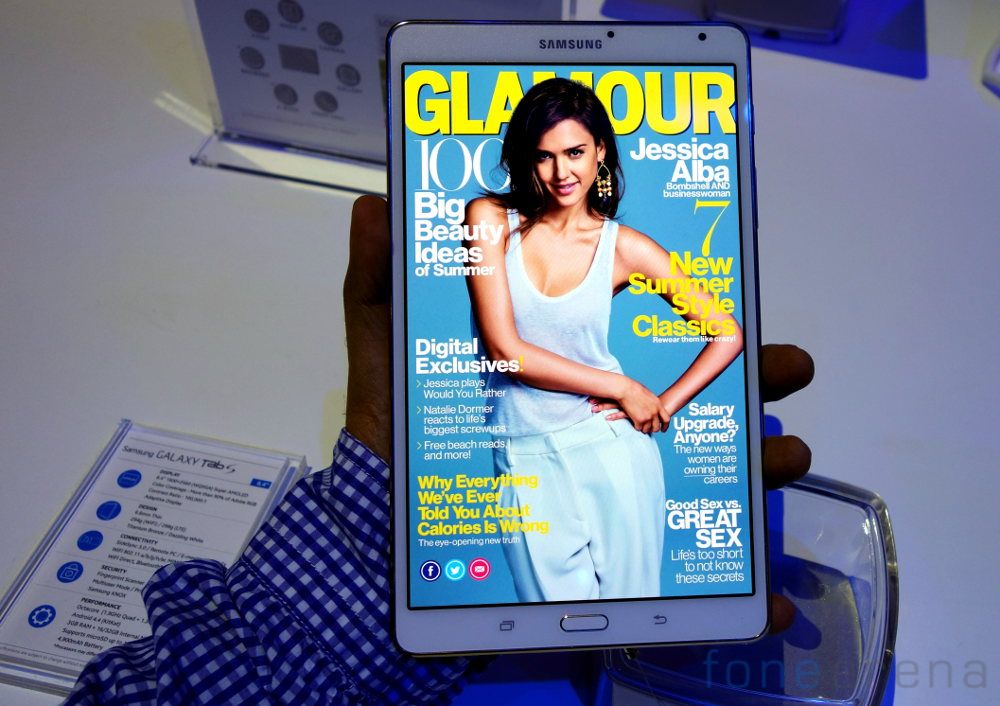 Samsung unveiled their new Tab S products in New York and surprisingly, they didn't take much time to bring it to India either. There were two Tab S devices announced, S possibly standing for Super AMOLED, because, lets face it, these new Samsung tablets are all about the screen. In India, the Tab S 8.4 and the Tab S 10.5 were launched for Rs. 37,800 and Rs. 44,800 respectively, catering to the premium market segment with mobile-only versions, while in the US, Samsung has squarely targeted the Tab S devices at iPad Air and retina iPad mini price points with WiFi-only versions. These are clearly decisions driven by market necessities and strategy, so with that in mind, we took a look at the mini version of the Tab S first to detail our first impressions of the Samsung Galaxy Tab S 8.4 –
httpv://www.youtube.com/watch?v=EyjcfK6DXto
The first ever takeaway from the Tab S devices is obviously the screen, more so on the Tab S 8.4. Even in the header image, you can see how the image pops out with excellent colours and brightness. This is completely legit in person too, and this picture might do more justice –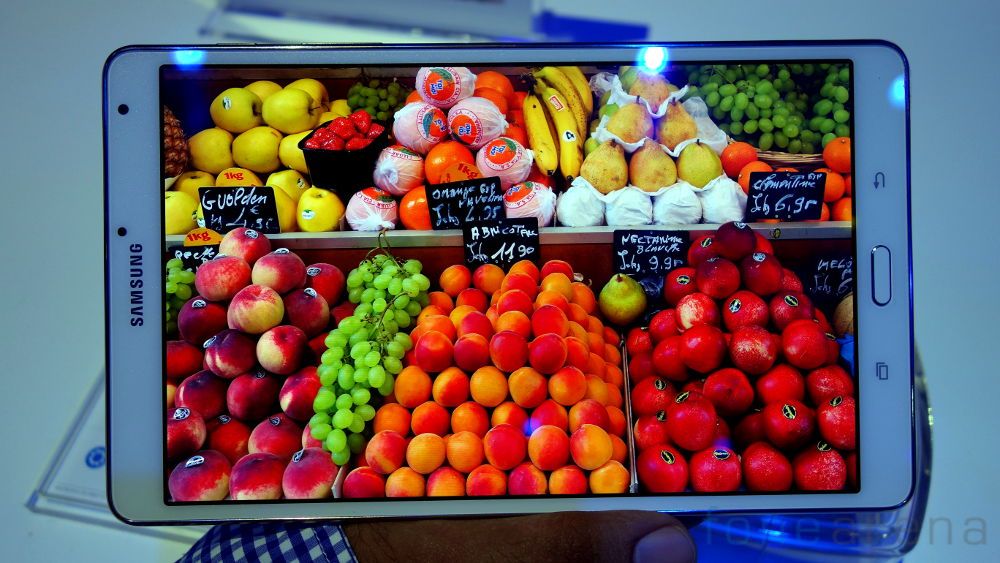 For a mini tablet, the sharpness is top notch (2560×1600 at 8.4″) and the saturation levels are surprisingly not as high as the usual AMOLED screens, however you do notice its brilliant colours. Apart from this, we noticed that the design has trickled down from the Samsung Galaxy S5, with a perforated finish on the back. Honestly, we feel this is much better than the glossy plastic the company used to use, but still is not as good as the Note 3 when it comes to grip or finish. However, it does feel very premium and not cheap at all, with even the fake brushed metal on the sides getting a decent facelift. The colour scheme followed here is white and champagne gold, which is, again a direct inspiration, which is a good thing, we'd say.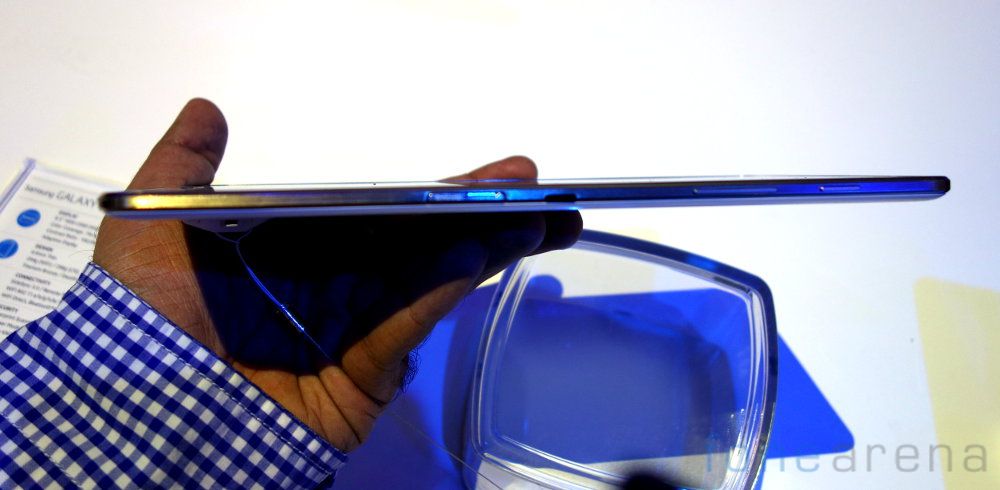 At 6.6mm, the device is extremely thin and very light too, weighing just 296g. Considering the form factor, which is mandated by a 16:10 screen, the Tab S 8.4 feels a lot easier to hold with a single hand, and the thin bezels help a lot in this case. In an effort to pack every possible thing in, Samsung has unfortunately added calling and traditional SIM-based functions to this tablet, hence making an ear piece available on the front. It'd be silly to make calls by placing it to your ear, but sadly that's something the market demands, at least here in India, Samsung says. On the inside, the device is powered by an Exynos Octa core chip, which is as powerful as you'd expect. We already have run some benchmarks for you, so do take a look if interested in finding out what it's like.
We'll be bringing you more on the Tab S devices on our blog and on our YouTube channel, so stay tuned and let us know if you have any questions, in the comments section below.