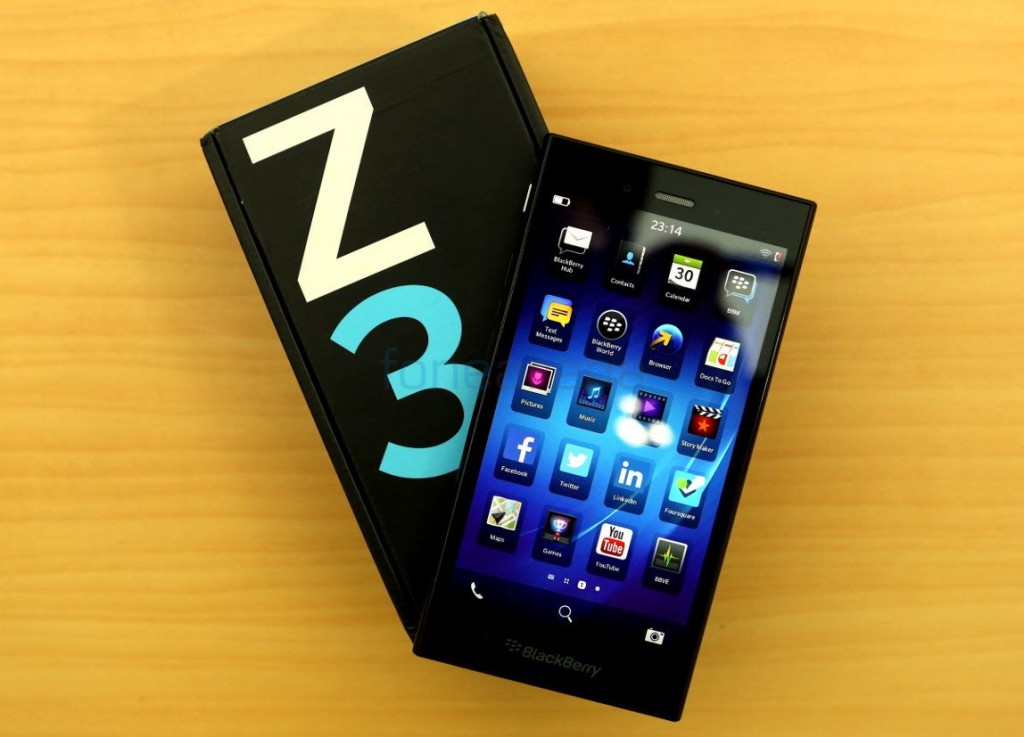 BlackBerry launched the BlackBerry Z3 in India recently. It is the company's first smartphone as the result of its 5-year Foxconn partnership. After the BlackBerry Z10 and the Z30, this is the third full touch BlackBerry 10 smartphone. The BlackBerry Z10 that was launched for Rs. 43490 in India last year got a price cut to Rs. 17,990 earlier this year, which made more people try out the BlackBerry 10 platform. Priced at Rs. 15,990, the BlackBerry Z3 has a large screen and a slightly larger battery compared to the BlackBerry Z10. Is it worth the price? Let us find out in the complete review.
Unboxing
We unboxed the BlackBerry Z3 earlier the month, check out the unboxing below.
Box Contents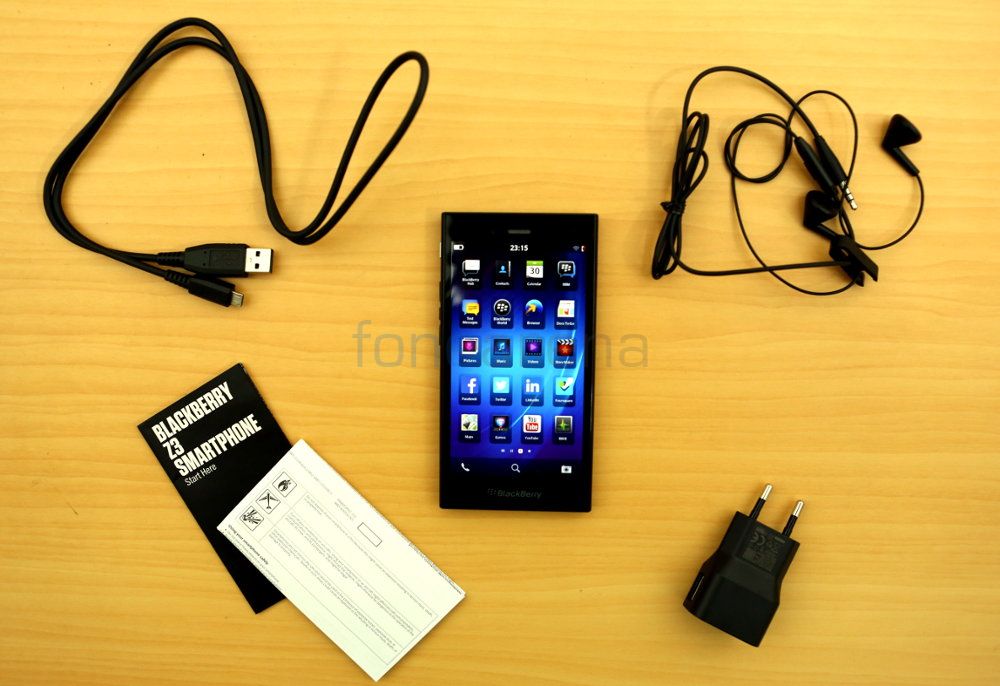 The box contents include,
BlackBerry Z3 smartphone in black with built-in 2500 mAh battery
micro USB cable
2-pin charger (5V-850mA)
Earphone with mic
User manual
Video Review
Hardware and Design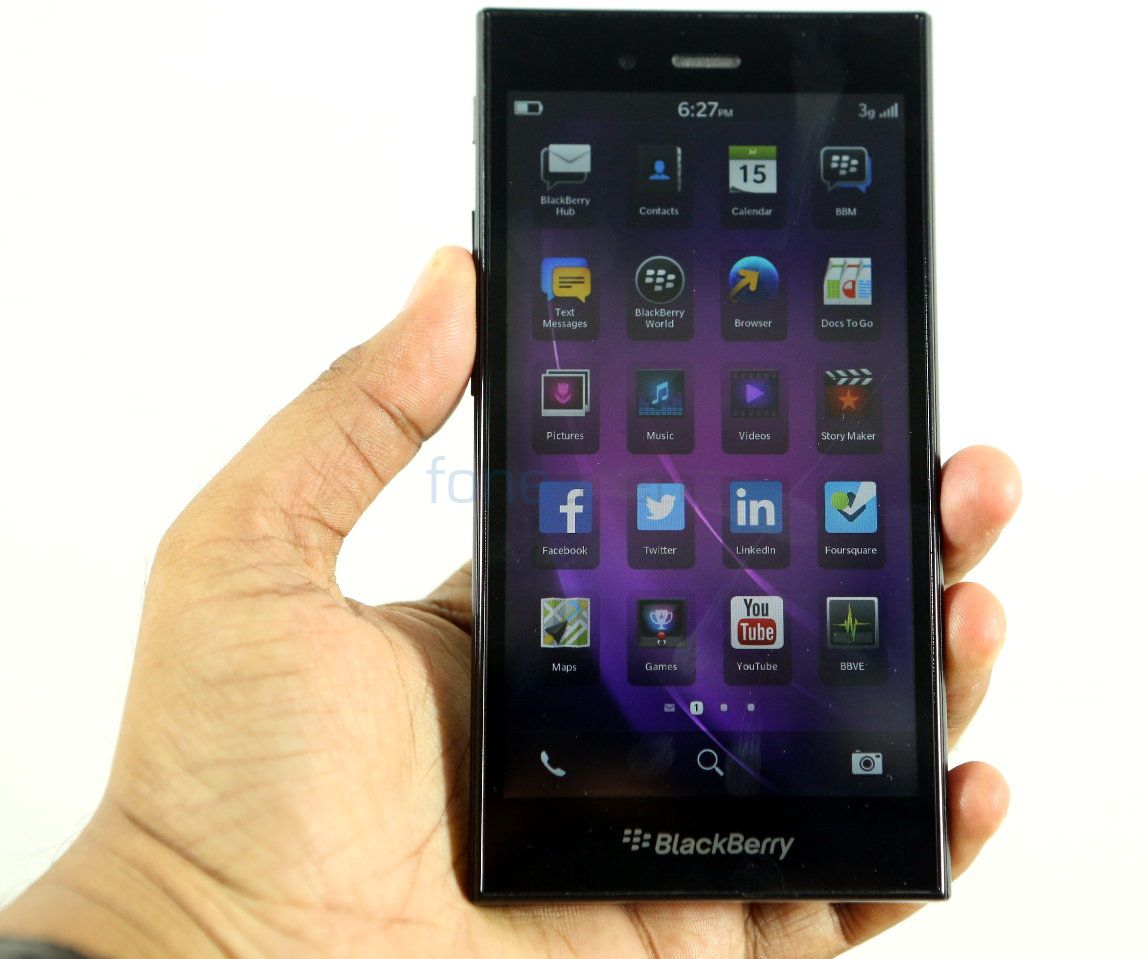 The phone has a 5-inch IPS display with a pixel resolution of 960 by 540 with a pixel density of 220 PPI. The display is bright, has good viewing angles, but it is too glossy and is prone to fingerprints. It has an ambient light sensor, but it doesn't have auto brightness option, hence the sunlight legibility is not the best. Display is good in indoor environment, even when the brightness is low, but you have to increase the brightness manually when you move to bright outdoor environment to view the content properly.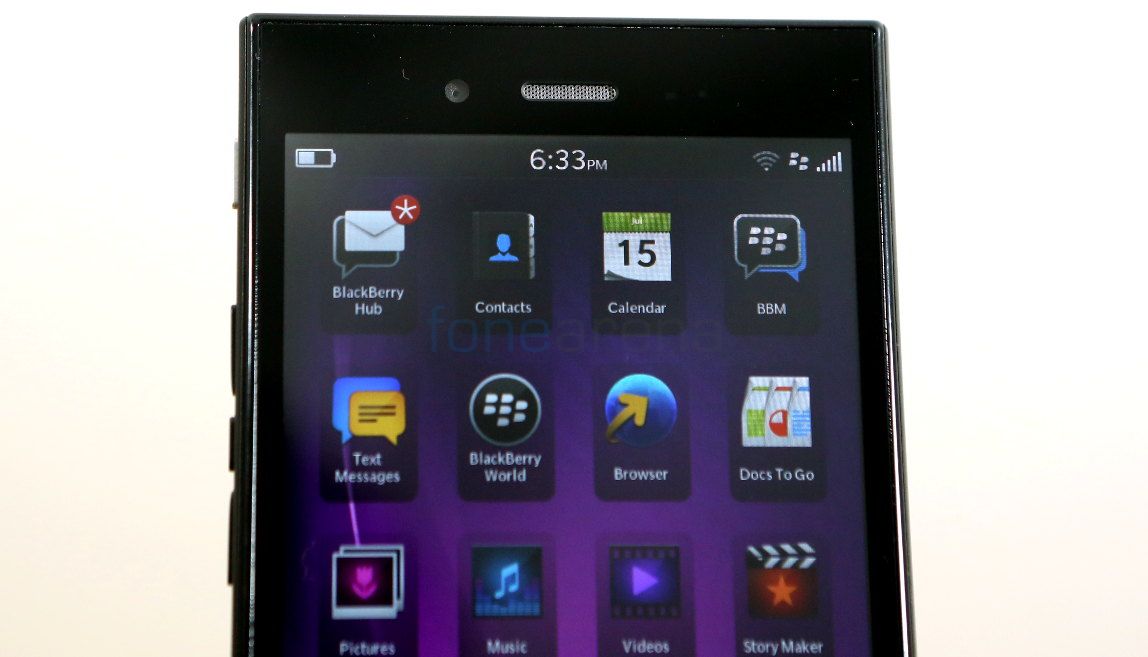 There is a 1.1-megapixel camera on the top, next to the earpiece. It can record videos at 720p HD resolution. There is a tiny LED notification light on the other side of the earpiece. It also has a proximity sensor and an ambient light sensor.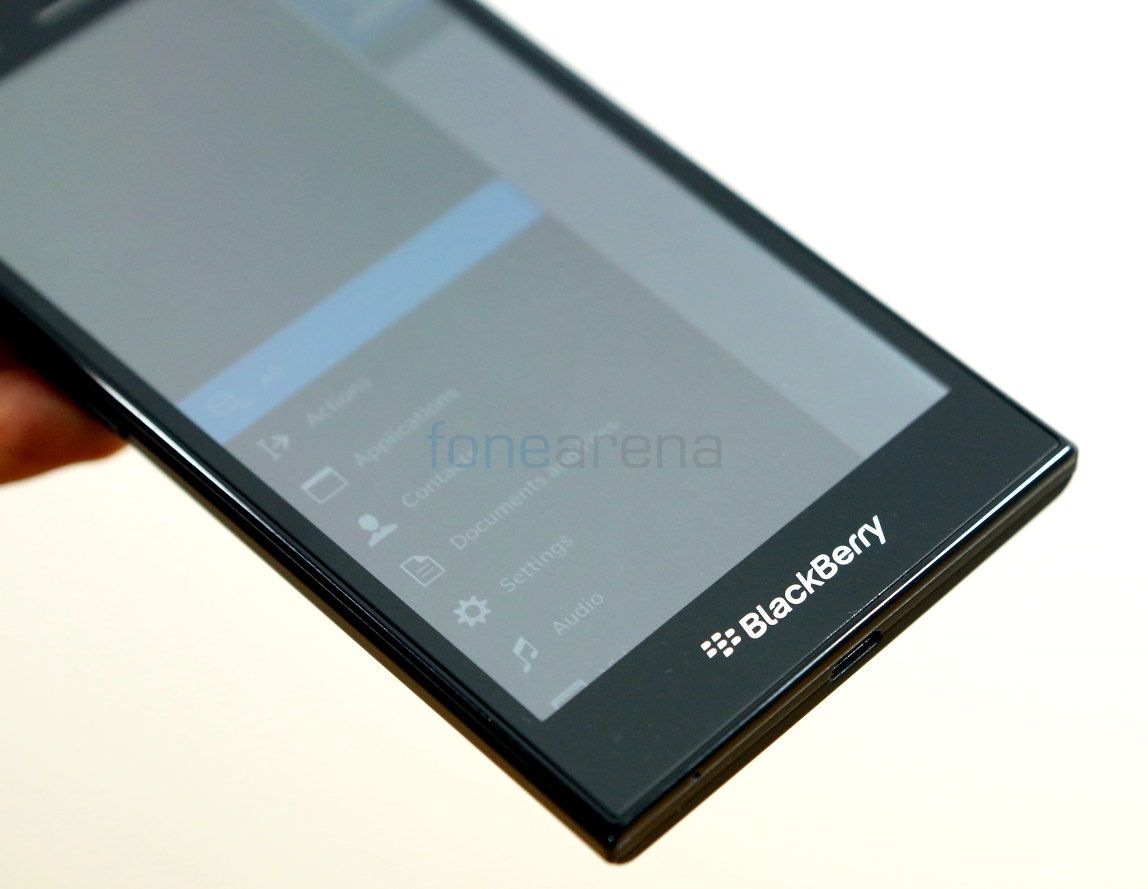 Even though the smartphone doesn't come with any buttons below the display, there is a small bezel with BlackBerry branding.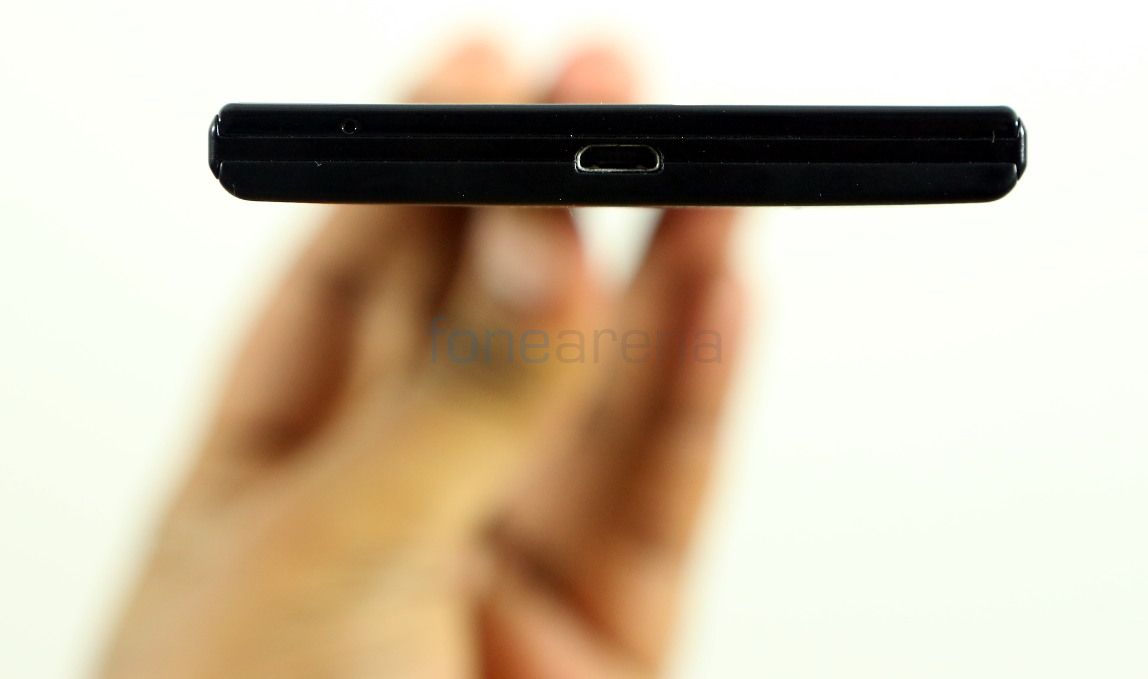 There is a tiny microphone hole on the rim. The micro USB slot is present below that.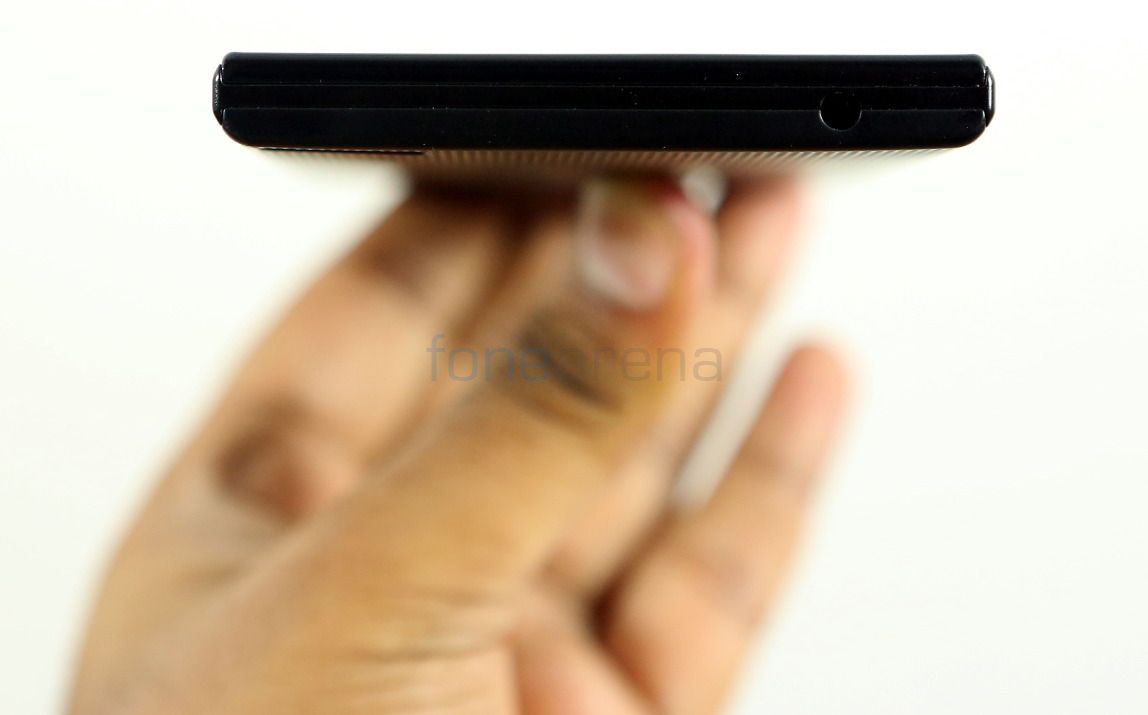 The 3.5mm audio jack is present on the top.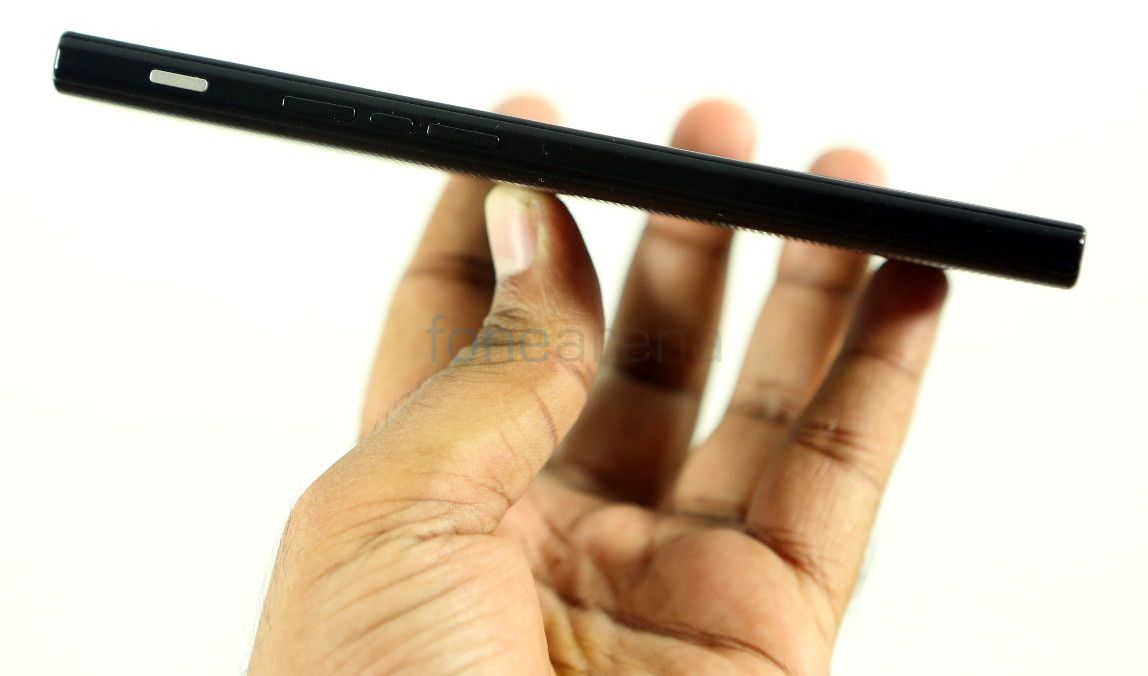 The power button is present on the left side along with the volume rockers and the mute key is present between them. Long pressing the mute key launches voice control. The smartphone is 9.26 mm thick.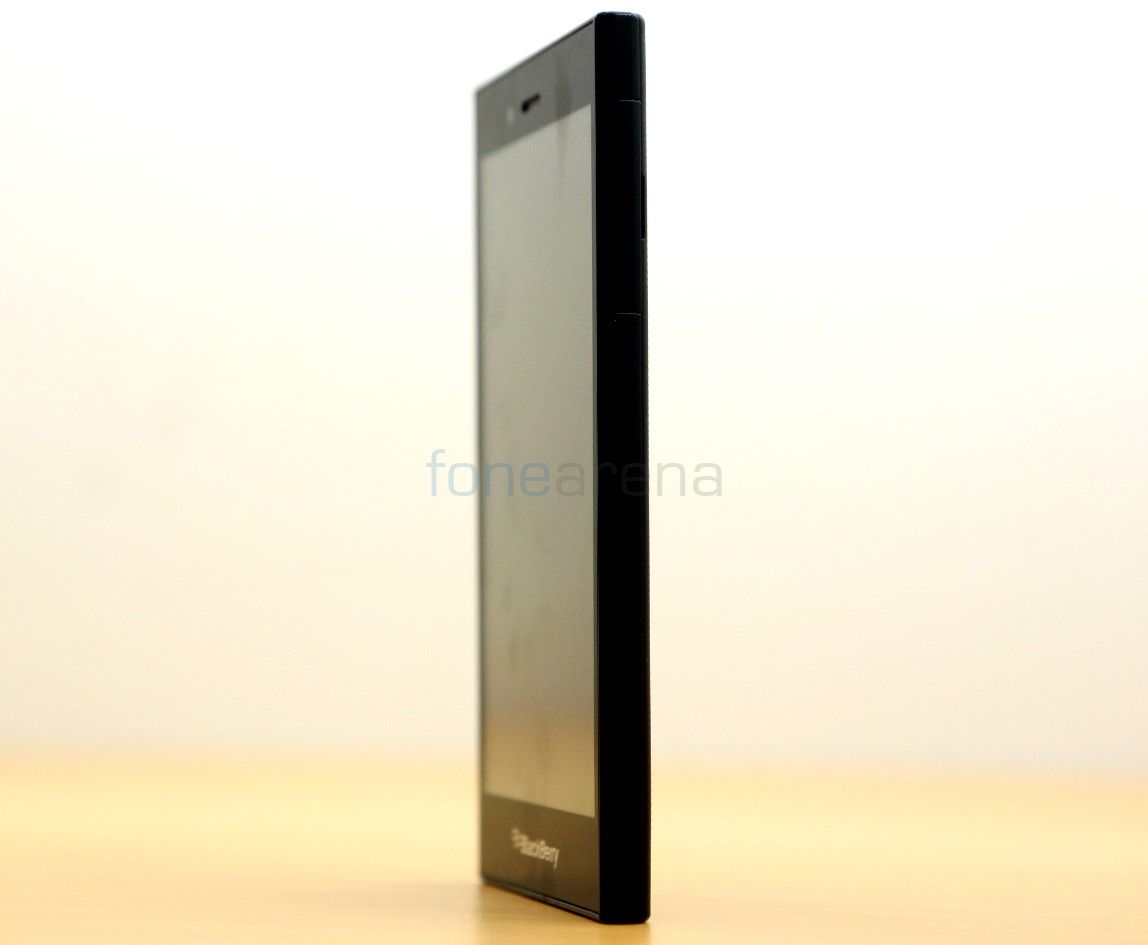 Even though the design of the smartphone is not that impressive, since it looks like a rectangular slab, it has solid build quality. Since the back cover is not removable, the SIM and memory card slots are present on the right side. The sides are made of plastic.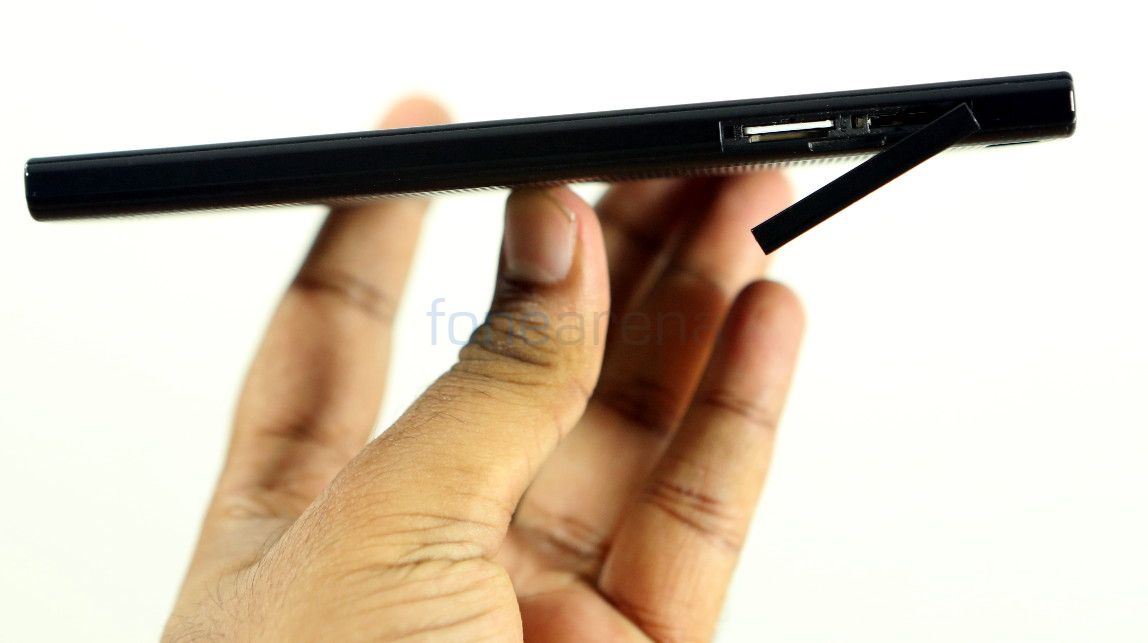 The micro SIM card and the microSD card slots are present under the plastic flap. There are chances that it might come off with frequent use, since it is connected by a small plastic wire.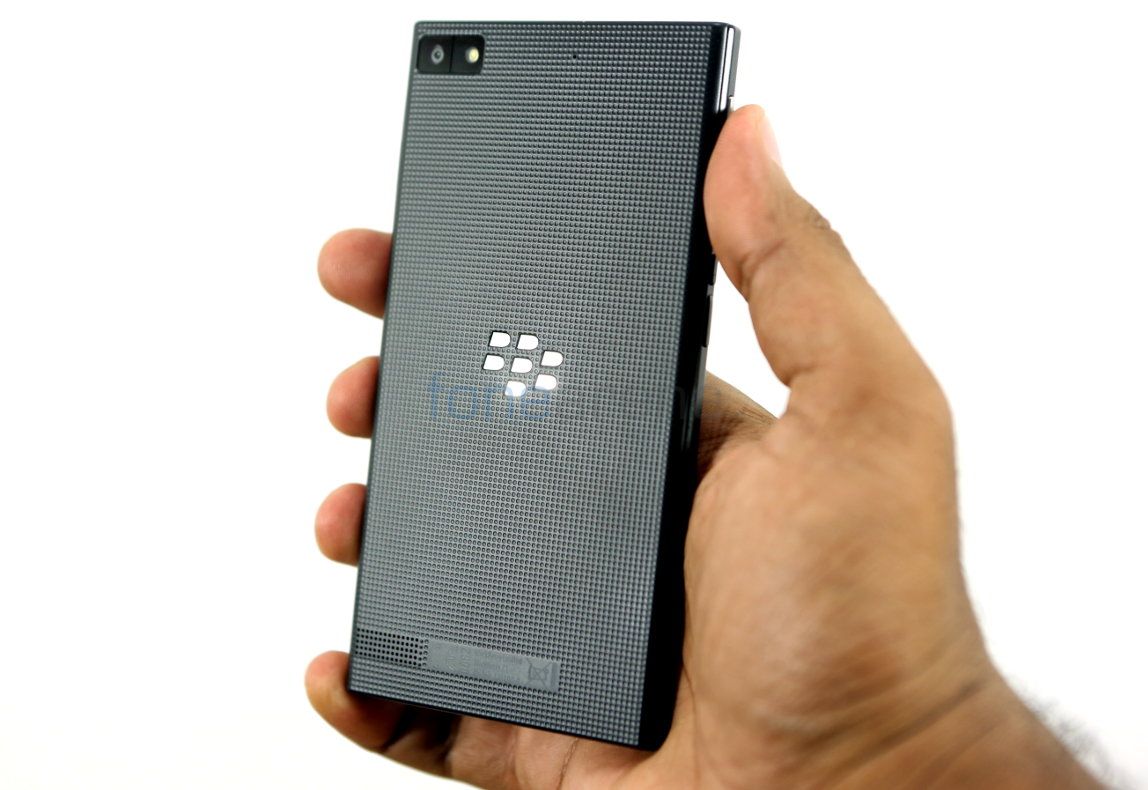 The sealed back cover has tiny patterns that offers better grip. It is also highly durable since it doesn't get scratched that easily and doesn't attract dust.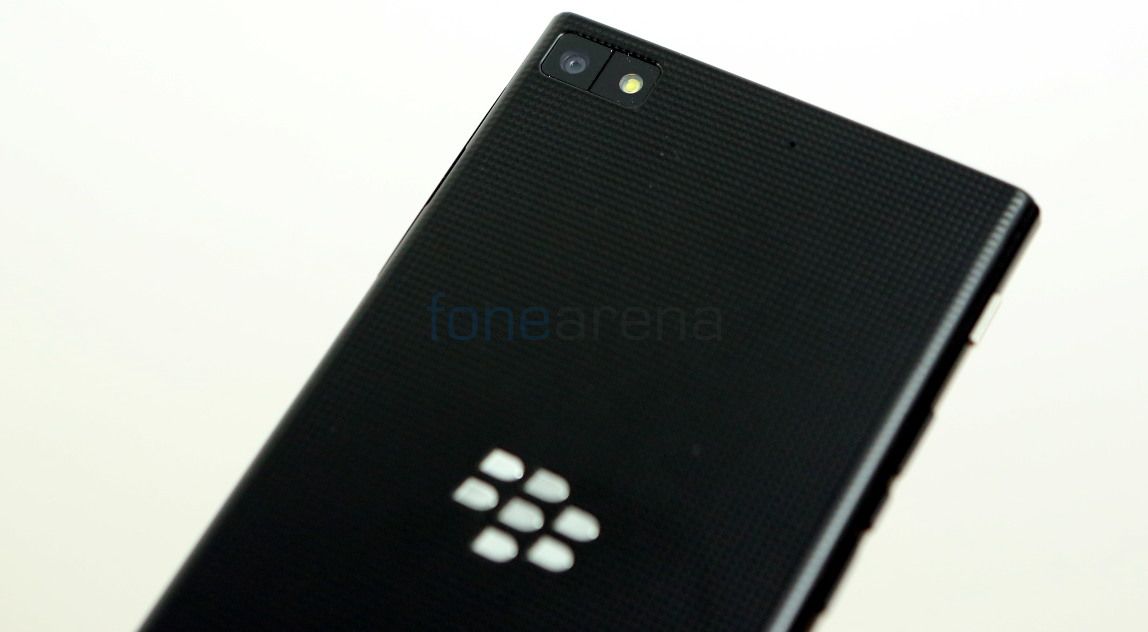 There is a 5-megapixel auto focus camera on the back along with a single LED flash. There is a secondary microphone next to it. It supports 1080p full hd video recording.
Camera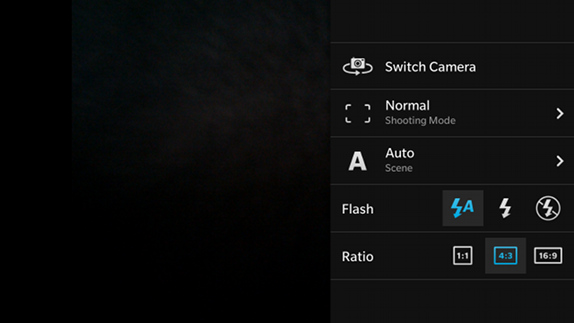 The camera UI is simple. It has options to switch between camera, video and time shift mode on the top right corner. The Time Shift mode captures multiple shots, so that you can select the perfect shot you need and save it. The menu has different options such as option to switch between front and rear cameras, different shooting modes (Normal, Stabilization, Burst and HDR), different scene modes (Auto, Action, Whiteboard, Night and Beach or Snow), Flash toggle and option to select Aspect Ratio (1:1, 4:3 and 16:9).
Daylight shots and HDR images are decent and the macro shots are good too, but the details are missing and the colors are not vibrant. Low light shots are below average with a lot of noise. Flash helps a bit even though it's not powerful.
Check out some camera samples (Click to view the full resolution image).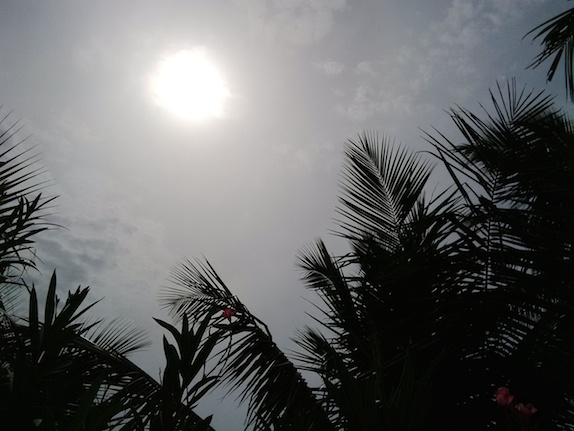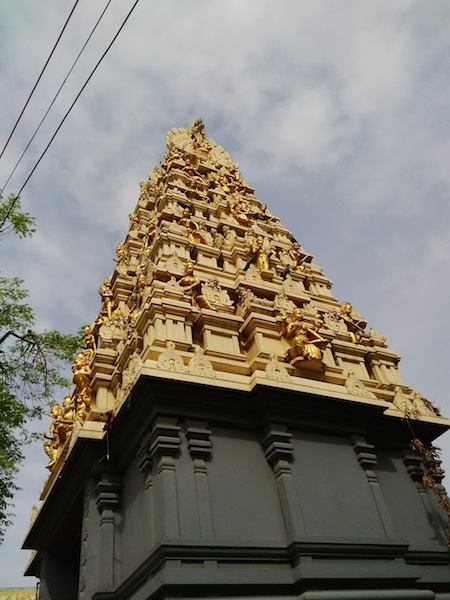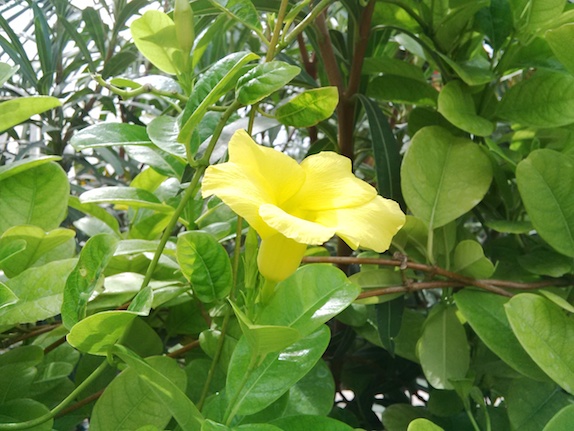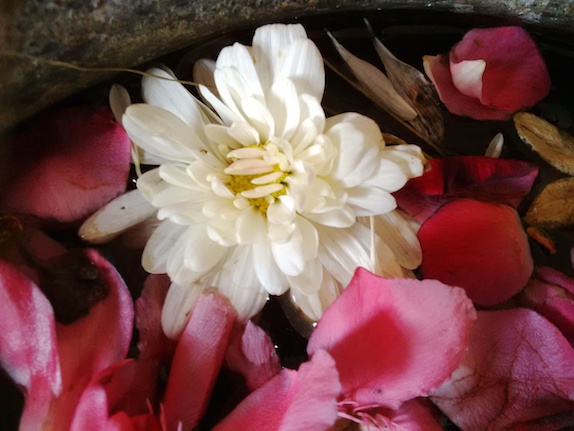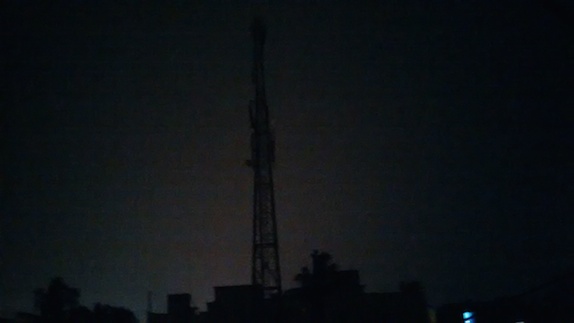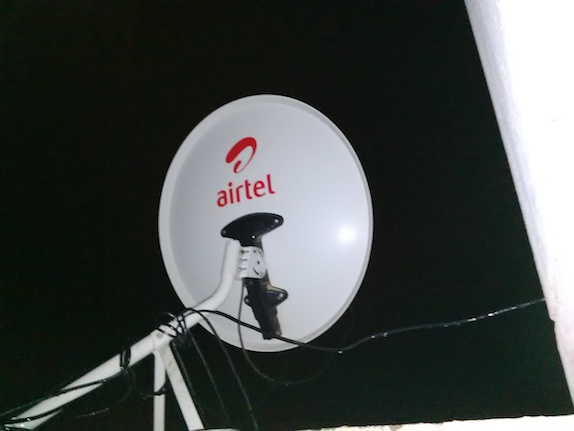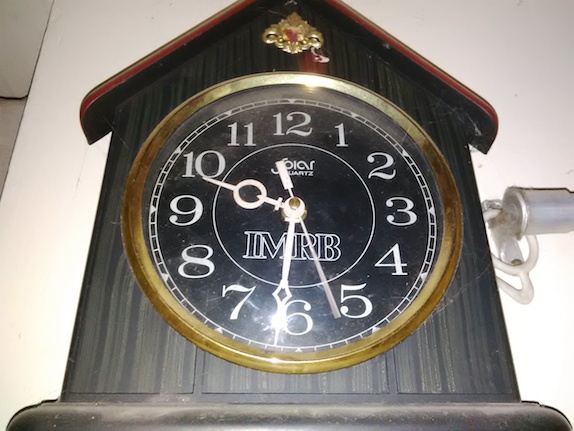 Even though it has just 5-megapixel camera, it is capable of recording videos at 1080p full HD resolution at 30 fps. The video looks good and the audio is also crisp since it has a secondary microphone. Check out the 1080p video sample below.
Software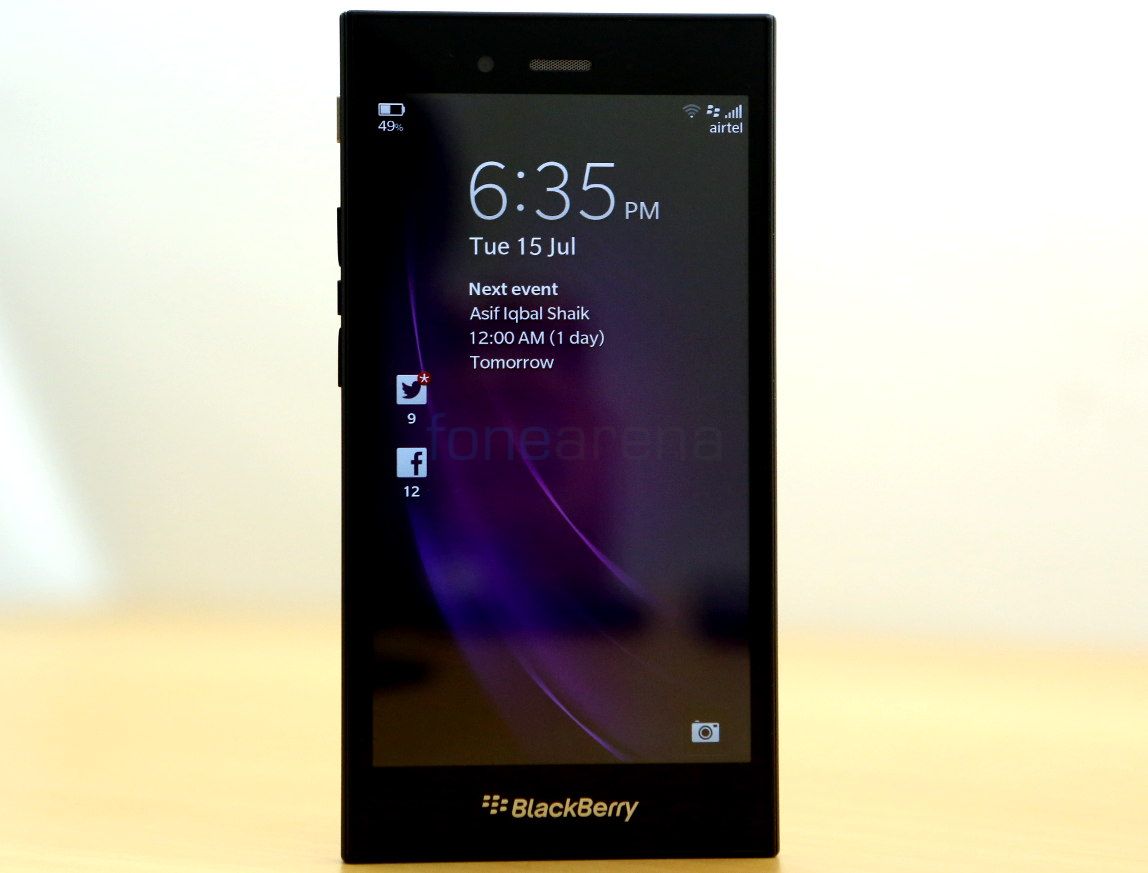 The BlackBerry Z3 runs on BlackBerry OS 10.2.1. The OS 10 is completely based on swipe gestures since it lacks capacitive or on-screen touch buttons. BlackBerry has added several new features to the OS 10 in recent months, so the experience is better compared to the earlier versions. Lockscreen now has actionable notifications. You can launch the camera easily from the lockscreen.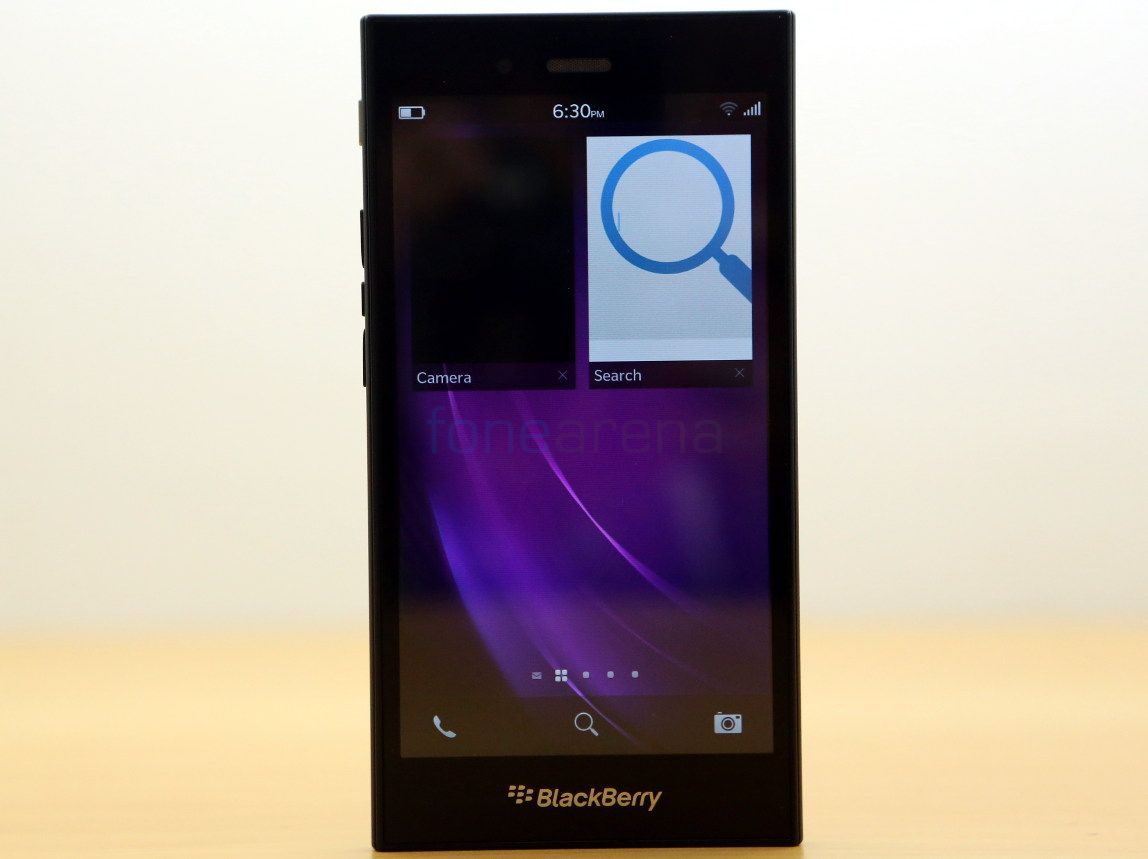 The BlackBerry Hub shows all your email, notifications from Facebook, Twitter and the new priority hub gathers most important conversions and shows it there. You have to swipe up from the bezel to move to the app to move it to the homescreen.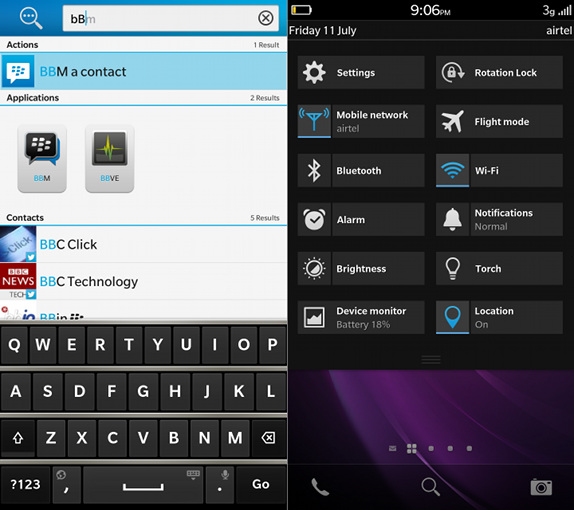 The search has improved a lot, which now offers universal search results as you type. The Quick Settings Menu is now customizable via settings so that you can select what appears on the drop down menu. It offers notifications on the top and the Hub that are different from Android and iOS. It might need some time to get adjusted to the gesture-based interface and the notifications if you are new to BlackBerry. BlackBerry OS 7 devices requires BlackBerry Internet Service (BIS) package, weekly or monthly subscription for Email and BBM, but the BlackBerry 10 doesn't require BIS or any other subscription, which is great.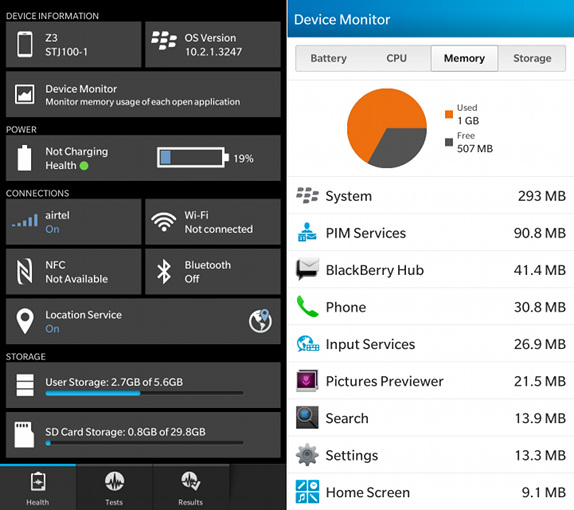 Out of 8GB of internal storage, you get 5.6GB of user memory. Out of 1.5GB RAM, about 500 MB of RAM is free when apps are running the background. Device monitor offers detailed information about battery, CPU usage, Memory and Storage.
Apps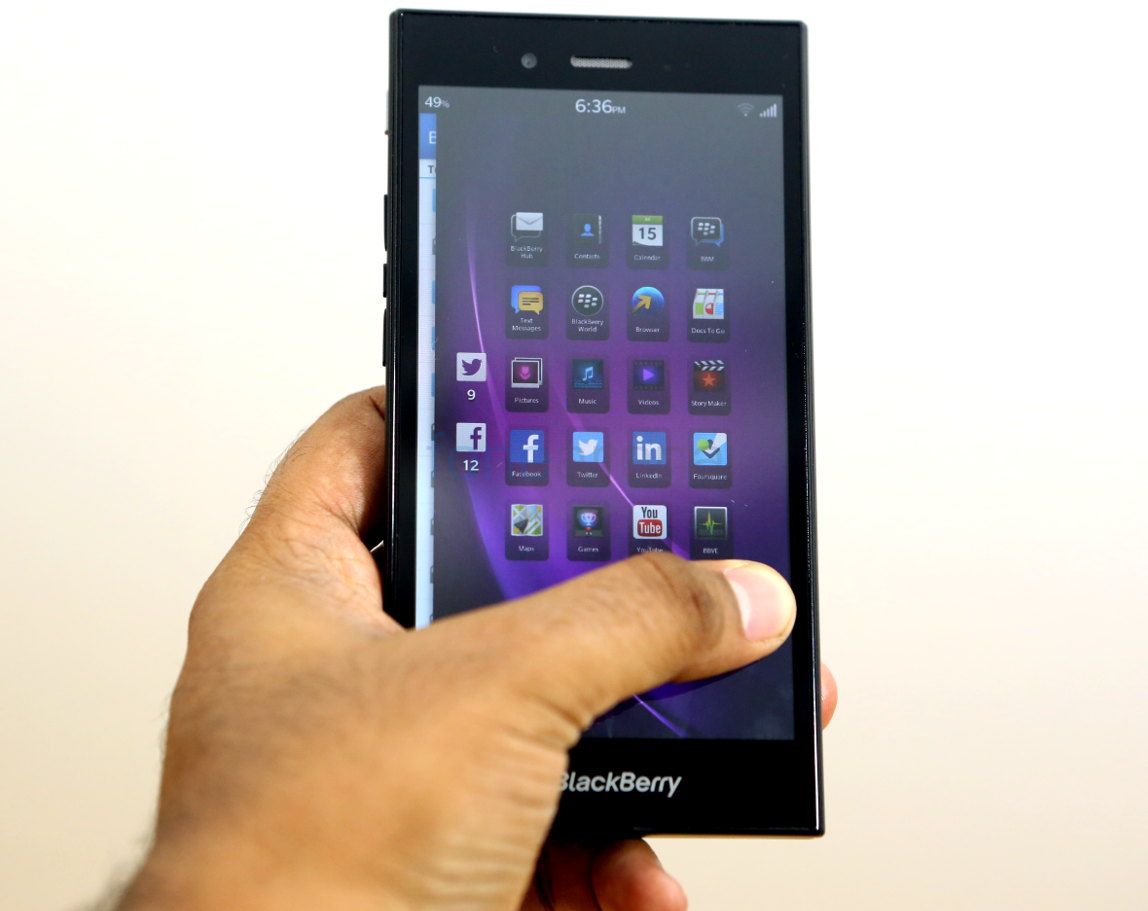 Other than BBM and BlackBerry World app store, it comes with Facebook, Twitter, LinkedIn, Box, Connect to Dropbox, Docs To Go, Adobe Reader, Remember and more. It has Maps app, but it lacks a lot of features that are available in Google Maps.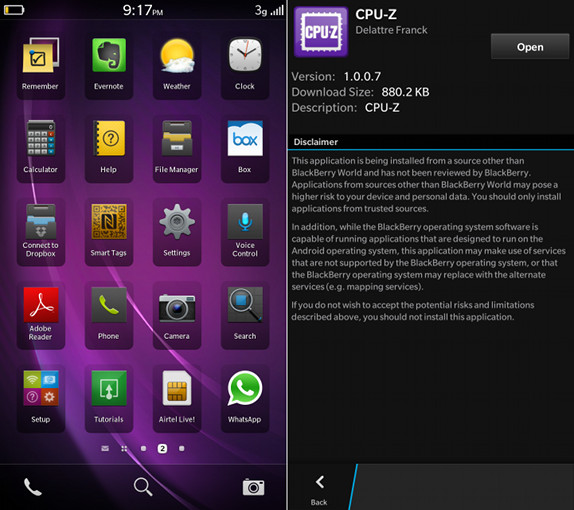 Since it has built-in BlackBerry Runtime for Android apps, it can run Android apps just by side-loading an APK. Most apps run fine, but these are not smooth and lags often, compared to native BlackBerry apps. You can also side-load Android app stores like Aptoide to download more apps directly. Still BlackBerry OS 10 lacks a lot of apps compared to Android and iOS. If you are from Android, you miss Google Apps such as Google Docs. BlackBerry recently tied up with Amazon to integrate Amazon App Store in BlackBerry 10 later this year. This will improve the app count.
Music Player and FM Radio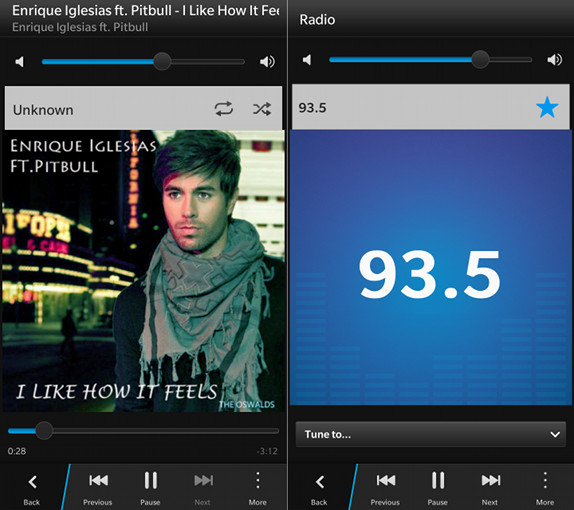 The music player can play a range of audio formats and also has FM Radio, but it lacks RDS or recording. Loudspeaker output is pretty good. Audio through the bundled headset is decent, but it could be better. It can also play 1080p full HD videos smoothly.
Keyboard and Languages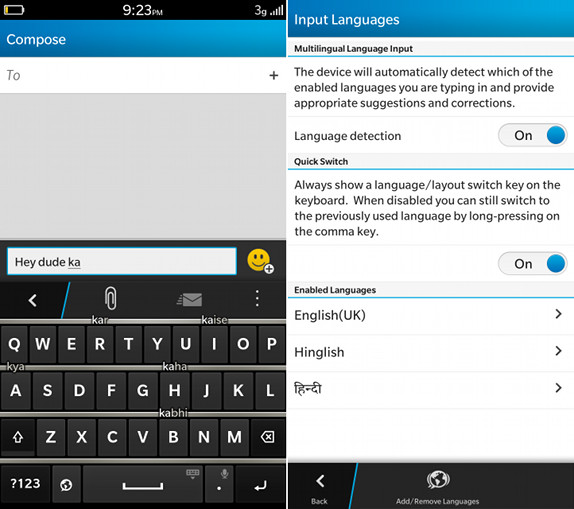 BlackBerry keyboard in the OS 10 has improved a lot in terms of accuracy and word prediction compared to earlier version. OS 10.2 introduced personalized next word suggestion, auto-correction and more new features. For India it has Hinglish input. You can enable up to three languages at a time and switch between them easily while typing.
Connectivity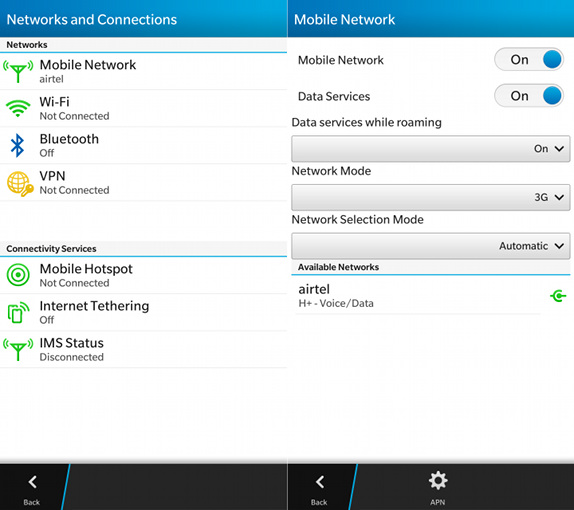 The BlackBerry Z3 has all the usual connectivity nuggets including 3G HSPA+, Wi-Fi 802.11 b/g/n, Bluetooth 4.0 LE with aptX codec, Miracast support and GPS. It also has USB tethering and mobile hotspot options, but lacks USB OTG support. It also lacks native MTP option, so you have to rely on dedicated BlackBerry Link software for Windows and Mac to transfer files. For linux users like me there is no option.
Performance
The dual-core Qualcomm Snapdragon 400 (MSM8230) processor with Krait 200 cores offers decent performance, but the OS has occasional lags. Since the smartphone has 1.5GB of RAM, it is enough to run several apps in the background, but the active pane supports only 4 apps to run in the background, compared to 8 in the BlackBerry Z10 and the Z30. The BlackBerry browser is pretty good and scored well in browser-based benchmarks. Even though this runs Android apps, benchmark scores would not be perfect, so we didn't run any benchmarks. The Adreno 305 can handle most games well and the graphics is also decent. Some Android games did lag.
Battery Life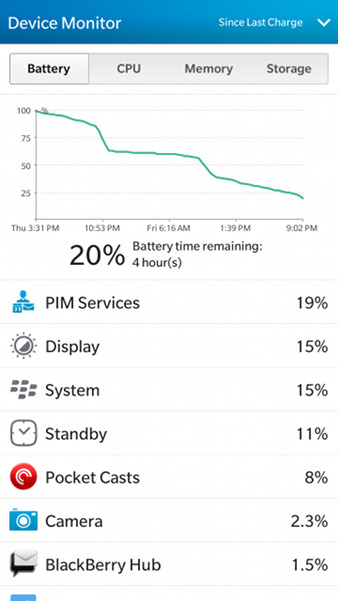 The 2500 mAh battery offers good battery life. It lasts for more than a day with average use with display time of about 4 hours. Lowering the screen's brightness improves the battery. For heavy users who relies on email and messaging on 3G, it should last the whole day, before it runs out of juice completely.
Conclusion
At a price tag of Rs. 15990, the BlackBerry Z3 is a bit overpriced compared to Android smartphones with similar specifications in the price range. Even the BlackBerry Z10 with a better display and hardware is available for Rs. 17,990. For the price, the Z3 has a solid build, comes with a decent display and offers good battery life. It can also runs most Android apps. Overall, it is a decent smartphone and is an ideal mid-range smartphone for those who are into the BlackBerry ecosystem.
Pros
Solid Build
Good battery life
Decent display
Cons
Average camera
BlackBerry 10 app catalog is still limited
Priced a bit on the higher side