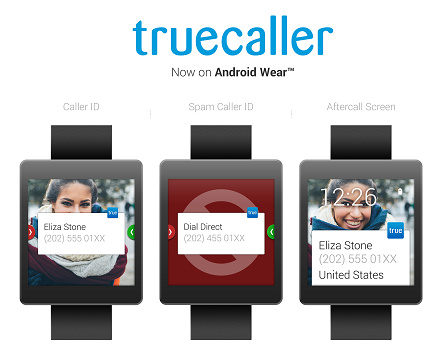 Truecaller, popular caller ID application has been launched for Android Wear. Google Play Store got a dedicated Android Wear section and Android Wear app earlier this week.  Truecaller says it is one of the 24 developers to bring an app to the Android Wear platform. This app lets you identify the the contact information of the caller on the Android Wear smartwatch.
Since it is easy to check if it's an important person or a spammer right on your wrist, you can accept or reject a call without picking up your smartphone. Android Wear apps either run only Android devices while sending notifications to Android Wear or exclusively on Android Wear.
Truecaller CEO and Co-Founder Alan Mamedi said,
With Truecaller for Android Wear, users will be able to tell right away if the person calling you is a acquaintance, business or scammer, all with a simple glance at your wrist. Now, whether you're driving in your car, or on a treadmill at the gym, you can easily check who's calling and dismiss calls without ever breaking a stride or having to pull your phone from your pocket. At Truecaller, we're committed to pushing our innovation to as many different users and platforms as possible. We're proud to be one of the first apps to launch on the new line of Android wearables that will help our users improve their lives and the value they get from interacting with their favorite platforms and devices.
Even though the Truecaller app is not listed in the Android Wear section on Google Play, it will be automatically installed once your pair an Android Wear device to a smartphone and open the Truecaller app.