Yahoo has updated its Mail app for iPad with various features. The Yahoo mail app was first updated for the iPhone in April and for Android in May.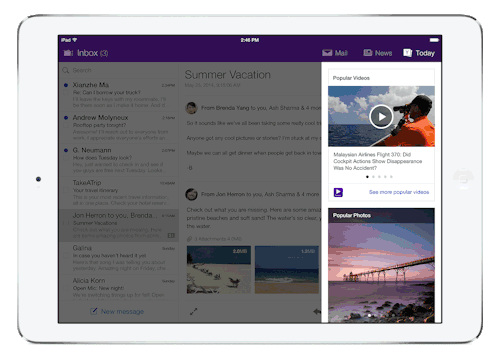 Over the last couple of months, we re-imagined the Yahoo Mail experience on mobile and made it easier than ever before to access personalized news and information without having to navigate between apps. Directly from the Yahoo Mail app and with just few quick taps, you can access key information you need throughout the day, all in one place. Today, we're thrilled to bring that same mail experience on the iPad.

posted Andrew Molyneux, Senior Product Manager, Yahoo Mail on a company blog.
The revamped Yahoo mail app adds all the important content like new, sports, weather, finance, stocks, video in one place. It now offers users with stories from Yahoo's digital magazines such as Yahoo Food, Yahoo Tech, Yahoo Travel, Yahoo Movies and Yahoo Beauty. One of the important feature of the latest Yahoo mail app is the Today tab which provides users with all the latest happenings on sports, news and gives a weather forecast.
You can download the app from Apple App Store.