Google added FIFA world cup schedule and live update to Google Now and now Microsoft is doing its bit to add fervor in the ongoing football carnival. Cortana, Microsoft's personal digital assistant has been updated with predictions for the winner of the matches from the ongoing football World Cup at Brazil.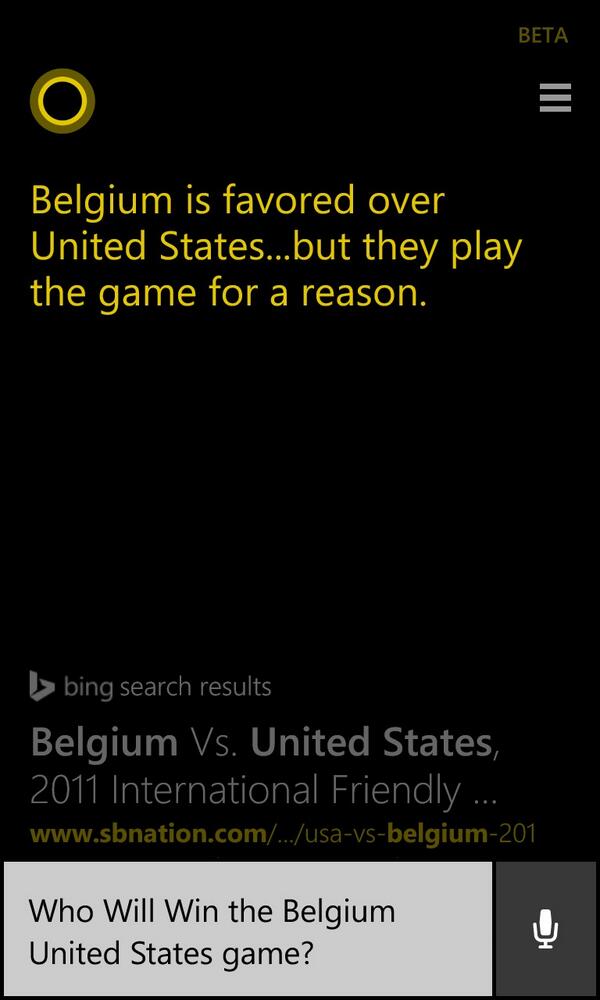 Cortana successfully predicted four results, backing Brazil, Colombia, Holland and Costa Rica in their final 16 games. It has now predicted France and Germany to advance to the next round and has also called for Belgium to beat the USA in the upcoming round of 16 matches to be held on 1st July,2014.
"A few weeks ago, Bing announced they were taking the experiment even further by offering predictions for outcomes of sporting events like the very high-profile soccer matches happening right now in Brazil. Because Cortana in Windows Phone 8.1 is powered by Bing, we thought it would be fun to have Cortana verbalize what team she thinks might win based on this prediction technology from Bing. For example – if you ask Cortana "Who will win Team A or Team B?" she will provide a response on who she thinks might win the game"

said Brandon LeBlanc on a company blog post.
Cortana's World Cup picks are based on Bing's prediction engine, which has a proven track record for also predicting winners for popular American shows such as, The Voice, Dancing With the Stars, and American Idol contests.  The World Cup predictions are done by calculating the odds based on many factors including team's win/loss/tie records, game time, home advantage and weather conditions.