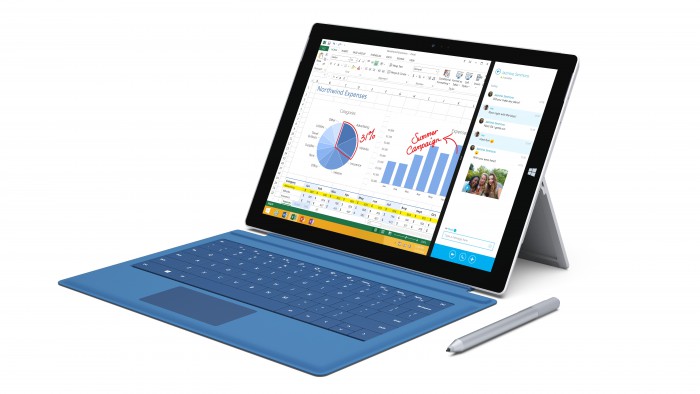 The Surface Pro 3 has officially been unveiled at Microsoft's event today, in New York. The latest addition to the family of Windows 8 powered devices from the company has decidedly gone larger with a 12 inch screen, gotten a lot thinner at 9.1mm and relatively lighter at 800g, for its size. This will officially succeed the Surface Pro 2, which was just a rehash of the original, with improvements mainly under the hood, and of course, the kick stand. The Surface Pro 3 on the other hand, is almost a whole new device, with a shift in ideas and it is indeed pushing the message of a "laptop" replacement a lot harder this time. How? Here is a promo video to get you upto speed, and do go past the break for all the new additions, detailed in text –
httpv://www.youtube.com/watch?v=1t7rSZT_77E
"A tablet that can replace a laptop."
Microsoft have implemented a ton of changes to drive that message forward. Lets start with the screen. There is now a new larger 12 inch screen, with a 3:2 aspect ratio and a 2160×1440 resolution. This is supposedly a 2K colour calibrated display, which has the same advantages as a Surface Pro 2 screen, in terms of accuracy. The aspect ratio is a bit non-standard but Microsoft claims one can have more content on this screen, as opposed to say, a 13-inch screen with a 16:9 resolution. Weirdly enough, the tablet doesn't look too tall either, with the portrait orientation being given a nod with a start button on the right. At the same time, the same button will now be coming in the way of the charms bar gesture from the right.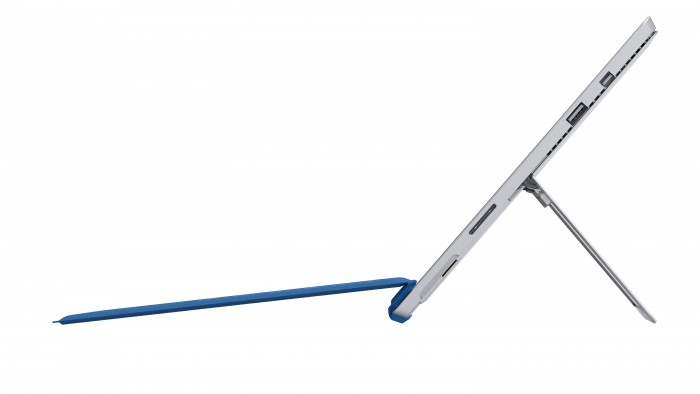 The Surface Pro 3 is a lot thinner than its predecessor, coming it at 9.1mm, which is about 1.5mm lesser than before. The magnesium alloy body is as sturdy as ever, but now it gains the same Silvery-white colour that the Surface 2 boasted. It is definitely a massive improvement over the black, incredibly scratchy and scruffy build the original and the 2 had. Panos Panay, the man responsible for the Surface devices, also spoke of the engineering they did to keep the fan design almost noise-less. The cameras on board are now even better than the Surface 2, with 5 MP front and back-facing cameras. The kick stand is now more flexible with a new "canvas" mode that lets you bend it almost flat. The new mechanism will eliminate the rigidness the Surface devices were burdened with. Oh, and there are new front facing speakers too.
On the inside, we have a slightly upgraded Core i5-4300U processor by default, and now there are more options, with i3 and i7 variants of the 4th generation Intel core processors. The maximum you can go on the specs is upto 512 GB of SSD and 8 GB of RAM. Here is a complete list of specifications you should care about –
Microsoft Surface Pro 3 specs –
Dimensions: 7.93 in x 11.5 in x 0.36 in
Weight: 1.76 lbs
Storage    64 GB, 128 GB, 256 GB, 512 GB
Display    Screen: 12-inch ClearType Full HD Plus display, Resolution: 2160 x 1440, Aspect Ratio: 3:2
Pen features 256 levels of pressure sensitivity
CPU    4th-generation Intel® Core™ i5-4300U (1.6 GHz with Intel® Turbo Boost up to 2.90 GHz) with Intel® HD Graphics 4400
4 GB or 8 GB of RAM — dual-channel LPDDR3
TPM 2.0 (Trusted Platform Module — for BitLocker encryption)
4th-generation Intel® Core™ i3/i5/i7 Processor
Wireless    Wireless: Wi-Fi 802.11ac/802.11 a/b/g/n
Bluetooth 4.0 low energy technology
Battery  –  Up to nine hours of Web-browsing battery life
Cameras and A/V    5MP and 1080p HD front- and rear-facing cameras
Built-in front- and rear-facing microphones
Stereo speakers with Dolby® Audio-enhanced sound
Ports – Full-size USB 3.0, microSD card reader, Headset jack, Mini DisplayPort, Cover port, Charging port
Sensors  – Ambient light sensor, Accelerometer, Gyroscope, Magnetometer
Power supply    36W power supply (including 5W USB for accessory charging)
Base model starts at 799$, upto 1949$ for the top end model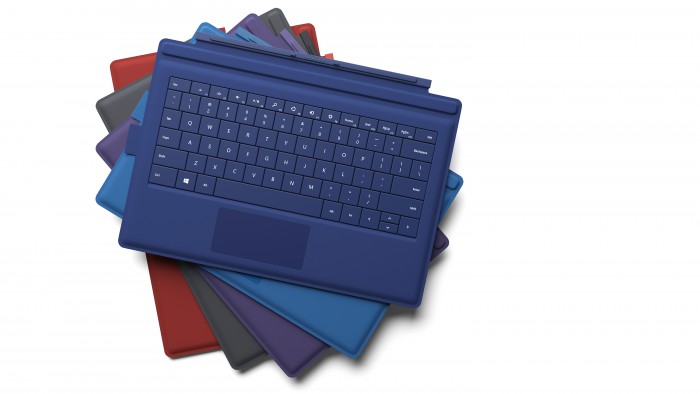 Microsoft has also upgraded its optional Surface Pro Type cover, which, the company says, features a massively improved track pad. Not only that, there is a new magnetic attachment now, which makes the "lapability" a lot easier, with the new kickstand working in tandem. The digital inking aspect has also been improved massively, this time with a remote trigger that directly lets you take notes on OneNote. The stylus is also new, with a really nice aluminium finish and better weight distribution, according to Panos.
With this succession, Microsoft is going hard for the business-types who love to carry their work all around. The Surface Pro 2 was too hard to carry around or use as a tablet, which Microsoft claims to have fixed with the Surface Pro 3, but with glaring omissions of LTE, it might not be the complete device, the target audience is looking for. The market response will ultimately decide the fate, but it's good to see Microsoft executing on their vision of a converged computing device. It hopes to make people realize there can be a device that can do both as a tablet as well as a notebook, but we will see if it does either of it really well, or otherwise. And there is the concern for battery life too, which, rated at "9 hours" is not really encouraging for a converged device that one can trust.