Facebook is rolling out a new feature that will enable users to see which friends are close to you. The feature which is optional will be launched on Android and iOS in coming weeks. Available only in the US, Nearby Feature not only lets you check out nearby friends but also makes it possible to share your exact location with others.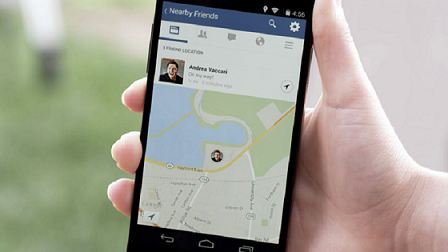 Users will have to active the feature in order to use it and as it is optional they can even turn it off. It must be noted that the feature has to be turned on for both the users in order to make it work. Using your phone's GPS capabilities, Nearby Friends will run in the background and ambiently broadcast where you are to other Facebook friends who have turned on the feature. Users can pick individual friends lists or even individual friends to maintain privacy.
Nearby Friends was built by Andrea Vaccari and team, a group of guys who founded a similar location startup called Glancee, which Facebook bought a few years ago.Facebook believes it will be most useful for people trying to find each other in airports, shopping malls and parks — places where it's often difficult to navigate because they're huge and have no street addresses. You can use the map to walk directly toward them.
The service also allows you to share your exact location to a friend for a specified period of time and the service automatically closes itself once the time is over. Finally, users can erase their entire location history from their news feed with one command. The feature is some what similar to other check-in services like Foursquare or Facebook's own Places service.
However, a user should only share their precise location with people they know and trust and use all the privacy settings offered by Facebook in order to protect your location from stalkers.
Via: PC Mag