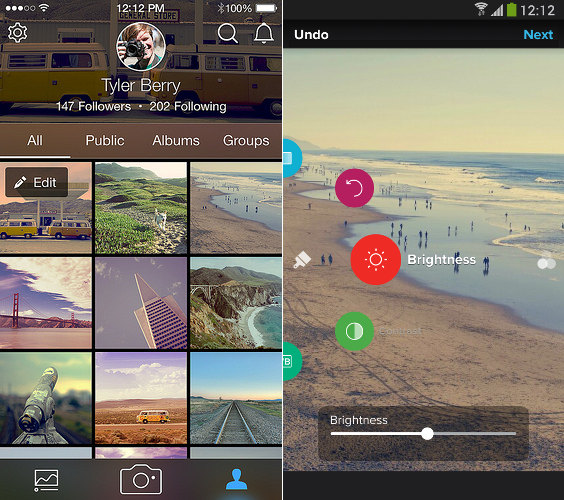 Yahoo has updated their Flickr apps for iPhone and Android to version 3.0 that brings a completely redesigned user interface and has been built from ground up. The iPhone app brings 14 live filters and the Android app has a range of new filters. Both the Android and iPhone apps have new editing tools.
The new app also lets you record 30 seconds of HD video on iPhone and use the same live filters available with photos. Last year Yahoo upgraded Flickr storage to 1TB for all the Flickr users permanently. The latest update finally brings Auto Sync feature that lets you upload all the images and video automatically to your account privately, so that you can share them easily.
New features in Flickr 3.0 for iPhone and Android

New Search  – Search all of Flickr for photos, people and groups by time and date, such as February and 2013, and also geo-location.
Auto Sync –  All the photos are automatically uploaded to Flickr (Privately) for sharing them later.
Privacy indicator – New  Public view for your photos on your profile to see which photos are private and which photos are visible to the public.
Batch-Editing – Batch-editing lets you organize photos and videos into albums, change their privacy or delete them.
Video capture and editing – Add 3 minutes of video from your camera roll and via Auto Sync. Use live filters for HD video on iOS and shoot up to 30 seconds of video.
People-Tags – Add people to your photo titles and your comments by entering the @ sign. Flickr will automatically suggest names of people while you are typing.
New sharing options – Sharing to Tumblr, Twitter and Facebook has been improved.
Hashtag – Better support for hashtags, which, when used, will trigger a search and will be highlighted regardless of whether you use them in a title, comment or description.
Albums –  Set is now an Album.
Even though the new update brings new features, it only has option to crop photos into squares and doesn't let you add photos to groups. Hope these would be fixed in future updates.
Download Flickr 3.0 (Free) – iPhone | Android