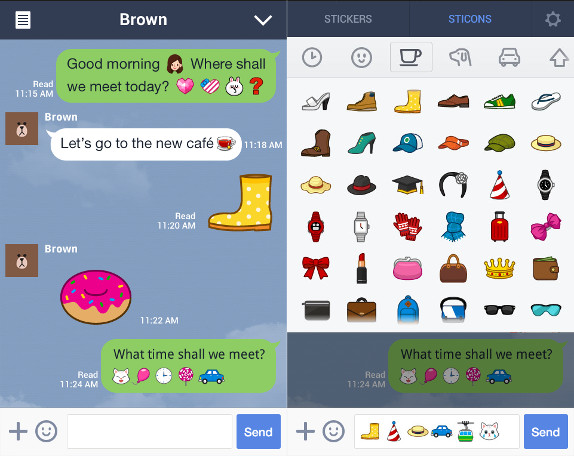 LINE messenger which entered India last year has been aggressively trying to capture the market with various tie-ups and offers. Today, the popular Japanese platform has unveiled Sticons which is a merger of stickers and emoticons. Sticons can be used in text messages in the same way as emoticons, but they can also be used like stickers as large, individual images.
Currently available only on Line (v4.2) for Android, Line has divided these Sticons into five categories viz, faces, animals, symbols, sports, and vehicles. Users can choose from more than 1000 Sticons from these aforementioned categories. The platform also gets LINE Character Sticons.
These Sticons can be used the same way we use emoticons and tickers by simply tapping the smiley face icon in the chat window and selecting the desired sticon. Line stated in the blog that iOS version of the Sticons is in making and will be released soon.
LINE announced earlier this month that it has crossed 400 million users worldwide and 18 million users in India in mere seven months of its launch in the country. Stickers have become a newest trend among all the instant messaging players like Viber, Facebook Messenger, WeChat, Hike and BBM. Surprisingly the current leader Whats App has still kept itself away from these stickers which are turning profitable and helping other players garner revenue.