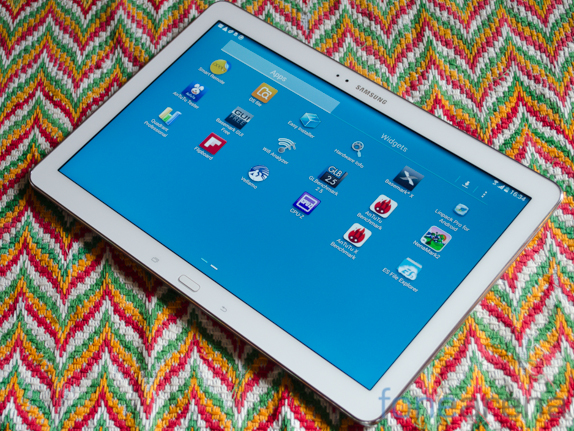 While Android tablets have proven to sell a fair few numbers in  the entry level segment, the upper end has so far been dominated by the iPad. Samsung has made a few attempts at making a dent in this segment but has failed. As part of it's attempt to throw mud at the wall and see what sticks, the Korean giant has created a ginormous tablet that doesn't really solve any specific problems. Could the Samsung Galaxy Note Pro 12.2 still be worth the small fortune it commands? We find out in our review.
Hardware
It is hard to mistake the Note Pro 12.2 as anything other than a Samsung product. Nigh identical to the Note 10.1, it carries the same design identity as seen on other high end Samsung devices across product categories.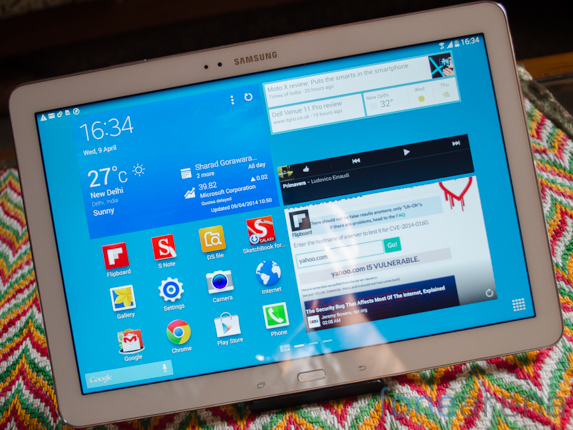 The front is dominated by the gargantuan 12.2 inch display. Below it is a hardware button that works as a home key. This is flanked by capacitive buttons on either side that correspond to back and the multitasking menu respectively. We're quite impressed by how Samsung has managed to find the sweet spot for bezel size. Just appropriate, the bezels are wide enough to hold the tablet comfortably but don't appear overtly big.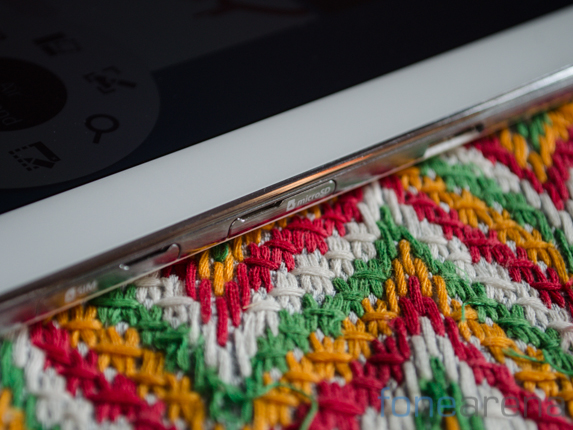 The ports are relegated to the right side of the tablet. From bottom to top you get the SIM card slot, micro SD card slot, USB 3.0 port, speaker grille and the all important S-Pen slot. Over at the top is the iR port alongside the power key, volume rocker. The left side is fairly clean with just a speaker grille on the side.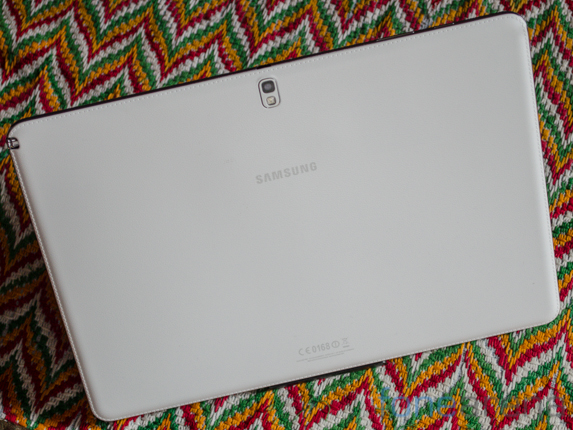 The tablet is predominantly plastic and definitely feels so. The chrome finish sides particularly look rather cheap. That said, the back of the Note Pro 12.2 is somewhat redeemed by the faux leather. As on the Galaxy Note, the faux leather looks and feels better in real life than it might appear from images. The black version looks borderline elegant though the white tends to pick up dirt marks rather too easily.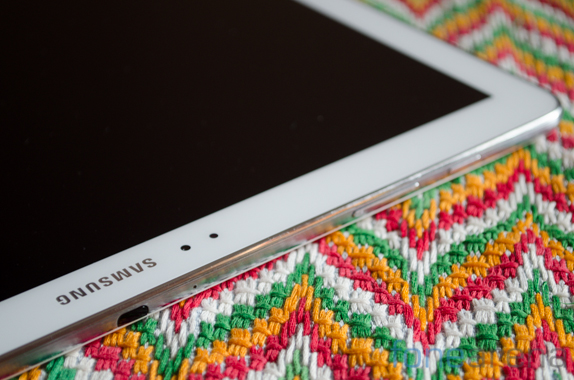 Measuring 295.6 x 203.9 x 7.95mm, the Galaxy Note Pro 12.2 is undoubtedly large but it weighs in at just 750grams which is quite impressive for such a massive tablet.
Software
We've come to a point where hardware in mid range to flagship level devices is generally powerful enough for even the most demanding tasks. What makes or breaks the experience is the software. Samsung is notorious for slapping on bloated, heavy interface layers on top of their devices though they've certainly started to clean up the UI a bit. The Note Pro 12.2 is no different wherein Samsung has implemented their Magazine UX.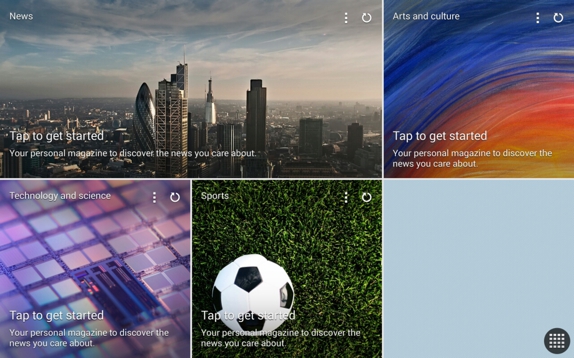 Designed in collaboration with Flipboard, the interface looks not that different from the original app. Called Magazine UX, it places large widget elements that curate information from specific topics alongside more standard functionality. While visually appealing, Magazine UX proves to be a colossal waste of screen real estate due extremely low information density. Thankfully you can completely ignore this.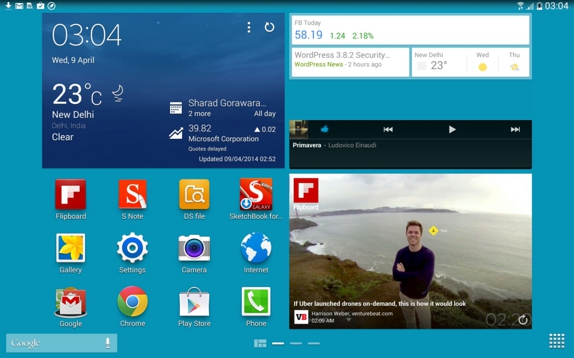 Swipe over to the right and you get access to a more 'standard' homescreen arrangement. The application grid allows for up to 8 x 7 icons displayed on the homescreen though you can mix this up with widgets as you please. As with most Samsung devices, we'd just recommend switching over to a more robust and feature rich application launcher.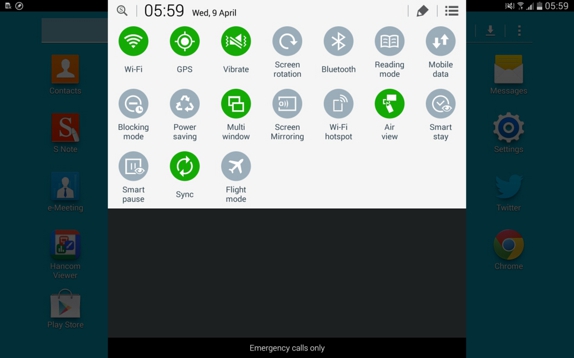 Samsung's inability to design a compelling interface shows up in the drop down notification hub as well where there is a massive overload of toggles. This is virtually guaranteed to overwhelm most users. It is however possible to manipulate the icons on display here.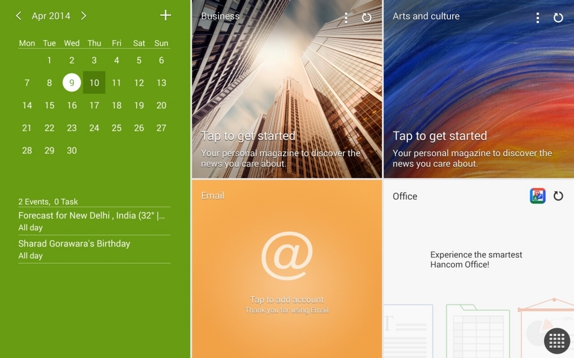 Stylus (S Pen) support is what really makes the Note Pro 12.2 an interesting purchase. Included applications range from Action Memo to the usual Scrapbook, Sketchbook apps as well as S Note which also interfaces with Evernote and thus makes it that much more useful.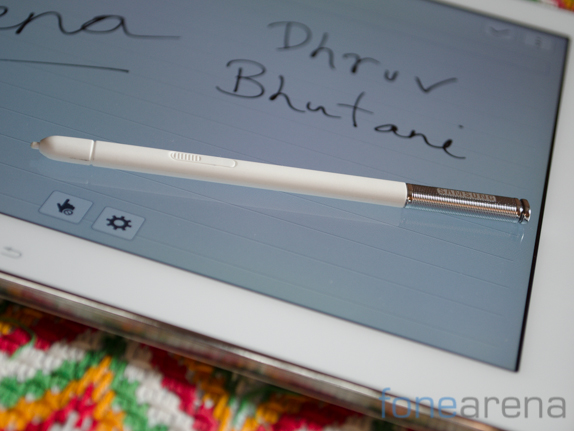 Samsung's S Pen hasn't changed much in terms of functionality compared to the Note 10.1. Air Command, an onscreen command center for S Pen centric functions, is available when you hover the pen above the screen while pressing the built in button. Displaying a palette like control, it gives you users one tap access to a range of S Pen apps like Scrapbooker, Action Memo, Screen Write, S Finder and Pen Window. Functionality is fairly robust and you can circle any on-screen object to add to your virtual scrapbook in the case of the Scrapbooker app. Other applications work as you'd expect as well.
Performance
Users buying a premium product like the Note Pro 12.2 would expect its Exynos 5 Octa processor and 3GB of RAM to be up to the task of delivering a compelling usage experience. This however wasn't really the case as we found the tablet regularly ran out of steam when just gently pushing it on. Even navigating the interface often became an exercise in frustration as it would completely lock up just while swiping through. This is unacceptable for most modern devices let alone a high end tablet like the Note Pro 12.2.
The Exynos 5 Octa processor in question might be to blame here alongside poor software optimization. The Exynos 5 Octa 5420 chipset combines four Cortex A15 cores with an equal number of Cortex A7 cores clocked at 1.9Ghz and 1.3Ghz respectively. Unlike the Exynos 5410, the updated 5420 SoC supports Heterogeneous Multi Processing (HMP). In HMP , each and every core can be activated, and it indicates that any core with no running task can be deactivated. In the lowest workload case, only a single LITTLE core runs at the lowest operable frequency, while other cores are deactivated. If there are multiple tasks which require that some tasks should be executed on the big cluster, while others should be executed on the LITTLE cluster, then all the tasks can be assigned to appropriate cores irrespective of the cluster. The issue however is that the scheduler has to allocate and migrate tasks to the appropriate core and this requires specific optimization.
We've put the tablet through the standard range of benchmarks to get an idea of comparative performance. Synthetic benchmarks tell only a partial story and this is definitely true in the case of the Note Pro 12.2 which generally excels in benchmarks but not so much in real life usage. You can check out the full range of tests over at our Samsung Galaxy Note 12.2 Benchmarks post, we've placed some of the more important ones below.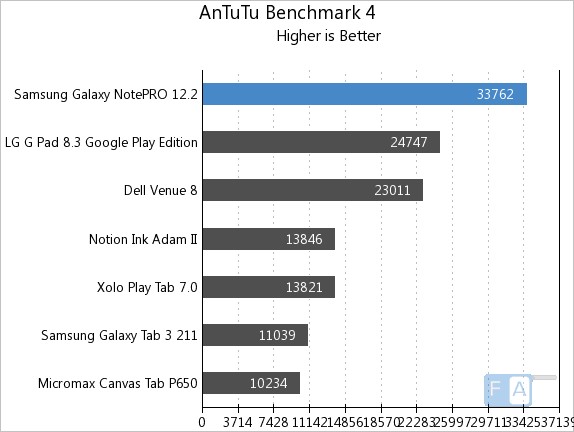 In the AnTuTu benchmark, the Galaxy Note Pro 12.2 scores 33762 points which places it right at the top of the competition.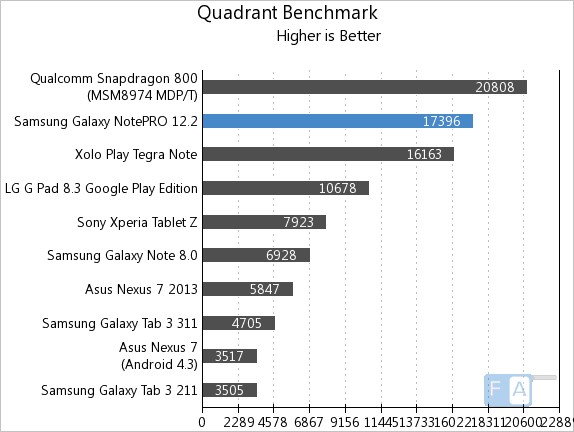 On Quadrant, the tablet scored 17396 points which puts it behind the Snapdragon 800 based tablets but ahead of the Tegra 4 running Xolo Play Tegra Note.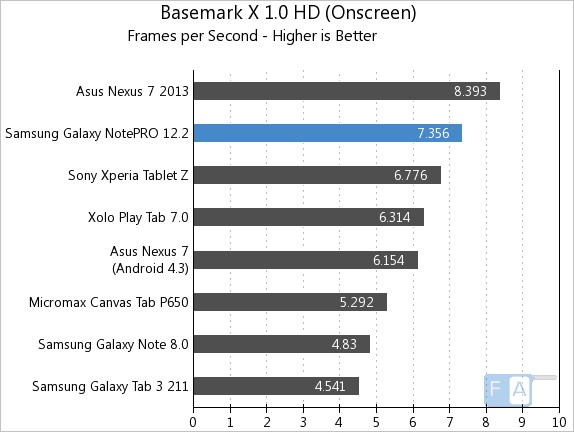 In the Basemark X Onscreen benchmark, the tablet once again lost out and scored below even the Nexus 7 that packs comparatively dated hardware.
Display
The uniqueness of the Galaxy Note Pro 12.2 lies in its display. With a 12.2 inch panel, the screen has a resolution of 2560 x 1600 pixels. The display is of RGBW variety with 2 sub pixels per pixel. The Super Clear LCD has a pixel density of 247ppi which is visibly lower than competing 10″ tablets. Brightness are satisfactory but we think that the device could have deeper black levels.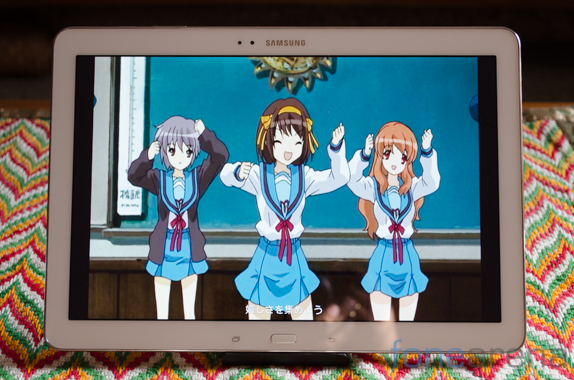 Like on the Note Pro 10.1, it's an RGBW display, meaning there are two sub-pixels per each pixel. We found viewing angles to be very good and the contrast levels are top notch too. The vivid colors on display make it an excellent screen for viewing multimedia content. Samsung has of course built in its software modes that allow the display to auto adapt according to content. This works only in certain apps and even then is rather hit or miss. We quite liked the fact that the screen was legible even in sunlight though the experience was sub optimal. The screen has a Wacom digitizer built into it which works only with the S Pen. This bodes well for palm rejection and worked well in our experience when using the S Pen with note taking applications.
Camera
Yes, the Note Pro 12.2 ships with an 8MP camera on board. No, we don't think using a 12″ tablet to take photographs is right under any circumstance. If you are willing to look beyond the obviously ridiculous notion of taking vacation photos with a 12″ tablet, the camera module isn't too shabby. Paired with a single LED flash, the camera resolves sufficient detail and has low noise levels.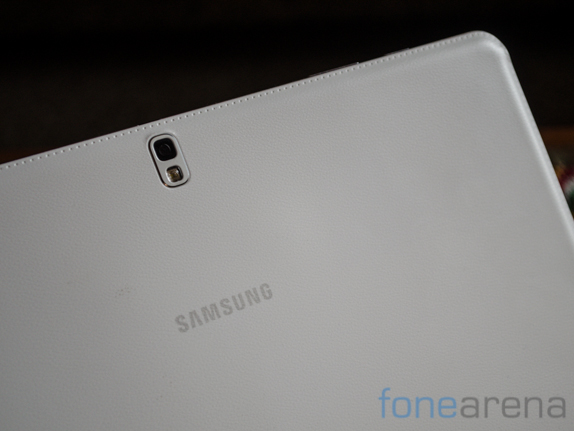 The camera on the Galaxy Note Pro 12.1 is certainly better than most other tablets. Samsung's camera application is typically robust and includes more functionality than the average user will ever need. We quite liked the HDR mode which effectively helped to mitigate the limited dynamic range of a small sensor camera. Camera samples included below:
Connectivity & Battery Life
Like most high end Samsung products, the Note Pro 12.2 does not skimp on connectivity options. You get onboard WiFi b/g/n/ac, WiFi Direct as well as Bluetooth 4.0, 3G or LTE connectivity dependent on the variant. Another cool addition is the presence of an infrared port which let's you control other appliances via the preloaded app. The Indian Exynos variant tops off at 3G speeds. Built in storage is 32GB and it can be expanded via the microSD card slot. You'll definitely be needing this given the amount of bloat on the device which leaves only 25GB available out of the 32GB at launch.
A massive 9,500 mAh battery powers the show here but has to drive an equally large and high resolution display which has a tangible effect on battery life. In our standard video playback and looped browsing tests, we could achieve a little over 9 hours of battery life. This isn't bad at all but still lags behind some of the competition like the iPad. Your mileage may vary depending on the brightness levels that you chose but getting an average day or two of usage out the tablet shouldn't be hard.
Conclusion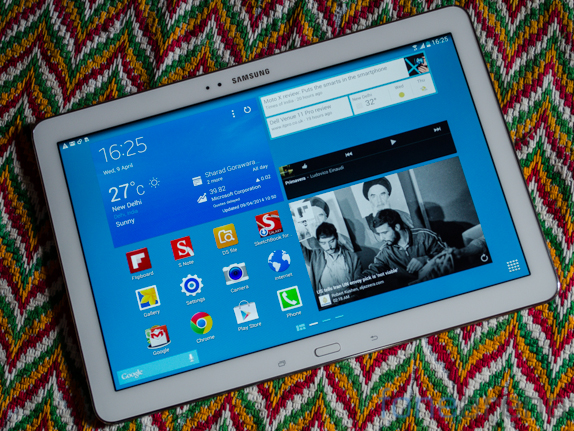 The Note Pro 12.2 epitomizes everything that Samsung stands for. The Korean giant has thrown everything possible in it in the hope that it'll prove to be a compelling device for users. Unfortunately, it is nigh impossible to make a use case for the Note Pro 12.2 outside the niche that craves for a large screen and digitizer on an Android machine. The Note Pro 12.2 is a remarkably expensive tablet with very little to offer above the competition even from within Samsung's own stable. Consider the Note Pro 12.2 only if you want a really large Android device with Remote PC functionality. Then again, at a price tag of Rs. 64,900, you might as well get a full blown laptop instead of this.
Pros
Gorgeous display
S Pen support
Cons