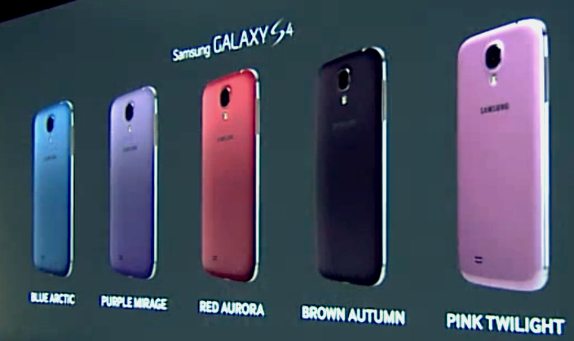 Samsung announced last month that the Galaxy S4 would be available in new colors including Blue Arctic and Red Aurora, followed by Purple Mirage and Brown Autumn this summer. Now the company has announced at the Samsung Premier 2013 event in London that the phone would also come in Pink Twilight color variant. The Samsung Galaxy S4 was launched in Black Mist and White Frost color variants and the Blue Artic variant went on sale from NTT Docomo in Japan last month.
Last month Samsung announced that they have shipped 10 million Galaxy S4 globally. These new color variant would attract more customers. Samsung unveiled the range of colors including Amber Brown, Garnet Red, Sapphire Black and Titanium Grey for the Galaxy S3 last year and it launched in limited edition Martian Pink color in Korea.
Samsung did not reveal when these color variants would be available. Which one is your favorite ?