Home » Android, India, Samsung
Samsung Galaxy S3 Mini Unboxing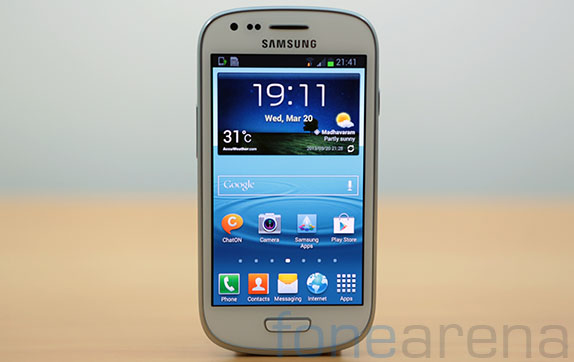 Almost six months have passed since the launch of the Samsung Galaxy S3 mini in Europe. It never reached the subcontinent as Samsung had planned to launch other devices with similar specifications here, like the Galaxy S Duos, which is basically a Dual SIM version of the Galaxy S3 mini. However, there are lots of differences between the S3 mini and the S Duos when it comes to the internals. Just for comparisons sake, you have to know that the S3 mini looks exactly like the S Duos. With that said, the S3 mini is an interesting device on its own, and since we have got it in our labs now, here it is, our unboxing video –
The Galaxy S3 mini comes with a 4 inch WVGA 800×480 Super AMOLED screen. Yes, that's the same as the one on the original Galaxy S and yes, it is of the Pen-tile variety, making text look fuzzier than usual. There is a NovaThor U8420 1 GHz dual core Cortex A9 processor powering the device, with 1GB of RAM and 8 GB of internal storage. Running on Android 4.1.2 Jellybean, the device gets all the goodness of Google Now and project Butter, making it in line with its elder brother, the Galaxy S3 in terms of software. It is funny to note that after three generations of the Galaxy S, the S3 mini is of the same size as the original Galaxy S and still, in today's terms, it's a "mini".
The box has the usual assortment of accessories like the travel charger, the USB cable and the in-ear headset. This is the Taiwanese version we have here and the contents are spread out in the picture below –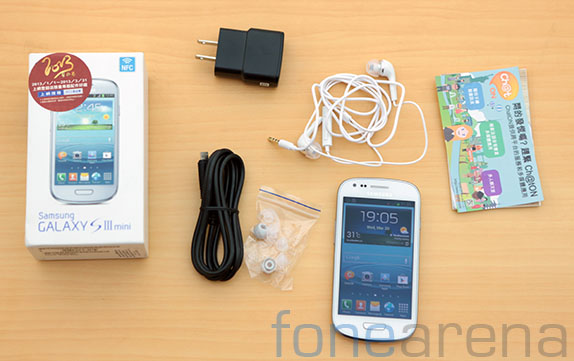 After handling a lot of huge screened devices, even we felt it was quite a small phone, by today's standards. It is 9.85mm thick weighs about 111g. There is a 5 megapixel camera on the back, which is capable of recording 720p videos. The 1500 mAH battery is a decent number for this phone, and underneath the battery you can find the micro SD card slot and the full size SIM card slot, which is a bit weird, again, by today's standards.
Android jellybean blazes through screens on this phone and proves that Project Butter exists on mid range devices too. We found the S3 mini quite enjoyable in our first few minutes of hands on with the phone.If you had watched the video, we had also done a quick comparison of the S3 with the S3 mini. You will see then, how small the 4 inch screen looks when compared with the behemoths side by side.
So, that's it for the unboxing of the Galaxy S3 mini, we will be bringing the full review soon, so kindly let us know if you have any questions, in the comments section below. All the pictures of the box and the accessories are listed below –
Credits to Varun Krish for the video