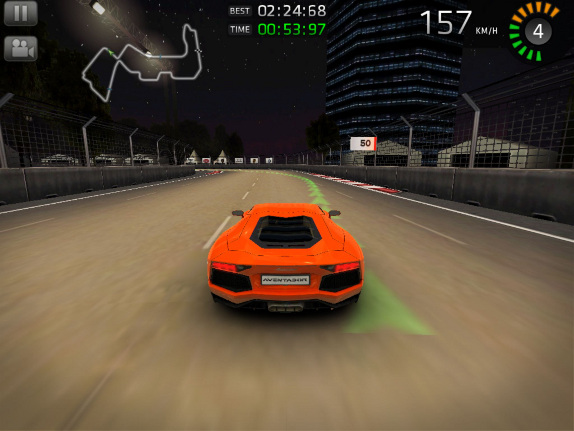 Fishlabs Entertainment and Volkswagen Group China released their free content updates for 3D racing simulation Sports Car Challenge for iOS. This update includes new race track called Singapore by Night, as well as 2 new gameplay features. Sports Car Challenge features an exclusive selection of high-end sports cars by Audi, Bentley, Bugatti, Lamborghini, Porsche, and Volkswagen. The new Singapore by Night race tracks has neon-lit streets, re-modeled sights and landmarks set in Southeast Asian city-state and the new gameplay features include Racing Line and Brake Assistant.
New features in Sports Car Challenge for iPhone and iPad
New Race Track: Race through the beautiful city of Singapore by night
Racing Line: Improve your lap records by staying close to the Racing Line (can be switched on and off for all five tracks)
Brake Assistant: Hold the line with the help of the new Brake Assistant (available in four different stages: Off, Low, Medium and High)
Download Sports Car Challenge for iPhone and iPad from the Apple iTunes Store for free, if you don't have it yet. The Sports Car Challenge for Android did not get the new update yet. Hope it'll be available soon. Additional content updates including new sports cars and game modes would be available in upcoming updates.