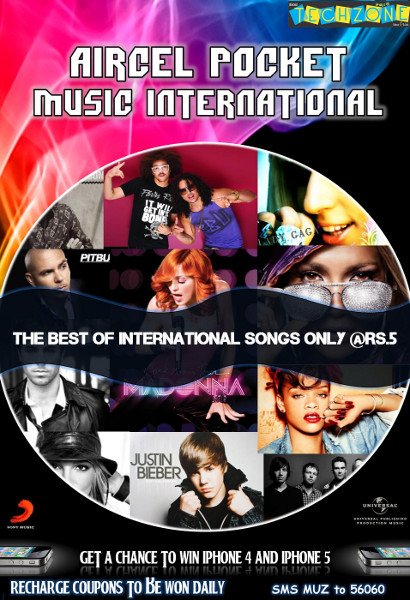 Aircel and Techzone has launched Pocket Music International contest that would let Aircel customers stand a chance to win 4 bumper prizes of 2 iPhone 5 and two iPhone 4 along with recharge coupons for 1000 winners every month. Aircel launched the Pocket Music International earlier this year that lets you download International Music at just Rs.5/day.
In addition to the bumper prizes, Aircel subscribers will get a chance to win free talk time worth Rs.30/day for close to 50 users. To enter the contest, the Aircel users have to subscribe to Pocket music and answer a simple question every day. The contest runs for 60 days, and those answering all the questions right can stand a chance to win an iPhone 4 or an iPhone 5 as mega prizes.
Aircel users can SMS MUZ to 56060 to participate in the contest, in addition they can also download 5 free international music tracks of their choice. Aircel users can also head to pocketinternet.in from the phone to take part in the contest.