Home » Android, India, News, Samsung
Samsung says its the No.1 Smartphone brand in India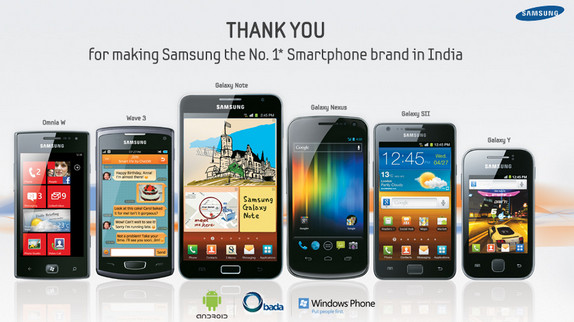 When I was checking out some news sites ,  I noticed an unusual thank you banner and the Samsung logo and decided to check it out. It took me to a landing page which is a thank you page for Samsung mobile users. Samsung says that it is currently the No.1 Smartphone brand in India according to the promo. It is quoting a GfK nielsen India Retail Store Audit Report for mobile phones in 50,000+population towns in November 2011. Samsung claims to have a market share of 37.9% in Smartphones in that month for that particular segment.
We all know the Galaxy S2 sold like hot cakes ever since launching in June 2011. Now the Galaxy Note is also gaining some popularity.Now Samsung is tapping the entry level Smartphone space with the Galaxy Y. Symbian has been the most popular operating system for several years now but with Nokia going with Windows Phone ,  Symbian has been losing market share pretty fast but Nokia is still the leader in the Indian mobile space in terms of overall market share.
And Dear Samsung , we can see the Galaxy Nexus in the promo above but not in stores ? WHY ?