Home » Handsets, India, News, Nokia
Nokia E5 hitting stores in India this month ?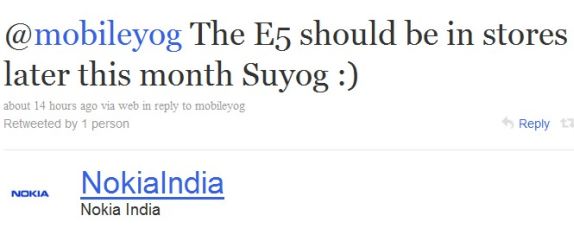 Looks like the Nokia E5 might finally be available in stores later this month according to the tweet by Noki India on twitter. One of our friends Suyog asked Nokia India on twitter about the E5 India launch date and he got a reply that the "E5 should be in stores later this month"
The E5 was launched along with the C3 and C6 in April this year
Must check ou t!!!
Nokia E5 Hardware Tour by Rita

Or you can check out the E5 official pics or the live pics from a Nokia event
The phone is expected to cost under Rs.11000 in India