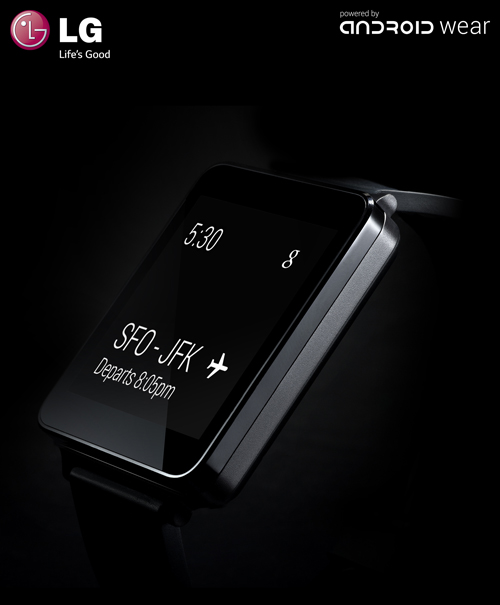 Close on the heels of the announcements from Google for Android Wear and Motorola's Moto 360 Smartwatch, LG has announced that it will actually be making the first smartwatch powered by the new wearables platform. The LG G watch, as it is called, will be the first smartwatch to release to the market, powered by Google's Android Wear platform. LG and Google have apparently worked on this device together, right from design, just like a Nexus product. The details of the LG G watch have not been revealed yet, but the availability is set to the second quarter of 2014.
While the design looks uninspiring, especially after the announcement of the Moto 360, the biggest takeaway here is that this watch will be the launch vehicle for Android wear and if LG is to be believed, this will also be a cheap product that is accessible to developers. Now the uninspiring design makes sense, right?
Highlighting the LG – Google partnership –
The LG G Watch powered by Android Wear will present a low barrier to entry for developers and offer the best Google experience for users. LG engineers worked closely with Google from the initial stages of development to ensure that the LG G Watch worked perfectly with Android Wear. This is LG's fourth device developed in close collaboration with Google following the Nexus 4, Nexus 5, and the LG G Pad 8.3 Google Play Edition.
You can now notice how this is very similar to the Nexus program. Anyways, being the first watch powered by Android Wear, it will also come with the intuitive interface and the contextual intelligence of Google Now. LG is one of the many partners, and we might be just seeing the start of a flood of devices based on Android Wear. We hope the LG G Watch sets a good precedent for other OEMs and proves to be a good test device for developers. LG promises to reveal more details in the coming months, so we will keep our eyes wide open and let you know if we find any more information on the LG G Watch. Until then, keep checking the blog and let us know what you think of the latest developments in the comments section below.