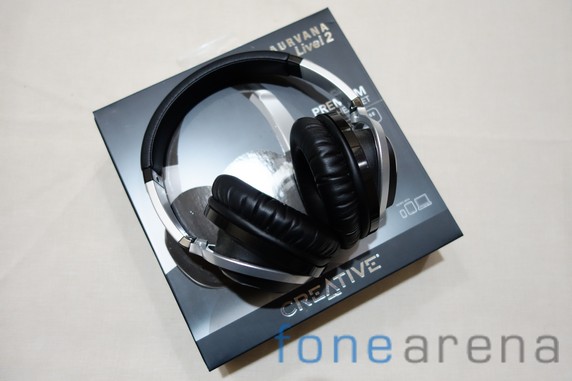 Creative is quite well-known for its Audio Gear products across world and is now gearing up again to be a prime player in the Indian Market. Creative recently announced the Creative Aurvana Live! 2 in Global market as well in Indian market as the successor to highly acclaimed Aurvana Live!. Creative launched this flagship wired headphones in India for at MRP of Rs. 12,999. Fortunately we have received the opportunity to experience these flagship Head-Phones for a good time.
Specifications of Creative Aurvana Live! 2
Wired Over-the-Ear Headphones
Designed for true to life acoustic performance
Adjustable Headband with Noise Isolation earcups
Inline Control, Volume Control and microphone
Weight – 255g
40mm (1.57 inches) Neodymium magnet with composite bio-cellulose diaphragm
Frequency Response – 10Hz ~ 30KHz
Sensitivity – 105dB/mW
Design
Compared to first generation Live!, Creative has definitely designed Aurvana Live 2 (CAL!2) with quite Modern looks. The CAL!2 is quite looker with its uniquely designed ear-cups shape.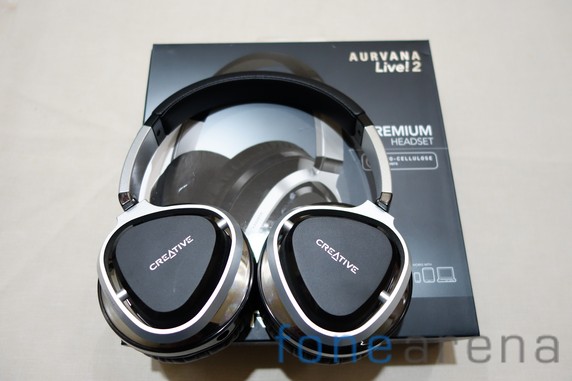 Creative has reduced the size of packaging and now compared to some other big brands, they don't come in box which has massive size. The box size is just perfect and Creative used every inch of available space to securely pack the CAL!2 headphones.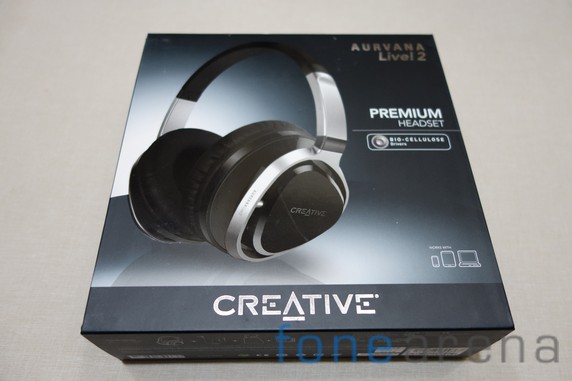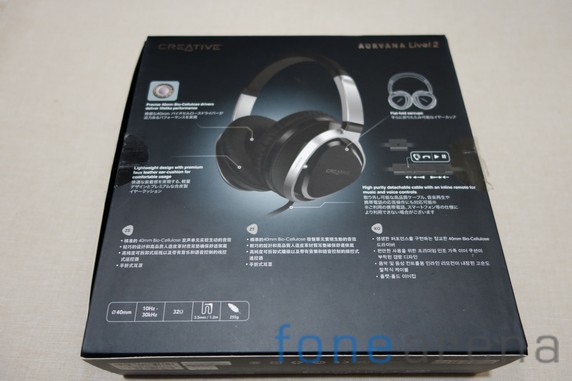 Thanks to already light weight CAL!2 which weighs just 255 grams, the Retail Box including headphones and its supplied accessories doesn't feel that heavy. At the back side of Box, Creative has provided its unique features and specifications quite neatly.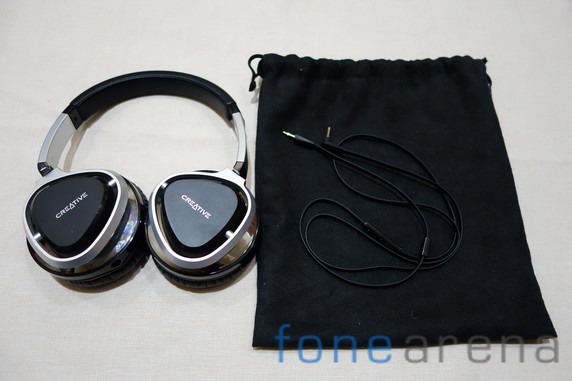 Inside the Retail Box, we get CAL!2 headphones, one detachable flat audio cable with gold-plated plugs and a black coloured microfiber carry pouch. There are additional accessories too like Air-plane Adapter and Creative Sound Blaster Splitter Cable Adapter but those are sold separately by the company.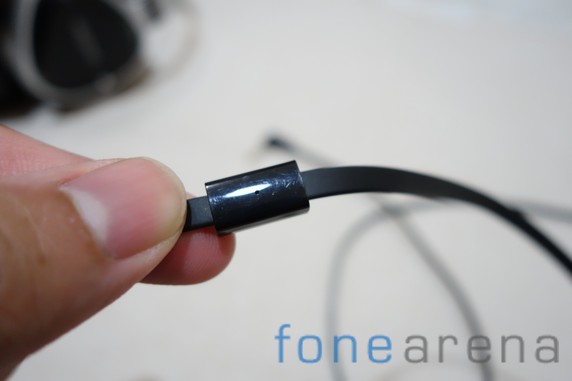 The single detachable flat audio cable supplied inside Retail Box is quite sturdy and has built-in High Performance Microphone for voice calls which has frequency response of 100Hz to 10KHz and Sensitivity of – 42dBV / Pa.
There is also the In-Line Volume Control along with the Multi-Function key which can be used for receiving/ending calls as well as for skipping the music tracks and to pause or resume the current playing song.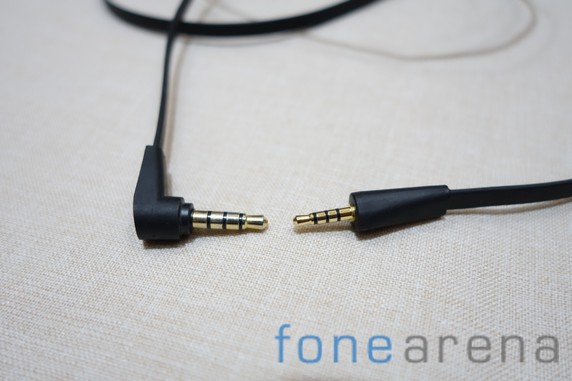 Both the plugs are gold-plated. The one which is at left and has 90 degree angle is the 3.5mm, compatible with every audio device which accepts the 3.5mm standard Audio Plug. The right one is 2.5mm and is made to plug the CAL!2 headphones.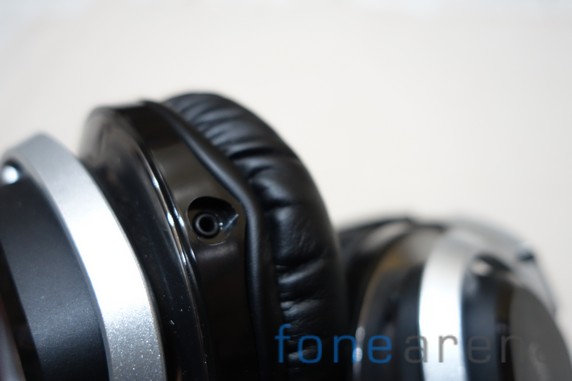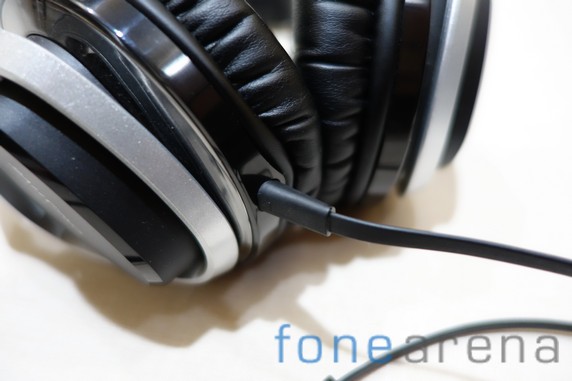 The Audio cable gets attached to the left side of ear-cups and the cable fits quite neatly with proper clicking sound which ensures that the fit is perfect. Unfortunately there is no cable locking mechanism in CAL!2 like Sennheiser Momentum On-Ears and Around Ears. So the cable can get detached if pulled with a force. Creative has designed it in such a way that even in such accidental forced pull, the CAL!2 headphones won't get damaged but there are very rare chances that the cable may get damaged. As I said before, the flat cable is quite durable and made for tangle free experience.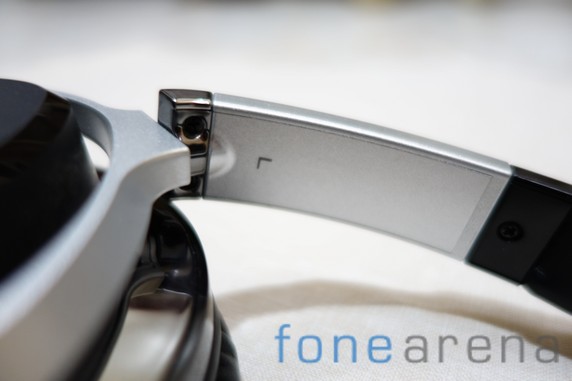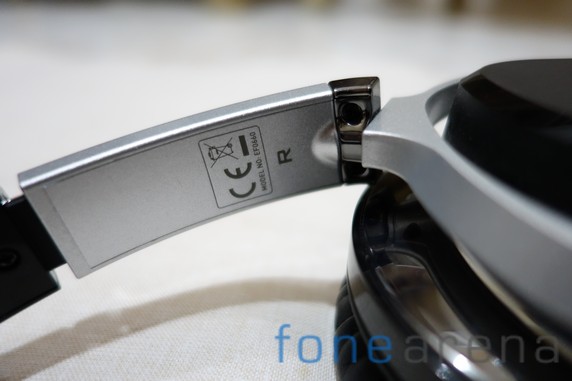 For easy identification, Creative has marked the Left and Right ear-cups with proper and easily visible sign marks inside the Head Band.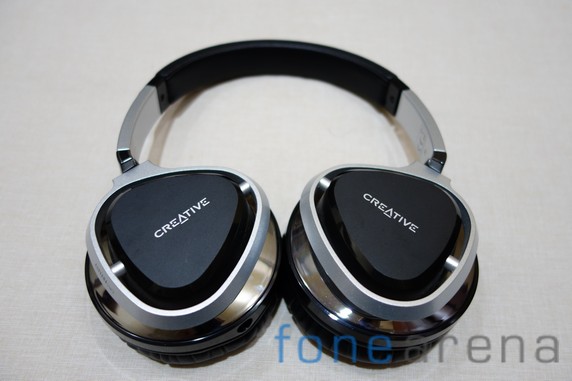 The flat-fold ear-cups are ideal for audio monitoring and convenient storage. A soft microfiber travel pouch is also included for portable convenience.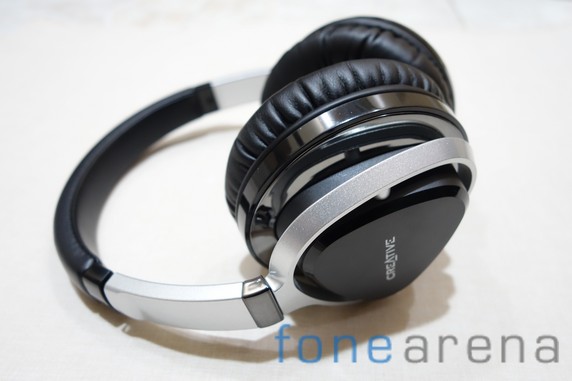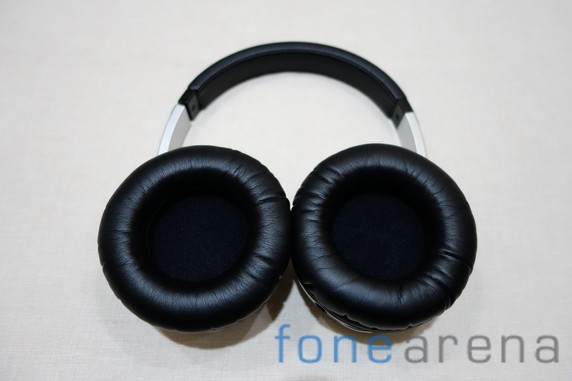 CAL!2 is padded with premium protein faux-leather and memory-foam for ear-cups which provide excellent comfort over extended periods of usage. These are one of the most comfortable over the ears headphones I have experienced in recent times. CAL!2 is powered by large 40mm Bio-Cellulose drivers and falls into the over the ear headphones category.
Even though the CAL!2 is made in durable plastic but the headband is actually made from strong and durable stainless steel. The headband also provides proper clicker for exact height adjustment for various head sizes and does not change adjusted size automatically without user intervention. Definitely this is a big plus for accurate and comfortable head grip. Overall CAL!2 is quite well designed headphones by Creative with non glossy premium finish.
Performance
Straight out of the box, CAL!2 sounded great, pretty much like the original CAL!. I have used the Fiio E17 as my DAC for testing these beautiful headphones. CAL!2 really doesn't need any burn-in, thanks to their 40mm Bio-Cellulose drivers providing true to life acoustic performance. This can be the headphone for people who really appreciate accurate & tight bass with very precise mid-range and treble. So is this a neutral cans like Sennheiser HD280 Pro? No, but it is definitely with a V-shaped signature. Most people on various Audio forums claim to prefer neutrality, but the truth is the V-shaped response is perceived to be more balanced due to the equal-loudness contour.
Compared to the original CAL!, the bass is deeper with more accuracy; has better extension than the Momentum On the Ears! I could feel the tactile low notes more at 30Hz with the CAL!2. The bass is definitely excellent, tight and punchy. It's got both quantity and quality, which is highly valued in the audiophile world. Quite similar to Momentum Over the Ears, bass is cleaner and tighter in CAL!2. But I think the CAL!2 shines really well when it comes to midrange. The vocals don't get overpowered by the bass or treble. There's no boom or muddiness in mid-bass. In-fact CAL!2 is the most excellent when it comes to mid-bass and over all midrange. The warm signature makes listening to genres such as classical a heavenly experience. But that does not meant that CAL!2 is just more suitable for classical but rather it is all-rounder and can be an excellent choice for almost all types of genres including Bollywood music. I will also say, that when it comes to Hindusthani classical instrumental music, CAL!2 is perfectly able to distinguish between Tabla, Mrudungam and Pakhawaj. Especially the Mrundungam and the Pakhawaj are accurately sounded on CAL!2. The reason is both these instruments produce very similar bass notes but Pakhawaj produce more stronger and longer bass notes. Many times, I have experienced that most of the premium headphones can not clearly distinguish between these two bass instruments. But on CAL!2, one can differentiate between the two. It was a bliss to experience the Hindusthani classical instrumental music on CAL!2.
When it comes to the high-range, I feel it is reproduced just like the original and much better than the both Momentum models from Sennheiser. Vocals are airy and crystal clear as should be. If you love to listen Movie Sound Tracks like me, then I can assure you, that you will love CAL!2 a lot. The way CAL!2 handles the dynamic sound-stage from movie sound tracks, you will actually feel you are inside a theater and watching the cinema. Cinematic effects are fantastic with CAL!2 and same applies for dialogues.
I didn't experience any issues while on calls using built-in microphone; my voice was always captured quite well and other party was able to hear me in good clarity. The only thing I complain about the CAL!2 is it's In-Line Volume control. The unit I had, was having some issues with its volume control. The problem was little hiss, which was audible when I used to slide the volume slider to reduce or increase the volume. I think Creative should also give equal focus on their detachable audio cables with such in-line controls supplied with their high-end headphones. In this space, Sennheiser Momentum simply rocks with its very high quality detachable audio cables and quality of those in-line controls.
CAL!2 is also very comfortable for long listening hours. I was able to have them on my ears for more than 4 hours at a stretch without any discomfort. In-fact I have found them the most comfortable over the ears headphones with big ear-cups. I didn't face any excessive sweating around ears, thanks to very comfortable grip provided by ear-cups. The headband is also covered with faux-leather and very comfy soft material. But beyond 4 to 5 hours, you may have little discomfort with the headband.
When I used the CAL!2 without Fiio E17 with smartphones and tablets; I have found that most of the smartphones and tablets can easily drive these cans without major stress on battery. I have tested CAL!2 with iPhone 5, Samsung Galaxy S4, Galaxy Note 2, Galaxy Note 3, BlackBerry Z10, Nokia Lumia 820, HTC One, Sony Xperia Z1, LG Nexus 5, iPad Mini, iPad 4 and iPad Air. The in-line volume control and the multi function key was fully compatible with all the mentioned devices. Unfortunately, the supplied cable with CAL!2 is not compatible with old Nokia Symbian devices like N8, PureView 808, etc. The CAL!2 is also fully compatible with legacy MP3 players like iPod Classic 160GB but the multifunction key doesn't work and it was quite obvious. But the manual in-line volume control works perfectly with old MP3 players and PMPs like Cowon A3.
Conclusion
CAL!2 is pitched by the Creative as the flagship Wired headphones with the international price tag of just US$ 129 which is way lower than Momentum's price tag of US$ 300. Both the headphones are elite models in consumer class category. In India too, Sennheiser Momentum (Over the Ears) is way expensive than Creative Aurvana Live 2, and the difference is almost Rs. 10,000.
I have experienced the CAL!1 which was simply superb in audio performance as well as comfort. But CAL!2 is amazing improvement over original CAL! and just unbelievably superb especially in this price tag. In India they are priced at Rs 12,999/- (it is MRP so retail price can be lower), which is higher than the global prices by almost Rs. 4,000. In this price category, Creative Aurvana Live! 2 directly competes with Sennheiser Momentum On-Ears (Rs. 14,990/-), ATH M50 (Rs. 11,000/-) , Marshall Major (Rs. 10500/-) and even competes with Sennheiser Momentum Over the Ears which costs Rs. 24,000/-.
Creative Aurvana Live!2 is simply amazing headphones and also easily outperforms Marshall Major and Sennheiser Momentum On the ears which cost in the range of Rs 10,500 to Rs 15,000. Compared to the Indian pricing, CAL!2 is available at just US$ 129 at Amazon USA which is just around Rs. 8000. I will suggest to get these superb headphones from USA or Singapore if you can, as they are worth every penny you are spending.