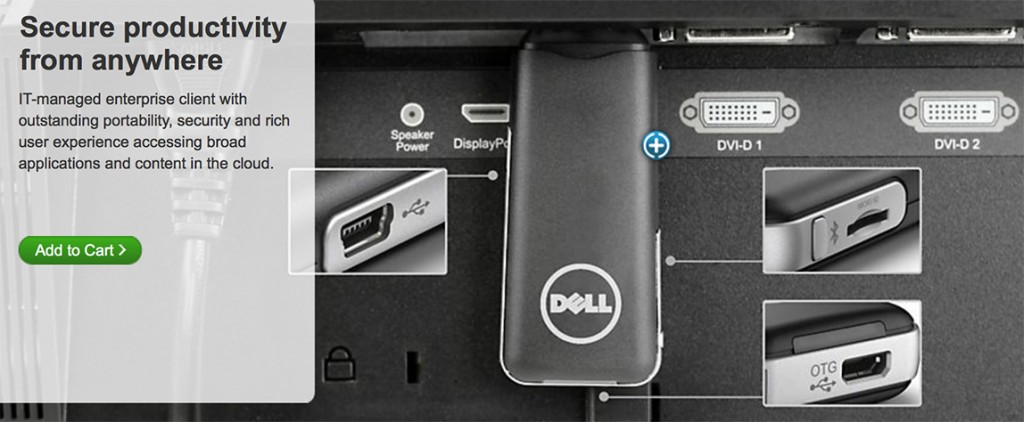 Dell was rumoured to be working on a really unique product, an Android dongle that could run the operating system, in a compact form factor comparable to a Chromecast. As wild as the idea seemed, it has now taken the form of a real product in the Dell Wyse Cloud Connect, an Android dongle, aimed at enterprise users who want to carry their work for access everywhere, in a compact form factor. The dongle runs Android 4.1 Jellybean and can be used on any HDMI supported screen, like a HDTV, a projector, MHL compatible touch monitors(for full Android touch functionality), or can be paired up with Bluetooth mice and keyboards for the usual interaction like a PC. Out of the box, the Wyse Cloud Connect will also run Citrix, VMWare or Microsoft remote desktop clients. Dell hopes this will entice enterprise users for the portability it offers.
httpv://www.youtube.com/watch?v=ur_XDXVQ3bc
If the actual specifications are concerned –
Runs on Android 4.1 JellyBean
HDMI/MHL video interface
Additional functionality through OTG/MHL
1080p full HD support
Multi core ARM Cortex A9 chip, but Dell doesn't say which
Additional ports – Display port, MHL/OTG micro USB host, Mini USB, micro SD card slot
8 GB in built flash storage and 1 GB of RAM
Enterprise level security
The Dell Wyse Cloud Connect will retail for just $130 for this version. There is no battery here, as the device is powered through MHL as well as USB, if necessary. We think this makes for a really nice utility device for people who travel a lot. Instead of carrying around a MHL cable for a supported phone, one can carry this for quick access to the internet and even some videos. We just hope this makes it into the consumer category soon.
Via: Engadget