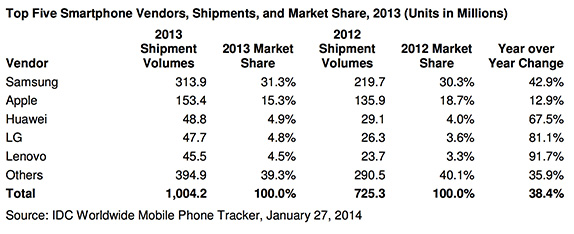 Ever since the introduction of the Smartphones in the mobile industry, we have been witnessing nothing but growth. The category was all set to replace the common mobile phone and the mid point of this transition was noticed sometime last year, with us seeing Smartphones outshipping the feature phones for the first time. The trend continued throughout the year and apparently history was made last year, with smartphones surpassing a billion shipments for the first time. This is after the holiday quarter, which has provided the necessary boost, with almost 284 million shipments. Head past the break for more information.

Taking a look at both the tables above, the leading company for the last quarter of 2013 as well as the whole year is Samsung, with them shipping a ton of smartphones, totaling more than 300 million, while Apple comes second with 51 million in Q4 and about 150 million in the whole year. To think that Samsung ships the twice of Apple in an year is astounding for the industry as a whole. Among the top 5 vendors, Huawei from China comes third, with 16.4 million in Q4 and 48.8 million shipments in 2013, while being tailed by LG and Lenovo, both with over 40 million smartphones shipped last year. The line up hasn't changed much, with only ZTE ending up at a very close 6th position, not pictured on the list above.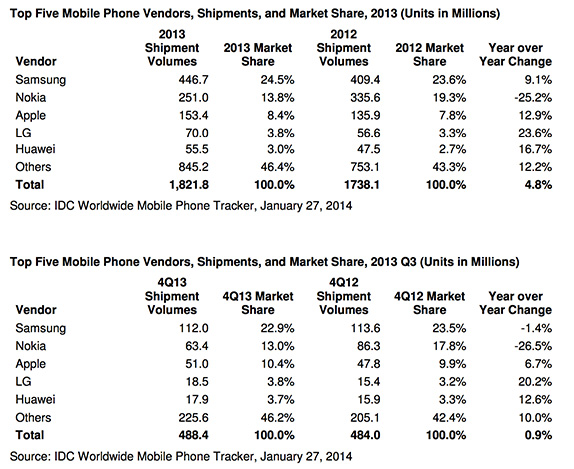 On the overall mobile phones side of business that includes feature phone shipments, Nokia still managed to ship a lot more than Apple, with 251 million for the year and 63 million for the quarter. For the quarter, this includes the small 8.2 million smartphone shipments. This is totally unlike the market leader, with 132 million feature phones, which is very less than its 314 million smartphone shipments, but that applies to all the companies except Nokia we guess, which is the only company that has not been able to convert its feature phone customers to its smartphones. That said, it's still an extremely competitive market and the smartphone shipments are only going to grow. With Microsoft acquiring the mobile phone business from Nokia, we can only look forward to more dynamics in the market. Until then, let us know what you think of this in the comments section below.