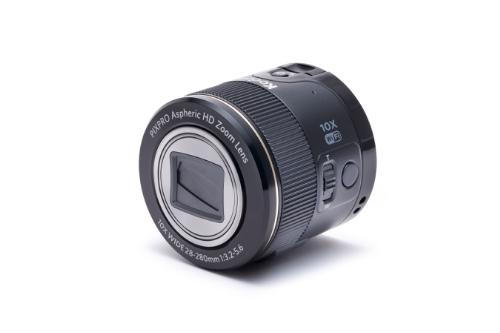 Kodak, the forgotten camera maker known for its film-based point and shoot cameras, has just unveiled its latest entrant into a surprisingly new segment. Remember the Sony QX range of Smart lenses? Kodak wants to take on that newly created market with its PixPro Smart lenses. The idea is exactly the same, we have a lens unit, complete with a sensor, storage unit and dedicated shooting capabilities but lacks a viewfinder, that will in turn be present on your Android or iOS smartphone. Kodak plans to offer a range of lenses with this idea that eventually will offer long zoom capabilities(10x zoom – SL10 and 25x zoom – SL25) on your smartphone, just like Sony's QX series.
The two models launched today in the PixPro range of smartlenses are SL10 and SL25. Both are super zooms with matching focal length multipliers for zoom, as mentioned above. The SL10 will cost $199 and will include 10x optical zoom, 1080p video recording with a 28-280mm wide angle lens with optical image stabilization. The SL25 on the other hand, which will retail at $299 will have a 24mm ultra wide angle lens and will have a zoom multiplier of 25x. Other details of the smart lenses like the megapixel count or the battery capacity haven't been revealed, but it will indeed have its own storage unit in the form of a micro SD card and will interface with your smartphone through a free downloadable app.
While the details are still vague on how these work in real, it is assumed that it would be very similar to how the QX lenses work. We had reviewed the Sony QX10 and found it to be quite useful, check it out in case you are interested. That said, it remains to be seen if this category remains a niche or if it's indeed a ploy from point and shoot makers to take on the smartphone cameras. I'd bet on the latter, as smartphone cameras have literally killed their businesses, so it's not surprising to see Kodak make an effort in this space. What do you think though? Will this make you buy one?