Today, we have four Full HD smartphones from Indian manufacturers – Gionee Elife E6 vs Intex Aqua i7 vs Micromax Canvas Turbo vs Zen Ultrafone Amaze 701 FHD. All these phones have a lot of similarities and that makes it a very difficult to pick a clear winner among the four devices.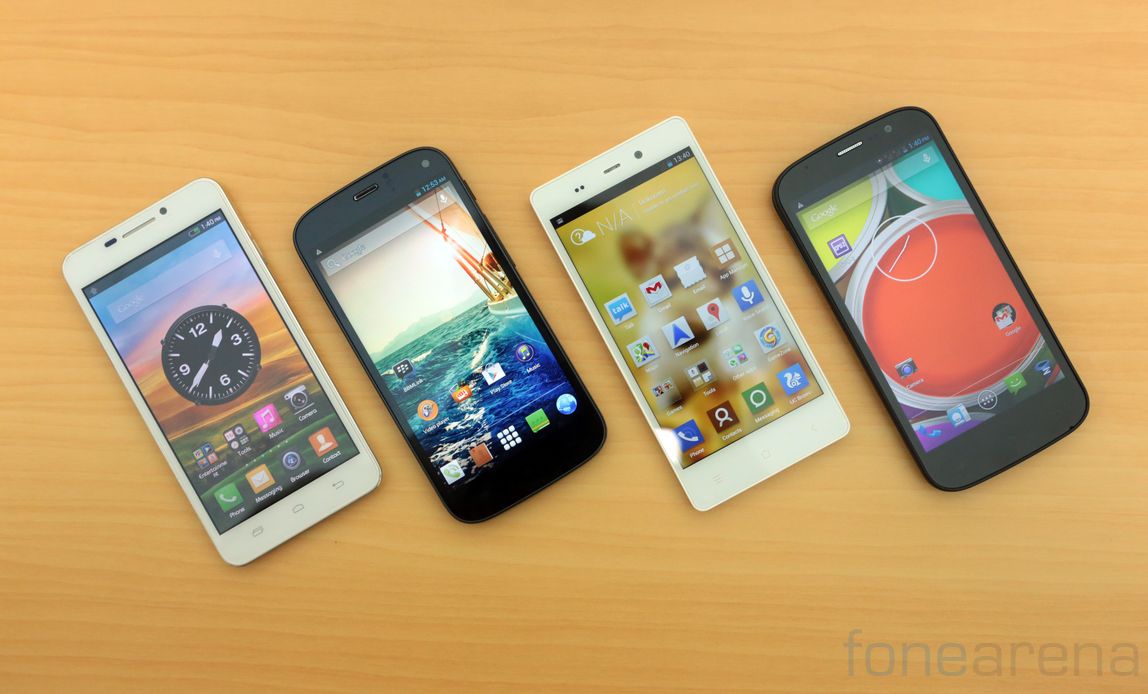 First lets check out the specifications of these four devices –
Gionee Elife E6 was announced during the middle of the year, but it made its way to the Indian market only a couple of months later. The Gionee Elife E6 comes with a 5inch Full HD display and is powered by the 1.5GHz quad-core MT6589T processor, has 2GB RAM and 32GB internal storage.
Intex Aqua i7 is the company's first Full HD smartphone and has specifications exactly similar to Gionee Elife E6 with a Full HD 5inch display, 1.5GHz Quad-core MT6589T processor, 2GB RAM and 32GB internal storage.
Micromax Canvas Turbo is Micromax's third flagship this year and is the first Full HD smartphone from the company. Canvas Turbo comes with exactly the same specifications like Intex Aqua i7 and Gionee Elife E6 except for the fact that there is just 16GB internal storage.
Zen Ultrafone Amaze 701 FHD is Zen's first full HD smartphone and has exactly similar specifications like Micromax Canvas Turbo, but comes with only 1GB RAM and a microSD card slot.
We compared the benchmark performances, cameras and Full HD displays of all these phones.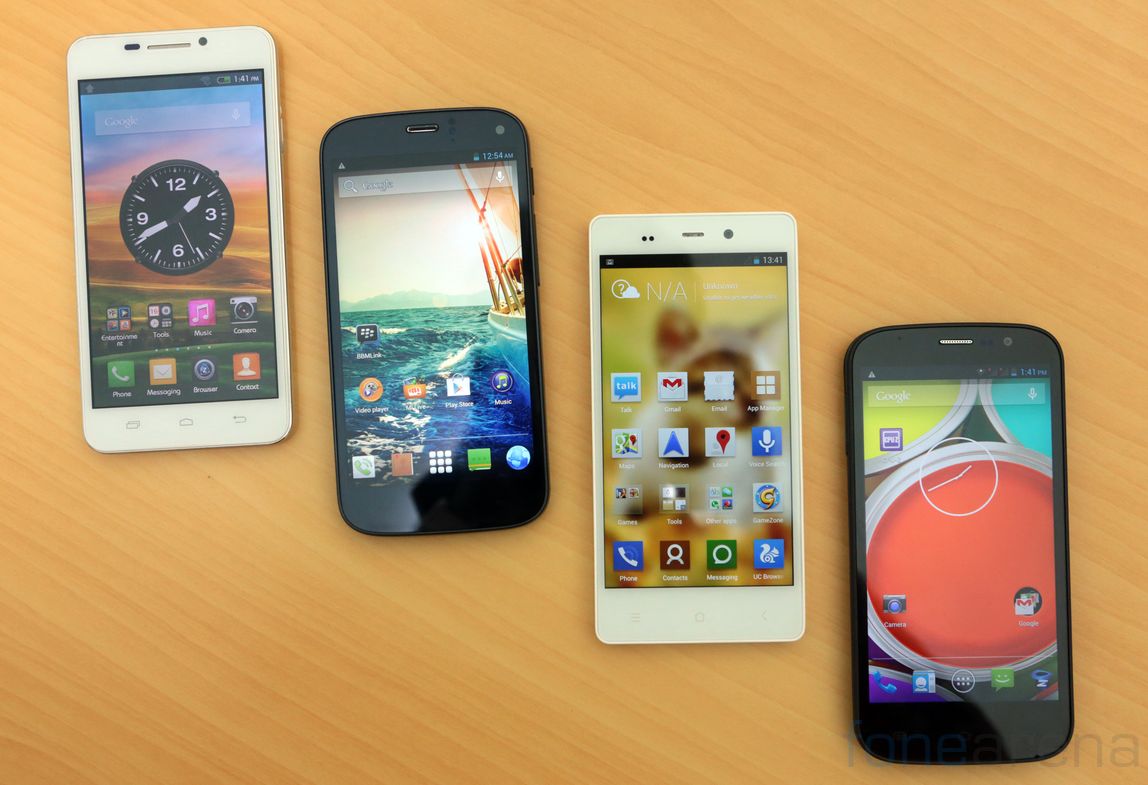 Performance and Benchmark Comparison
As you can see, since all the phones are powered by the same processor and GPU, the performances are quite similar. Benchmarks tell only one part of the performance. In terms of performance, all the phones are laggy and have their fair share of issues. Everything seems to be slow on these phones and that seems to be a problem since the MT 6589T processor fails to handle the 1080p Full HD displays smoothly.
Camera Comparison
All the phones come with a 13MP camera at the back that can record 1080p Full HD videos. We have compared the camera performances in the video below.
Display Comparison
The most important feature of these smartphones is their displays and each of them have a 5inch 1080p Full HD display and we made a display comparison of these phones. You can check out the display comparison video right below.
Each display has its positives and negatives. Overall, we liked all the displays when kept individually (which is the most typical usage scenario).
Build Comparison
In terms of looks, all the four phones are different in their own terms.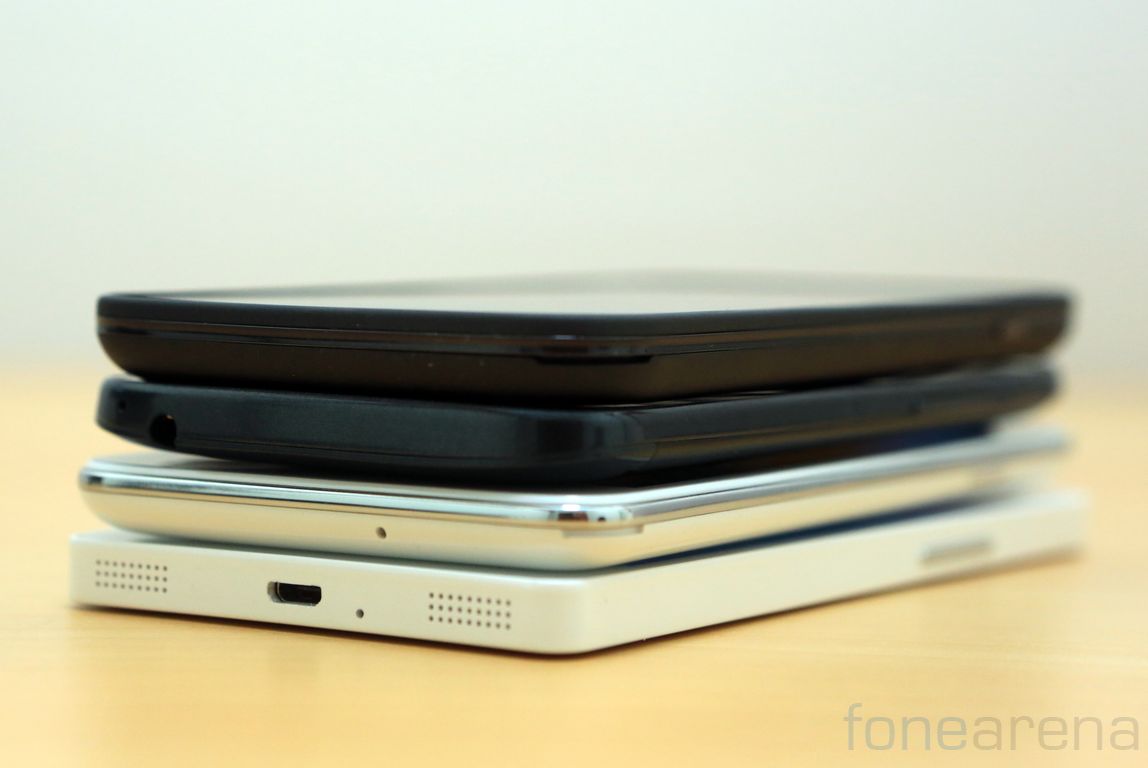 Gionee Elife E6 looks stunning in a unibody design. Surprisingly, Gionee Elife E6 is made up of plastic which is both glossy and extremely slippery. The sharp corners and rectangular slab like design do not give it any advantage in terms of handling except that it looks quite good.
Intex Aqua i7 is probably the least good looking device among the four and it is made of glossy plastic at the back which does not help handling. The design language is mundane and boring.
Micromax Canvas Turbo looks decent and is probably the best handling device among the four. The slim body-line makes it quite easy to hold on to and the usually big 5inch doesn't seem so huge.
Zen Ultrafone Amaze 701 FHD looks like an Indian version of Google's Nexus 4 with a glass back beneath which we find a pattern. The sides of the Zen Ultrafone are made of matte finish material and hence holding the device is very comfortable.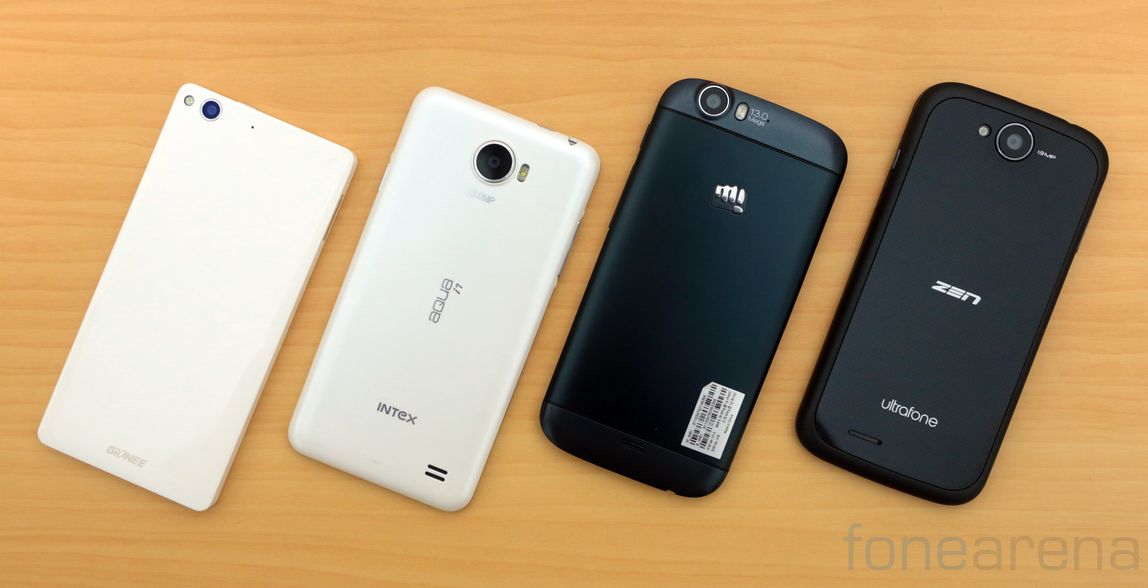 Conclusion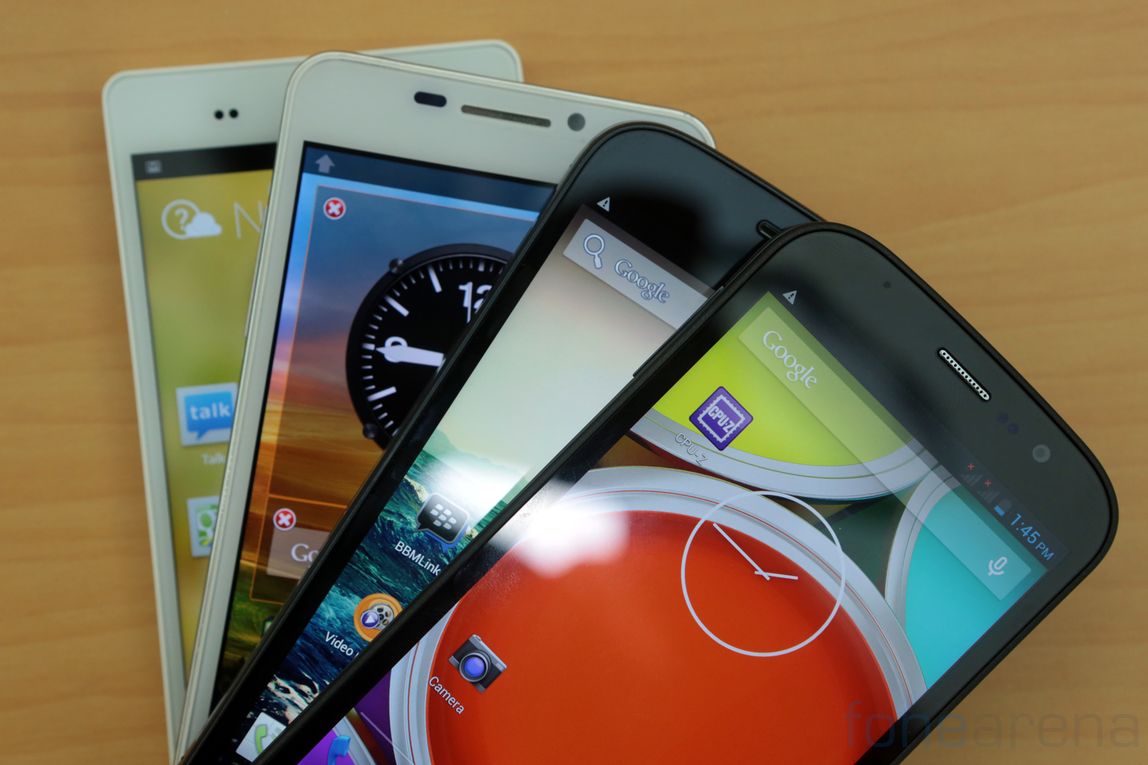 Overall, these full HD phones have great specifications, comes with awesome 1080p displays and also lie in similar price range, but the performance of these phones were not up to the mark. Hope we can expect the upcoming flagships from these manufacturers would offer better performance. Here are the pros and cons of these devices
Gionee Elife E6 
Pros
Beautiful hardware
Visually attractive interface
32GB storage
Cons
Performance
Average camera
No expandable storage
Intex Aqua i7
Pros
Good build quality
Display is bright and looks good
Above average camera
Huge internal memory for the price
Cons
Below average performance
Custom skin and default launcher derail the experience
Average battery life
Micromax Canvas Turbo
Pros
Good display
Good build quality
Good Camera
Cons
Average performance
No expandable storage
Battery life could be better
Zen Ultrafone Amaze 701 FHD
Pros
Good display
Good pair of cameras
Very good handling
Expandable storage with microSD card slot
Cons
Only 1GB RAM
Sluggish and average performance
Battery life not up to the mark