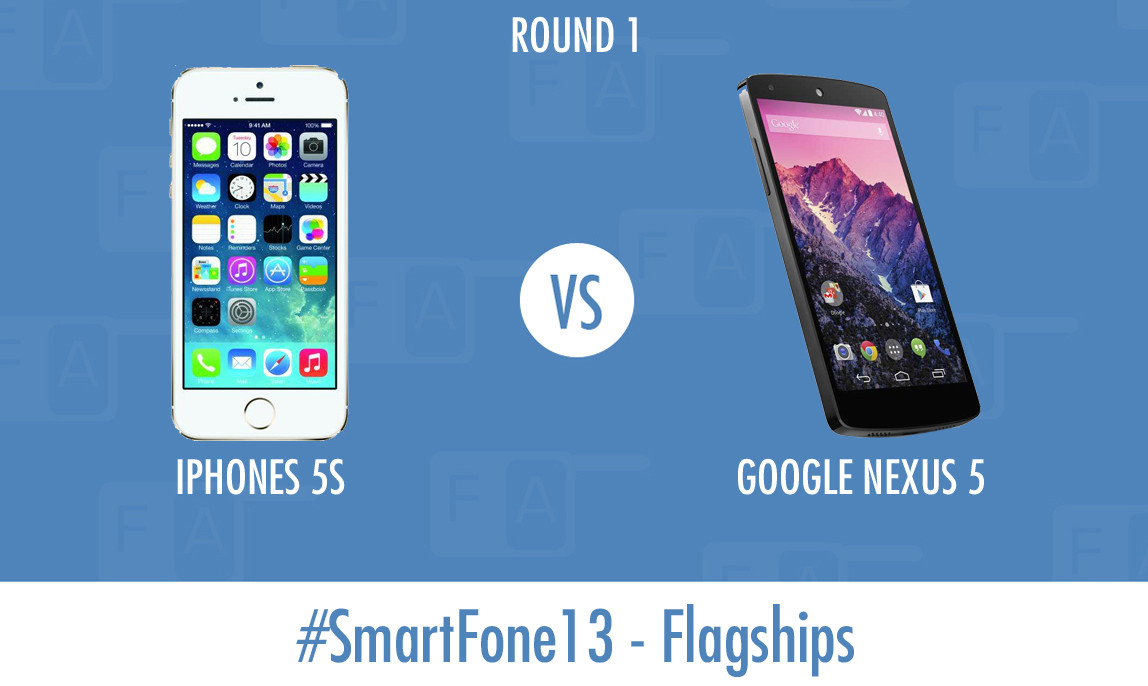 The second leg of the "Best Smartphone of 2013" championship's Round 1 begins today with an interesting battle. It's the Apple iPhone 5s, the Cupertino company's latest flagship device vs Google's latest iteration of its famed Nexus line, the Nexus 5. Apple and Google might have been close partners before, but ever since Android happened, Apple has been seeing Google as a threat. For sure, Android has very well catapulted into leadership in the market, but most of it is attributed to third party players like Samsung. With that said, Nexus 5 is Google's own, only made by LG and the iPhone 5s is well, the best iPhone till date, as all the new iPhones have been. Both these phones take an evolutionary approach, with the 5s differentiating with its Touch ID fingerprint sensor while the Nexus 5 has its humble approach to keep the phone affordable. Out of these two, which one would you pick? It's time to cast your votes.
Lets have a quick look at both the phones' specifications first, just to familiarize with them again –
Apple iPhone 5s Specifications
4 inch Retina display with 1136×640 resolution – 326 PPI
Touch ID – Biometric fingerprint sensor
New Gold and Space Gray colours
7.6mm thick and 112g weight
Apple A7 64-bit processor with M7 motion co-processor
WiFi b/g/n and BT 4.0
8 MP camera with 1.5 micron pixels and 1080p recording
1.2 MP Front facing camera
Apple iOS 7
Google Nexus 5 Specifications
4.95 inch 1920×1080 full HD IPS LCD screen – 445 PPI
Comes in White and Black Variants
8.59 mm thick and 130g weight
Qualcomm Snapdragon 800 2.26 GHz Quad Core processor with Adreno 330 450 MHz GPU and 2 GB of RAM
WiFi b/g/n/ac BT 4.0 and NFC with Qi wireless charging in-built
8 MP camera with OIS and 1080p video recording
1.3 MP Front facing camera
Android 4.4 KitKat
As you can see from above, the iPhone 5s and the Google Nexus 5 go head to head on almost every specification but the actual devices are poles apart. For example, the iPhone 5s has superior build quality, superior display(in performance, not size) and even arguably a superior camera. It is well known that both the processors are highly powerful for any day to day task, but it is to be noted that Apple here has the edge with future proof 64-bit technology. The dimensions of the phone are debatable as people might prefer the larger display of the Nexus 5 over the compact and small iPhone 5s, or the other way around. Perhaps the most debatable would be software, as both the phones are built on different ideologies with the roots based on software. And then, it all comes to price. Affordability vs Quality and premium experience would be the right analogy for Nexus 5 vs iPhone 5s. Highly subjective, so we leave it up to you.
Note: Check out our review of the Google Nexus 5.
With all these differences, which one would you pick? Which do you think is better?
And the Nexus 5 emerges the winner!
Let us know what you think in the comments section below, and if you had missed out on the earlier polls, here you go –
Samsung Galaxy Note 3 vs Sony Xperia Z1
Overall Standings and upcoming polls