Hello readers! Welcome to the first round of Fonearena's Best Budget Smartphone Competition. Fonearena is conducting one of a kind smartphone championship where you get to make your favorite smartphone win. This year we are conducting two championships – one for the flagships and one for the budget mid-range smartphones. Among the four interesting first round battles, we have the one between Nokia Lumia 520 and Zen Ultrafone Amaze 701 FHD right now.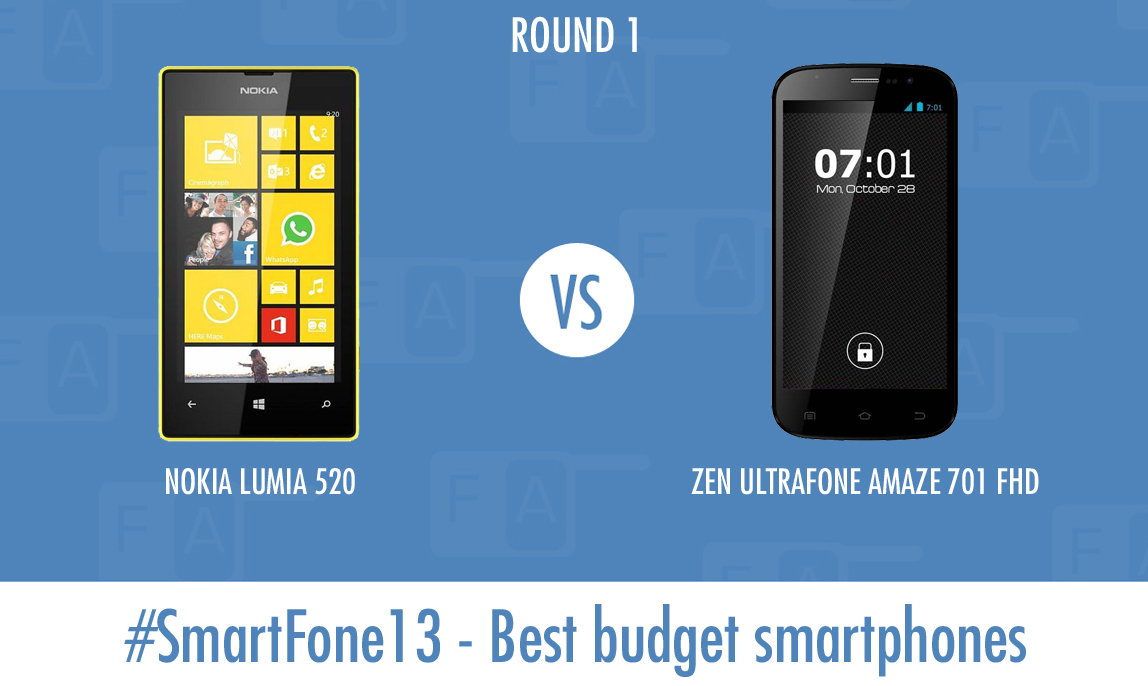 Among the eight phones, the only phone that literally stands out is the Nokia Lumia 520 because of its different OS and different price range combined with different set of features. While all other seven smartphones bring you the Android experience, the Lumia 520 brings the rich Windows Phone experience at a very very affordable price point(<Rs. 9000) . The Zen Ultrafone Amaze 701 FHD, as the name suggests, comes with a 5inch Full HD display and like most mid-range Full HD smartphones comes around Rs. 20,000.
Nokia Lumia 520 has a relatively small 4inch WVGA display and is powered by a 1 GHz dual core Snapdragon processor. There is 512MB RAM and you get 8GB internal storage along with a microSD card slot for expansion. Nokia Lumia 520 runs on Windows Phone 8 and comes with the flashy fancy Windows Metro UI. There is a 5MP camera at the back and no front facing camera which is kind of a disappointment.
Zen Ultrafone Amaze 701 FHD has relatively much higher density 5inch 1080p Full HD display and features a MediaTek 1.5GHz quad-core MT6589T processor. There is 1GB RAM and 16GB along with a microSD card slot. Zen Ultrafone Amaze 701 FHD runs on a near stock version of Android 4.2 Jellybean. On the back, Zen Ultrafone Amaze 701 FHD has a 13MP camera that can record 1080p videos and a 8MP front facing camera.
The Nokia Lumia 520 is the clear underdog in this comparison and the entire championship, but it is immensely popular among people. Can the underdog win this comparison or the championship? Its in your hands. Vote for your favorite smartphone right below.
Thanks for voting.