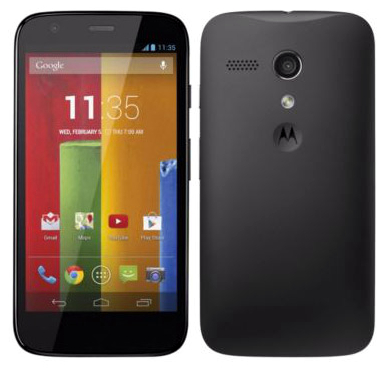 The Moto G announcement last evening was a pleasant surprise where the erstwhile smartphone giant showed off a compelling new entry level product. The Moto G brings mid range specifications coupled with solid build quality and Motorola's reliability at an unprecedented price point. The Android 4.3 running handset will get an upgrade to Kit Kat (Android 4.4) by January 2014. During the launch it was confirmed that the handset will be making it over to India.
The complete specifications of the Moto G include:
1.2Ghz Quad-Core Snapdragon 400 processor with Adreno 305 GPU
1GB RAM
5MP camera with LED flash, 1.3MP front facing camera
4.5 inch 720p edge to edge display
Gorilla Glass 3
Guy Kawasaki, advisor to Motorola, later tweeted out that the Dual SIM version of the phone will make it to India and Brazil.
#MotoG Dual SIM will be available in India and Brasil

— Guy Kawasaki (@GuyKawasaki) November 13, 2013
In India, the Moto G is expected to be sold via online channels similar to the Nexus phones. The phones have been priced at $179 and $199 for the 8GB and 16GB variants and these prices are without any contract. Keeping in mind currency conversion rates and customs duties, expect to see the phone in India at a sub Rs. 20,000 price point.