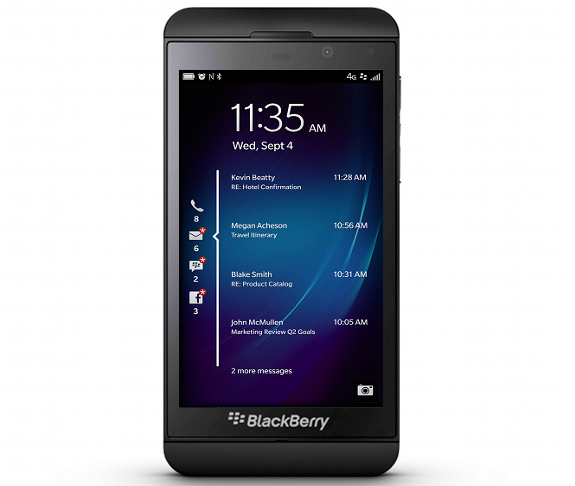 BlackBerry rolled out BlackBerry OS 10.1 maintenance release update for both the BlackBerry Z10 and Q10 devices back in July, now they have announced that the the BlackBerry 10.2 would roll out for these devices starting this week bring a lot of new features including BlackBerry Priority Hub, BlackBerry Natural Sound for BBM and hundreds of new improvements. It also has new Docs to Go, new BlackBerry Hub icon, camera enhancements and more.
New features in BlackBerry OS 10.2
Priority Hub learns what conversations are most important and automatically puts those messages at the top of the inbox
BBM Video with Natural Sound makes conversations sound more natural and realistic by capturing a wider sound spectrum that are usually lost in most cellular calls.
Instant Previews of BBM, SMS and Email from any app lets you see email, BBM and SMS message previews in any app. You can also tailor these notifications to ensure you're only notified as much as you want to be.
BlackBerry Keyboard  now offers personalized next word suggestion, auto-correction, and the distinctive BlackBerry keyboard layout for better speed and accuracy.
Copy and Paste Enhancements offer more precise cursor control and the text selection is now easier. It now gives a pop up menu with editing options and direct sharing with BBM, Facebook and Twitter to quickly copy, paste and share.
Faster, Easier Sharing – BlackBerry 10.2 learns how you share and who you share with to provide suggestions on who and how to share your files based on how you'you've shared in the past
Lock Screen Notifications now let you take a peek at the latest email, text, BBM, or notification. You can customize which accounts appear on the lock screen and scroll over the icons to display the sender and subject line.
Reply Now lets you respond to incoming phone calls through BBM, SMS or email with automated responses or with a personalized note.
Calendar Enhancements now has 'I'm running late' function to instantly let meeting participants know if you'll be late.
It would gradually roll out for BlackBerry Z10, Q10 and Q5 users globally over coming weeks depending on the carrier and region. Africa, Asia Pacific, Canada, Europe and the Middle East regions would get the update starting this week, Latin America would get it starting November and the rest of the U.S would get the update starting this winter.