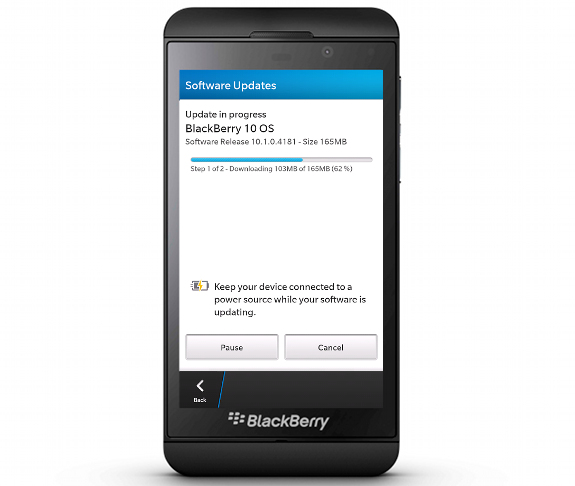 BlackBerry has started rolling out a new BlackBerry OS 10.1 maintenance release update for both the BlackBerry Z10 and Q10 devices. The BlackBerry 10.1 update was announced back in May at the BlackBerry Live conference in Orlando that brought  HDR Camera, Better BlackBerry Hub features Support for PIN to PIN messages, Fine Cursor Control and lots more. The BlackBerry 10.1 started rolling out soon after the announcement. Now the BlackBerry 10.1 maintenance update brings BlackBerry Hub enhancements, Imprvements to BlackBerry World, New BlackBerry Balance features and more. The New BB 10.1 OS has version number of 10.1.0.4181 / 10.1.0.4537 depending on the device and region.
New features in BlackBerry 10.1 maintenance release for BlackBerry  Z10 and Q10 smartphones
BlackBerry Hub : Quickly move between messages – Use a simple gesture to quickly move to the last or next message without having to return to the message list, Jump to the last unread message – If you have a BlackBerry Q10 Pressing the 'u' key in the BlackBerry Hub will take you to the last unread message, Email synchronization – ActiveSync and IMAP email users can adjust syncing preferences to keep emails on their BlackBerry smartphone for an unlimited time period
BlackBerry World : Search improvements help you find the apps, games and multimedia content you're looking for. When you find that app – our new wish list feature helps you keep track of apps you want to download. Automatically updates Facebook, Twitter, and LinkedIn to the most recent versions.
BlackBerry Balance : Manage work and personal conversations by letting you split out your work and personal accounts in to different views within the BlackBerry Hub.
This update also brings simplified password entry from the lock screen, interactive tutorial, new language features also lots more. You can head over to the BlackBerry support page to view the complete list of new features.
BlackBerry Z10 users can get the update from Settings> Software Updates> Check for Updates>. It would gradually roll out globally over coming weeks depending on the carrier and region. Asia Pacific, Canada and  EMEA regions would get the update starting July 29th, Latin America would get it starting Mid-August and the rest of the U.S would get the update starting End of Summer.
Source: BlackBerry Blogs, Image via: CrackBerry Forums