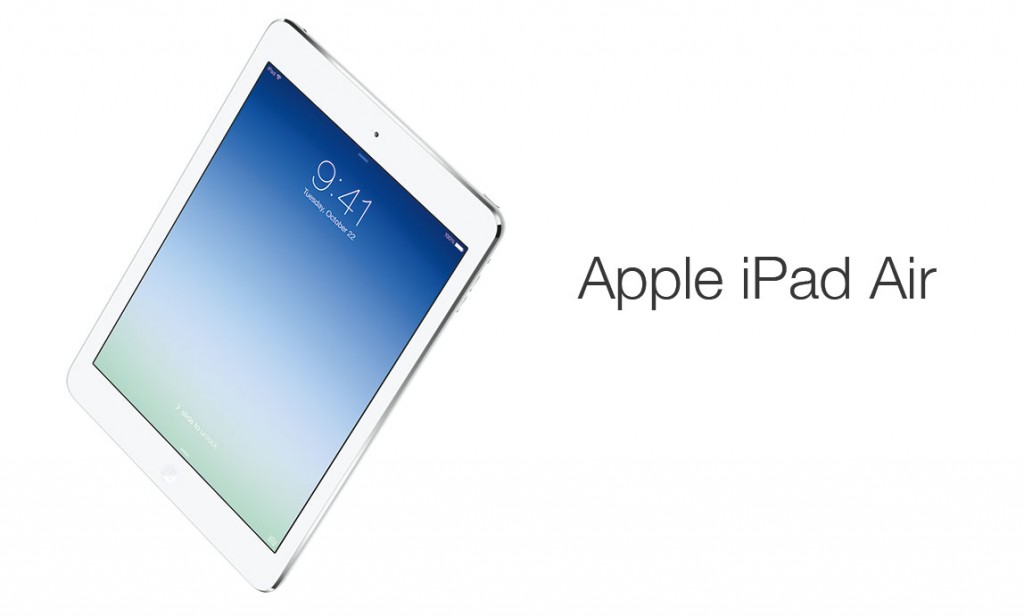 Apple has just announced the refresh to its iPad lineup with the new iPad Air and the iPad mini with retina display. The iPad Air not just gains a new name, it also gains a new thin and light design. Learning from the engineering of its own iPad mini, the iPad Air loses a lot of weight to weigh just a pound, while thinning down its bezels and overall thickness to just 7.5 mm. The iPad Air also looks a lot like the iPad mini in terms of the design language with beautifully rounded corners, chamfered edges and a smooth finish for the back. The internals also gain a generational boost with the new A7 64 bit processor that debuted on the iPhone 5s. Apple marks a 72x increase in graphics performance when compared to the original iPad which makes things interesting.
Lets go through all the specifications of the new iPad Air –
9.7 inch 2048×1536 Retina Display
7.5mm thickness, 1 pound = 454g weight
Apple A7 64 bit processor with M7 motion co processor
Dual WiFi antennas – MIMO, but no ac support
5 MP iSight camera with 1080p video recording
Two mics for noise cancellation and Siri
Available in Silver & White and Space Gray and Black
Starting at $499 for the 16 GB WiFi version
As you can see from all the specifications above, not much has changed in the overall idea. It still has the same display, no bigger displays as rumoured, and there is no change to the cameras, although we are sure that would have been unnecessary at best. The interesting changes are obviously the thinness and the design that makes the iPad Air the lightest (big?)tablet in the world. It's going to be so much easier to handle the iPad with a single hand now. In fact it will be revolutionary, like Apple might say. The 64 bit architecture is a welcome for the iPad because it is just going to make the already powerful apps even more powerful. People balked at the inclusion of the 64 bit processor on the iPhone, but they would be happy to see that the iPad has gained the same advantage, which will be put to better use on a larger screen real estate.
The device is slated to be available starting November 1st, which is just a week away in many countries, unfortunately excluding India. But we are sure India will see a launch soon. Price at $499 for the base 16 GB version, the prices remain the same throughout the variants, and the iPad 2 will still be on sale for $399.