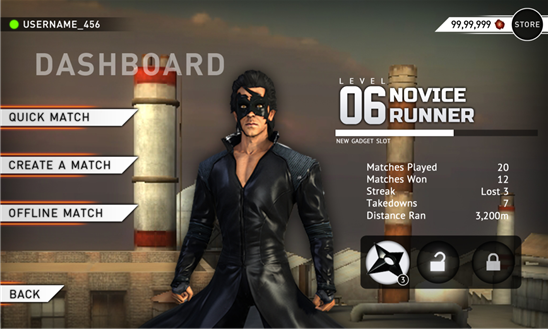 Krrish 3, a highly anticipated Bollywood movie this year, is following the same route as previous big budget Bollywood as well as Hollywood movies by releasing a game just before the movie release. The Krrish 3 game is now available as a free download, but as a timed exclusive on Microsoft Platforms – Windows Phone 8 and Windows 8. It is currently available for download on Windows Phone 8 and it is expected to arrive on Windows 8 by the end of this week. Here's the game's trailer released on YouTube –
httpv://www.youtube.com/watch?v=kO2vLU2p1ys
The game is said to eventually land on iOS and Android platforms but at a later date. Expanding on the game –
Set against the backdrop of Mumbai, the game has six levels, three of which are set in the old city and three in the newer parts of Mumbai. You can choose to fight as one of the four movie characters – Krrish, Kaal (available exclusively on Windows devices), Kaaya, and Frogman. Besides Shurikens, Freeze and Force Punch, the choice of gadgets also includes Vortex, which will continue to be available only for Windows smartphones, tablets and laptops. What's more, is that the online multiplayer experience ensures a thrilling new experience each time you pit your skills against Krrish fans all over the world.
The game is set in Mumbai with six levels to play. From the screenshots, it looks like a running game like Mirrors Edge.
The game includes fighting mechanics too, and there are several characters, some of them exclusive on Windows platforms, to choose and play with. There's a growing trend here in India, where major apps and locally produced games are getting an exclusive on Microsoft platforms first. May be there is enough traction for developers to consider an exclusive in India, or is Microsoft finally taking Windows Phone serious?
Currently available only on Windows Phone, the store reviews aren't encouraging. Most of the complaints surround a "not working on the Lumia 520" issue and "Works on my 820/920, but lags". We haven't tested the game on our phones yet, but we would advise you to wait till an updated version rolls out on the store. We will also let you know the problems we face from our end once we get it installed. That said, let us know what you think in the comments section below. Does the game work for you? What are your thoughts on the game?
[Update: The game is now available for iPhone, iPad and Android smartphones.]