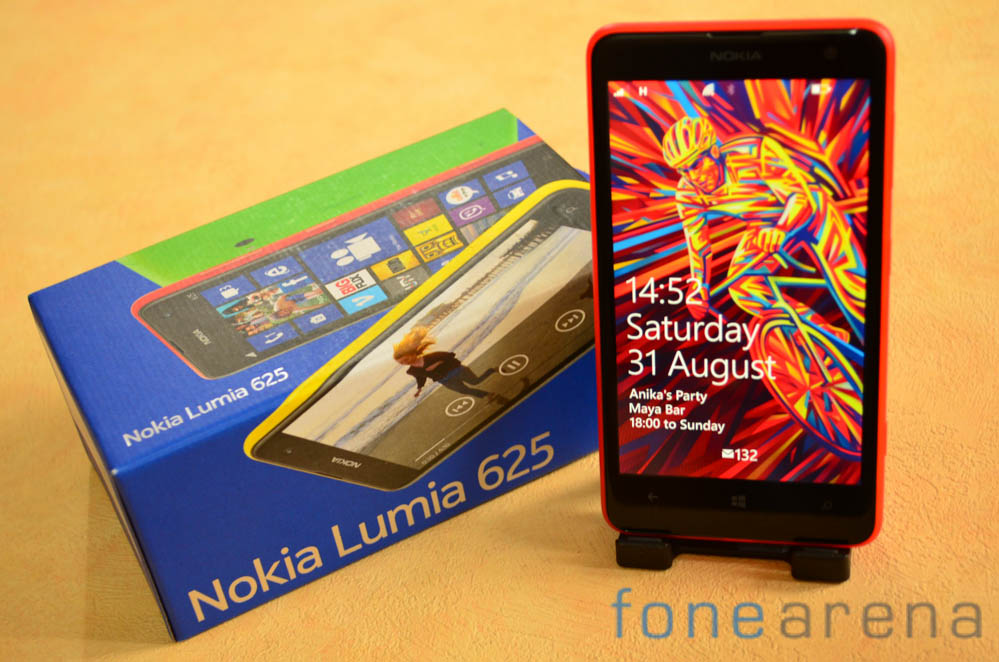 Having placed all its bets on Windows Phone and its Lumia range of devices, Nokia has been consistently introducing compelling hardware at prices that are all over the spectrum. Following the recent trend of extra large devices, Nokia Lumia 625 employs a large screen with mid range specifications at a fairly appealing price point. Will that be sufficient to fend off competition from spec monster Android devices ? Read on to find out our opinion.
Design
The Lumia 625 is perhaps one of the most ergonomic devices we've used and the rounded corners and edges go a long way in facilitating that. While the handset appears like a play on the Lumia 620 and doesn't really stand out, it is a device that isn't an eye sore and manages to distance itself from the hoards of very similar low cost Android phones out there. The dimensions of the handset come in at 133.25 x 72.5 x 9.15 and it weighs in at a surprisingly hefty 159 grams.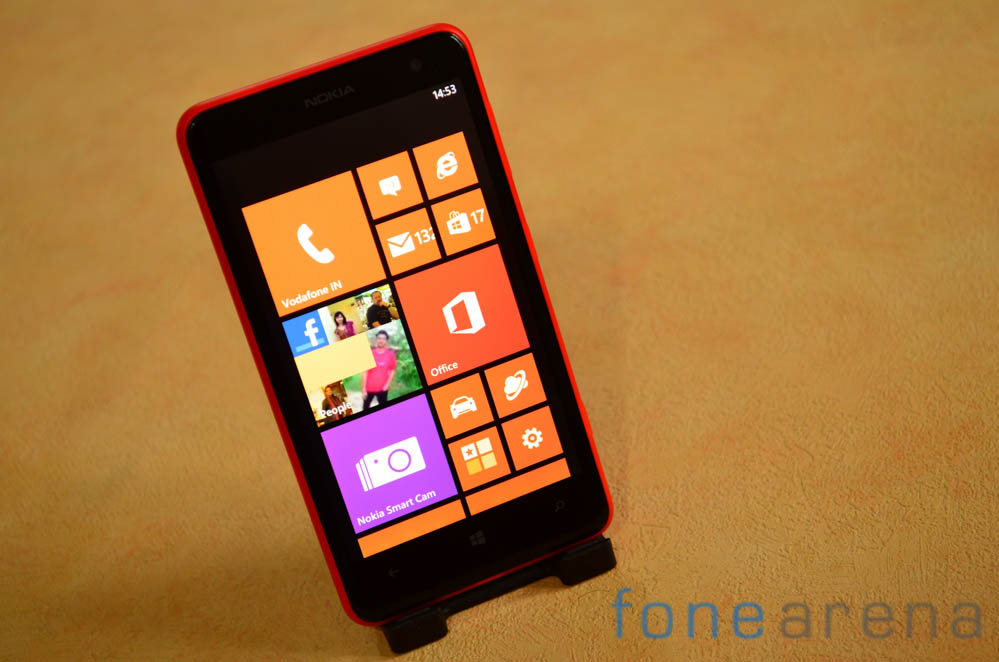 The front of the phone is quite literally dominated by the 4.7 inch screen which is the largest display ever in a Nokia device. The screen has a Gorilla Glass 2 layer above it and gently tapers off at the edges. Below it are the capacitive control buttons while up top is the earpiece with the VGA front facing camera next to it. A single microphone is placed towards the lower edge and the handset lacks hardware based noise cancellation.
On the right side of the device is the volume rocker as well as the power key. The keys lie almost flush with the handset and don't offer much in terms of feedback. Having been painted the same color as the shell, it doesn't really offer much contrast but this is essentially just an aesthetic concern.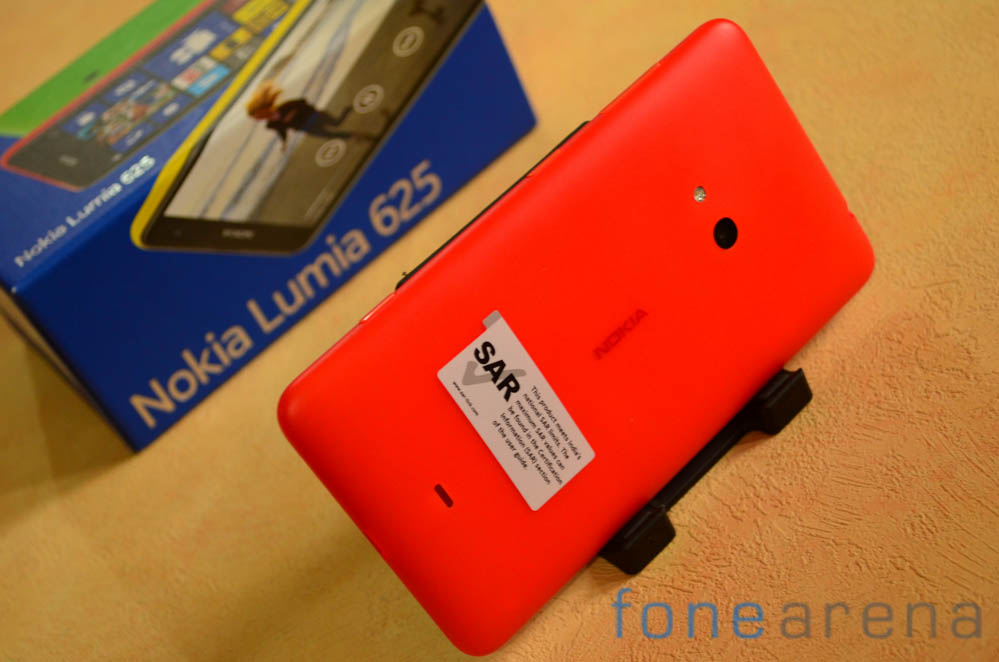 Moving over to the back of the phone you'll spot the Nokia logo towards the center with the camera lens, single LED flash aligned next to it. The rear panel of the device is removable but tends to be pretty hard to extract which makes the handset feel a lot more durable.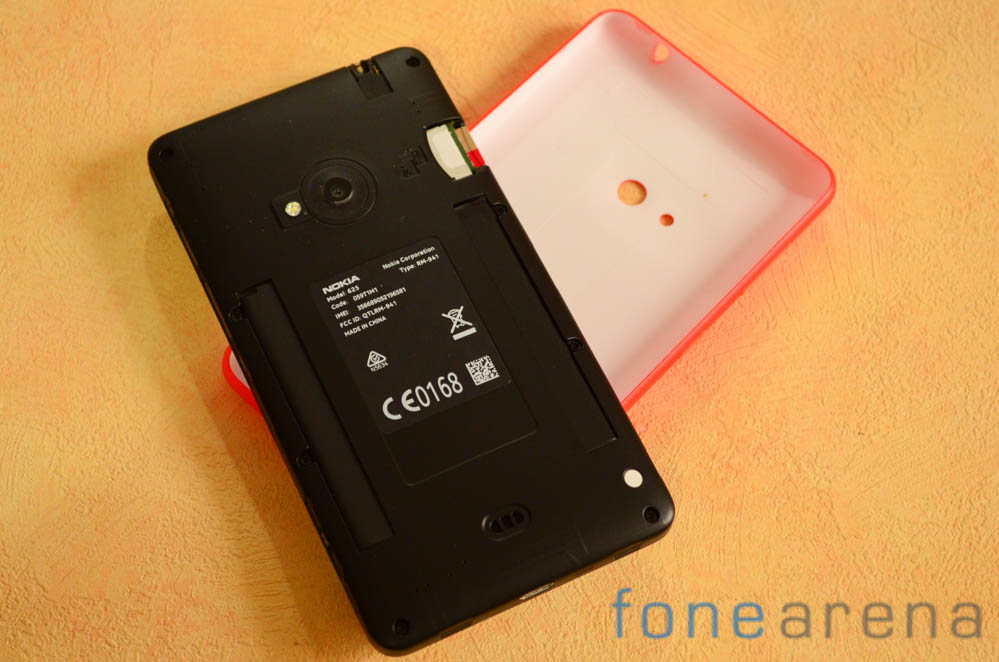 Under the shell is a sealed in battery pack and more importantly a combined microSD card, microSIM card slot. A loudspeaker port can be seen towards the lower half. Overall the design of the handset is resoundingly solid and has an air of understated elegance that is rare to see in a device in this category.
Software
The Lumia 625 runs Windows Phone 8 as expected and for better or worse this is the same operating system that you have seen now for over an year with the only 'customization' being the additional apps bundled in by Nokia. Don't undermine the efforts of Nokia though as those applications generally tend to be the secret sauce that attracts users to the Windows Phone platform alongside the stellar hardware.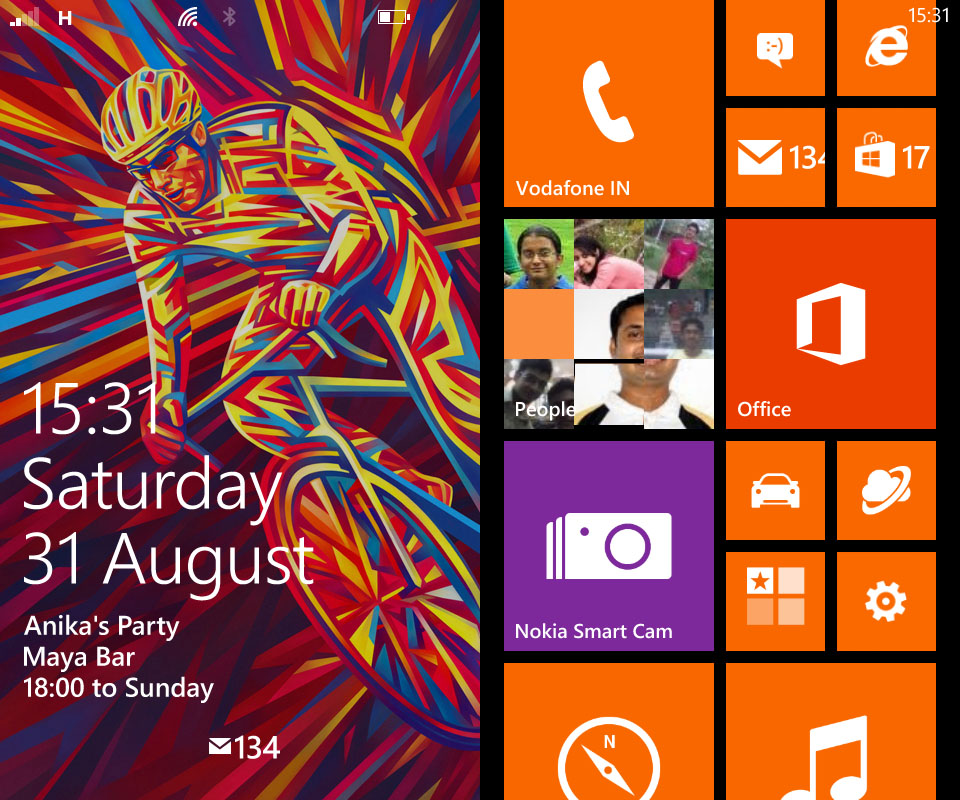 We took a very indepth look at Windows Phone 8 at launch and our observations still stand true because of Microsoft's focus on standarization, slow update cycles. Our chief gripe with the software onboard the Lumia 625 has to do with the screen that you'll be seeing the most. Despite having a large 4.7 inch display, the information density on the handset is rather disappointing and interface elements can feel a bit too big.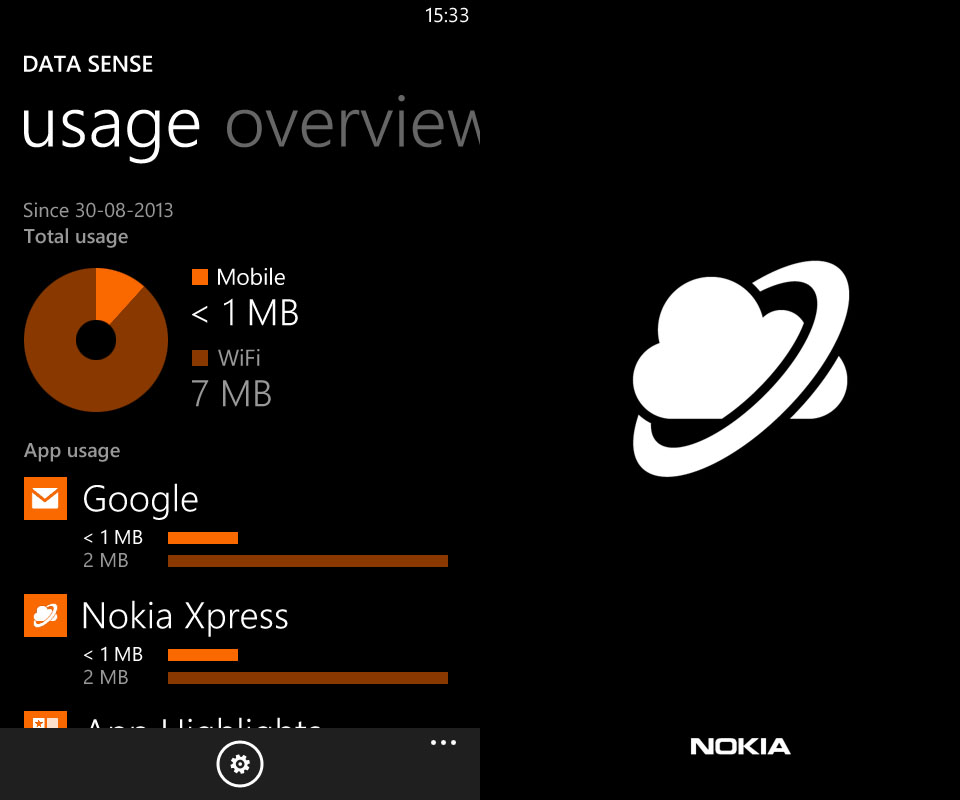 Till the time the long rumored GDR3 update rolls out, we're stuck with having just two widgets rows on the homescreen. Scrolling through the device interface is smooth and highlights the operating system's frugal hardware requirements. This has far reaching implications as even budget hardware can appear to and often even perform as well as top of the line devices.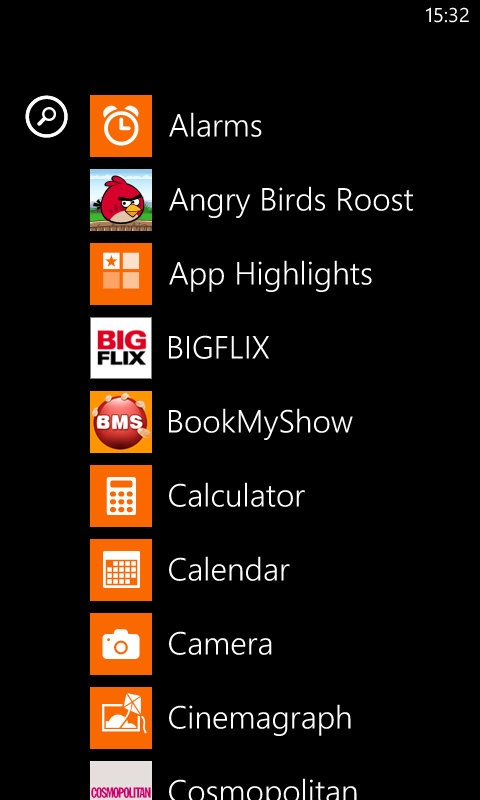 Scrolling to the right launches applications list through which you can scroll, tap to launch. There is no way to organize apps here other than the default alphabetical order but you can jump straight to specific alphabets.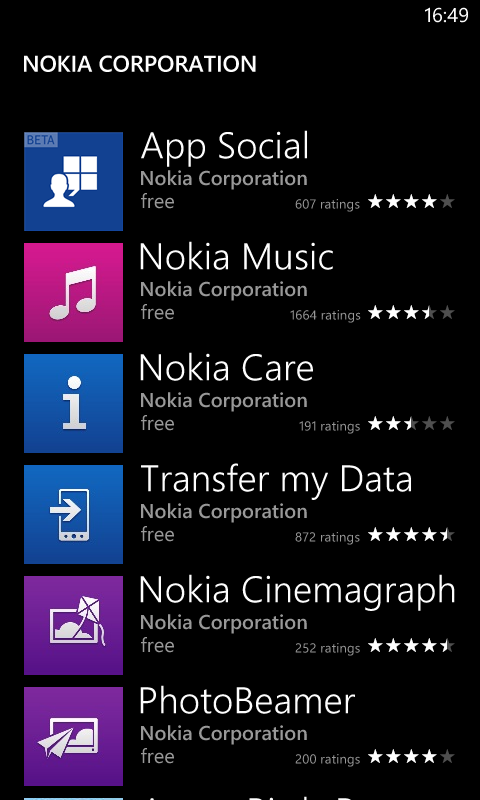 Nokia's software suite offers a litany of applications that should appeal to all users. The apps serve a range of goals that vary from plugging in limitations of the operating system or provide some very interesting features like PhotoBeamer. The handset runs Windows Phone GDR2 whichs is a mostly under the hood update. Nokia pushed out its Amber update alongside GDR2 and two of the coolest features that it introduced are unfortunately not available here.No, the 625 does not support Glance Screen or Double Tap to Unlock but it does bring along Data Sense and a very cool Smart Cam app which is impresses even though it is slightly gimped compared to the full flavored version. You can check out what else is included in the update over here.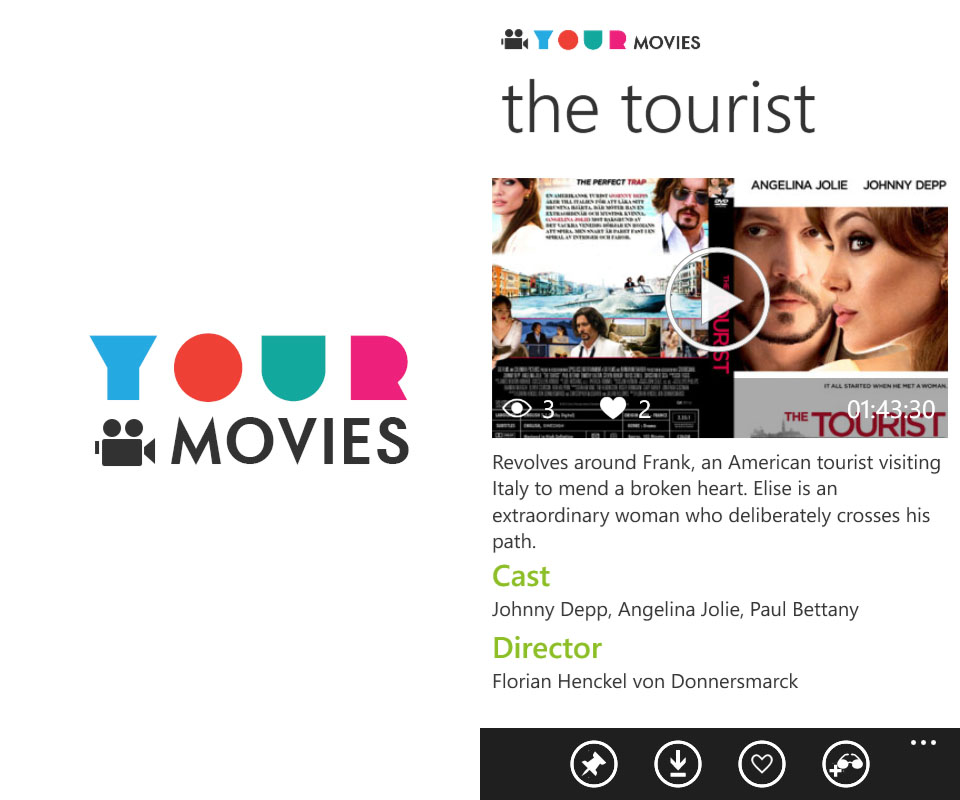 The Lumia 625 being a mid range device does get all the Nokia specific applications albeit with a few limitations. The extremely popular HERE Drive app supports only a single region rather than global navigation though this can be accessed via an in app purchase. Nokia's Pro Camera and City Lens apps are also missing. Windows Phone has been widely criticized for having a lackluster application ecosystem but this has improved steadily over the past few months. You now have access to applications for all major services and in some cases, absolutely fantastic third party applications to connect to said services. Case in point being Instagram. Nokia has partnered with YourMovies to provide three months of free service to Lumia 625 users. The application has a database of almost 3000 movies. These movies can be stored offline as well. Additionally, Nokia has tied up with Flipkart to offer an ebooks application with free content as well.
Display
Being the largest screen available on a Lumia device, it is the main talking point of the phone for better or worse. While certainly big at 4.7 inches, Nokia misses out by opting for a decidedly low resolution panel. No matter which way you put it, WVGA is definitely low for a 4.7 inch panel.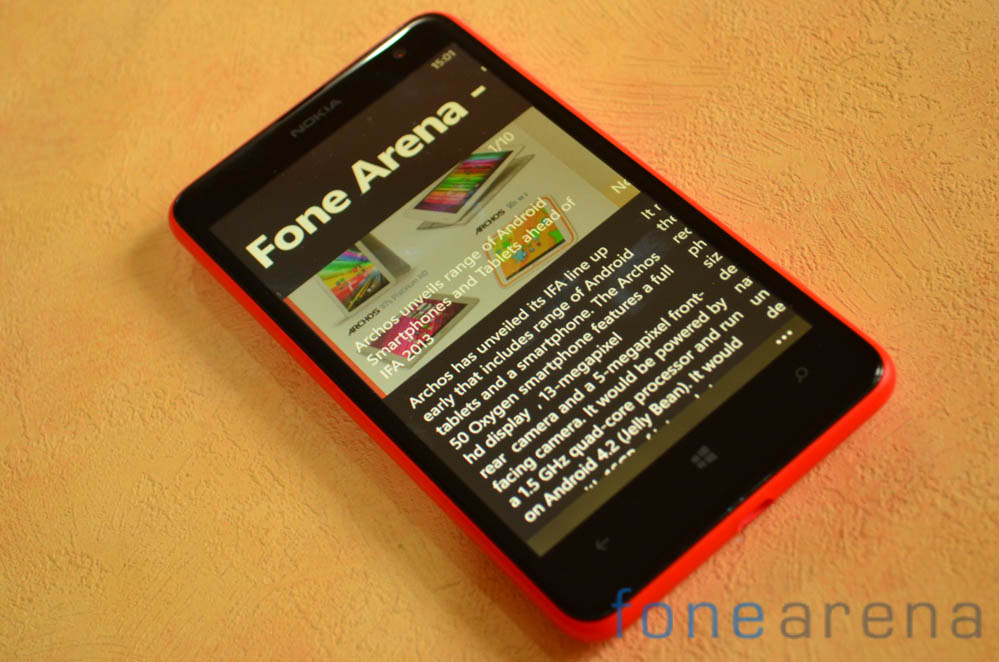 The pixel density comes in at 201ppi and it isn't hard to spot individual pixels. Windows Phone itself doens't display extra information on the screen. If you're coming from another WVGA panel, you should be fine but on a screen of this size, a higher resolution panel would've definitely aided web browsing or any use case that involves reading.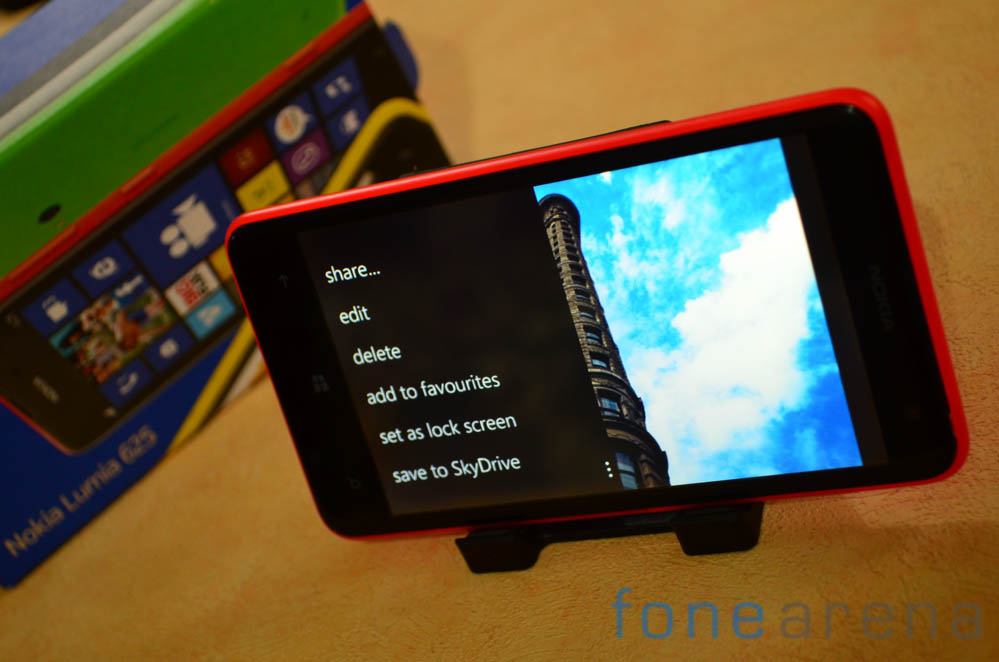 The screen panel itself is quite polarizing. The screen just isn't vibrant enough and contrast levels are quite low. The display suffers from not so great viewing angles. It does come with the super sensitive touch screen technology and enhancements for sunlight readability and that part works very well. However, the screen is far from ideal if all you want to do is view multimedia content.
Performance
Under the hood of the handset is a Qualcomm Snapdragon S4 MSM8930 chipset with a 1.2Ghz dual core processor. Paired with it is an Adreno 305 GPU and just 512MB of RAM. Real life performance is smooth all around. Opening apps is slightly faster than other Lumia devices that are lower in the hierarchy for example, the Lumia 620, 520. The slightly faster processor does have an impact on processor intensive apps and generally the performance lies right between the two ends of the spectrum.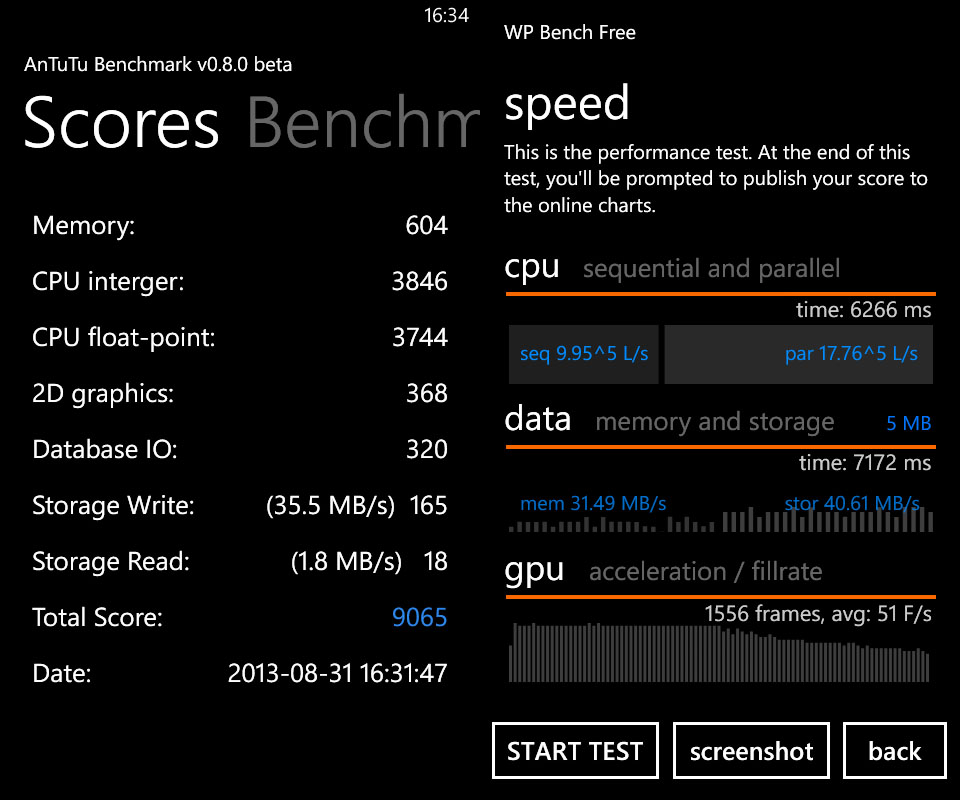 The 512MB of RAM is a shame and will impact long term usability of the phone. Windows Phone is pretty good with managing RAM but even then, power users will hit the multitasking capabilities of the phone sooner rather than later. There aren't many Windows Phone benchmarking tools but we've included scores from the AnTuTu benchmark beta and WPBench above.
Camera
The Lumia 625 is equipped with a 5MP camera over at the back and has an LED flash placed right next to it.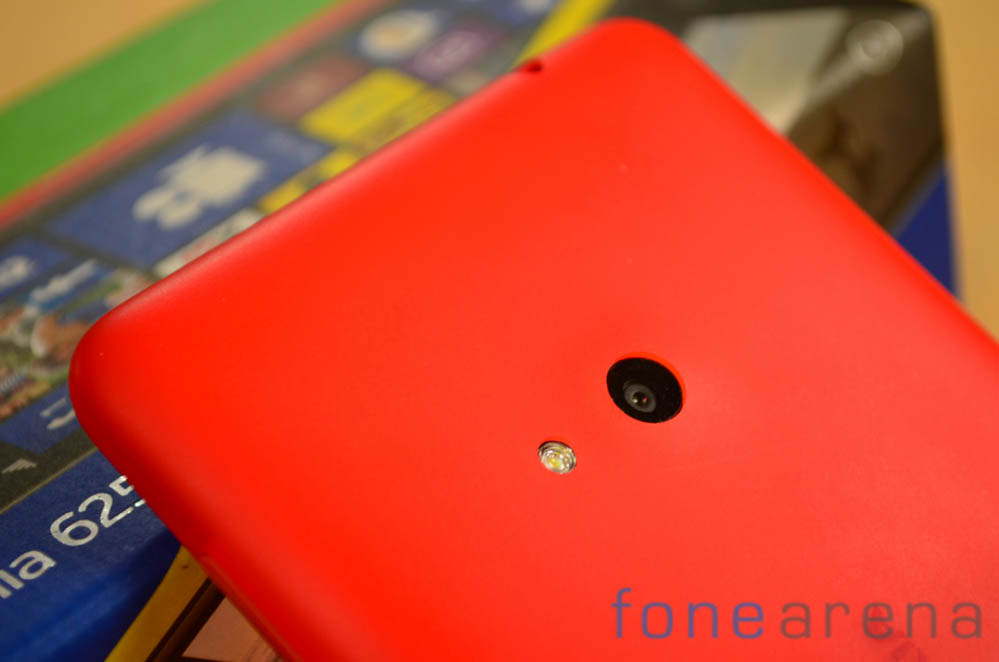 The sensor size is 1/4″ and it has an f/2.4 lens all of which combine to make it a decidedly mediocre camera. A front facing 1.2MP camera is also available.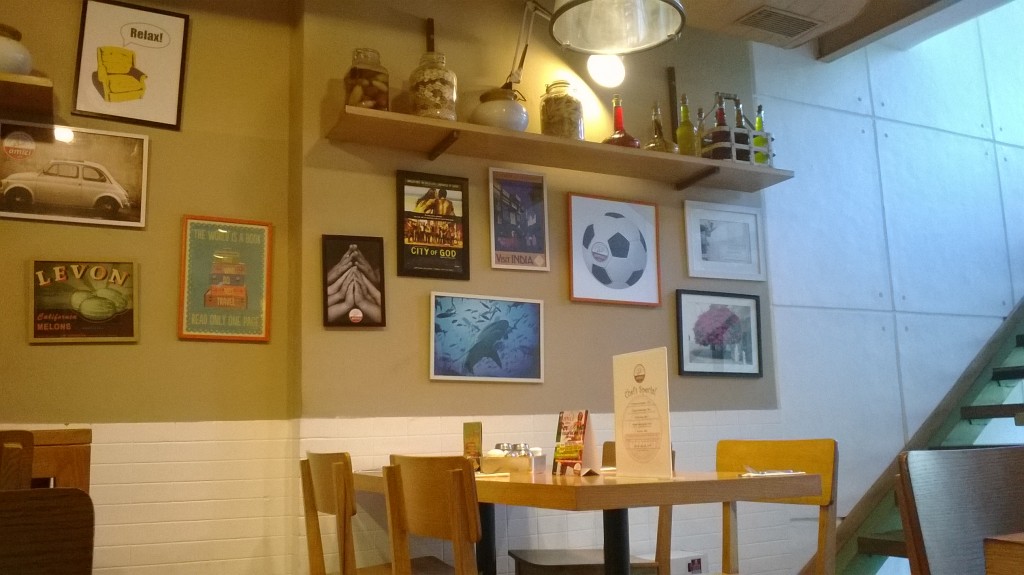 Images shot on the phone back this up and tend to range from poor to very average. Photos tend to be underexposed, noisy and in many cases out of focus.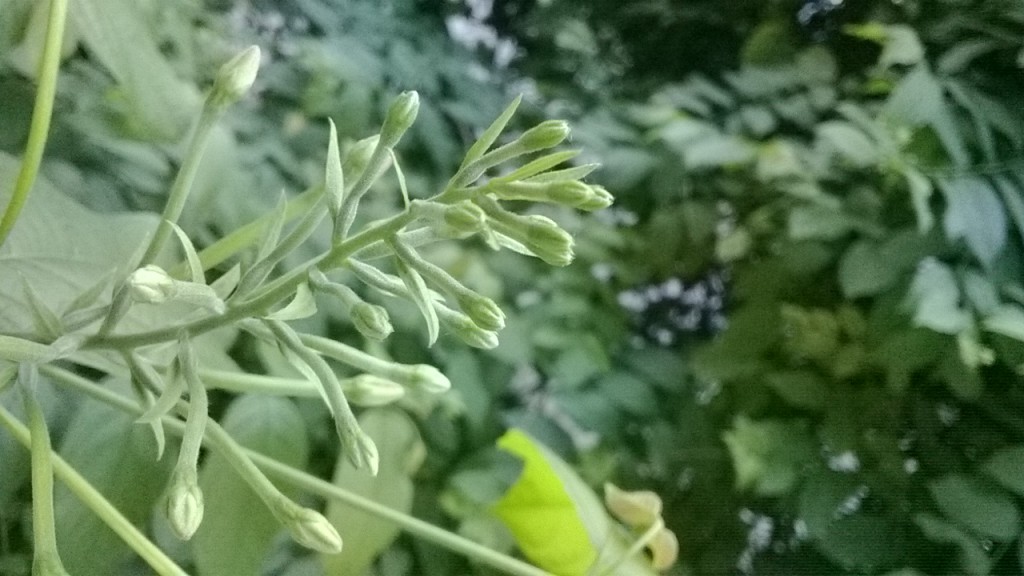 In close up shots, the camera does a decent enough job at getting a focus lock but we were very surprised to see the amount of noise in the image given the ambient lighting conditions.
Video recording tops off at 1080p resolution which unfortunately just proves to be a tick mark on the spec list. Video quality is average and the camera doesn't really capture much more detail than in 720p mode.
Multimedia
We put the handset through our regular suite of audio and video test files to see how it fares. Windows Phone's inherent limited codec support means that playing FLAC and MKV files amongst others was out of the question. Nokia Music is a truly fantastic addition to the Lumia range of devices. Offering a wide variety of curated mixes as well as the opportunity to create custom mixes that can be stored offline, the service brings the best  features of Pandora and perhaps even Spotify to your handset for free.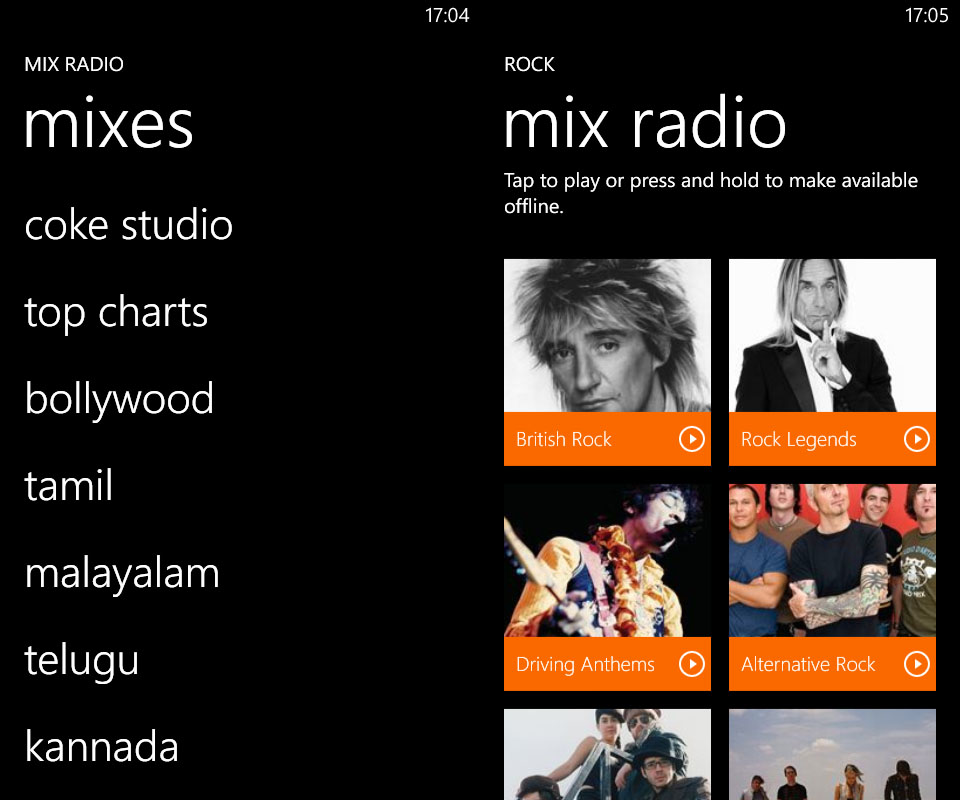 Regular audio quality is quite good and it is possible to tune this further thanks to the built in customizable equalizers, Dolby Headphone support. The GDR2 + Amber update has brought back FM Radio support and you do get the rather excellent Nokia Music service built in. Apart from the slightly lacking codec support, the multimedia experience on Windows Phone and the Lumia 625 is decent and definitely good enough for an average user.
Connectivity & Battery Life
Connectivity options on the Lumia 625 range from 4G LTE /3G HSPA+ and includes the requisite WiFi 802.11 b/g/n support. You get Bluetooth 4.0 LE onboard as well as  GPS, A-GPS and GLONASS. Of the built in 8GB of storage, users get access to about 4GB. A microSD card slot is built in to augment the fairly limited storage. Worth noting is that the compass and gyroscope sensors are missing in the phone so you will not be able to use augmented reality apps.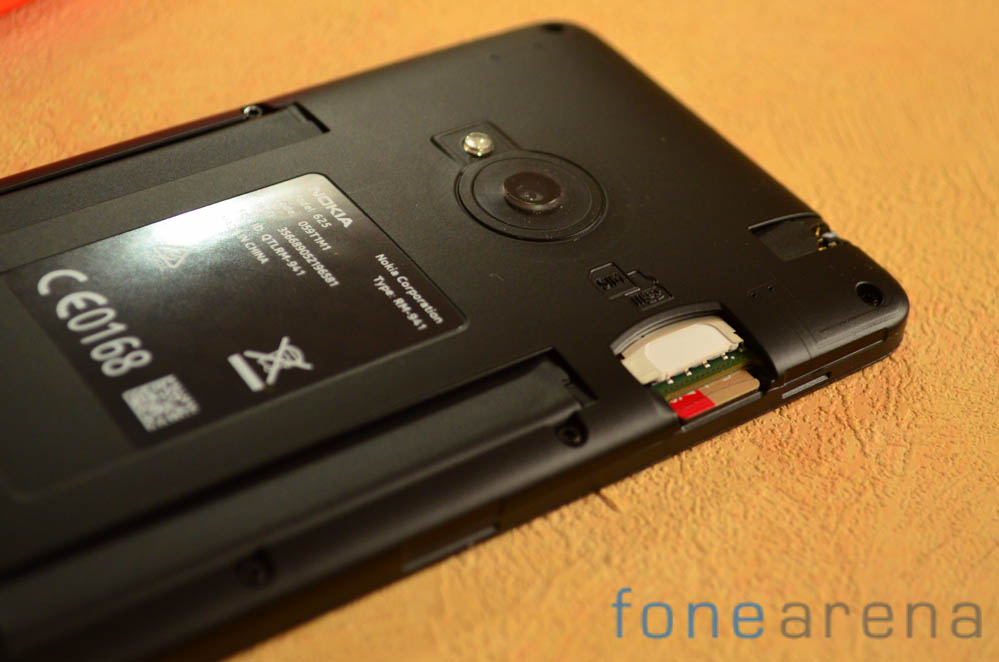 The sealed in battery is rated at 2000 mAh and battery life as such proves to be just about satisfactory. Light usage should give you over a day of usage time but ideally you should expect to charge the phone overnight.
Conclusion
The Lumia 625 is a device built for markets like India where budget devices with large screens are the trend. The handset is a bridge between entry level WP devices like the Lumia 520, 620 and flagships like the Lumia 925, 1020. There is no doubt that sacrifices have been made to reach the price point but all the essentials remain rock solid.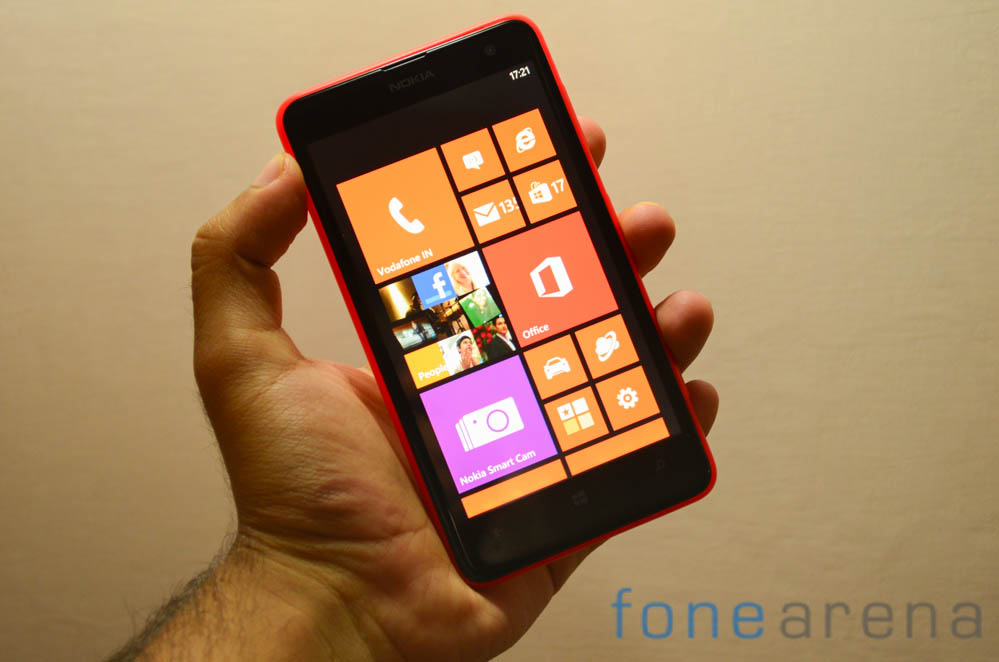 However in its cost cutting measures, Nokia might've gone too a bit too far. The disappointing camera, not very good display and the tiny 512MB of RAM are not what you expect from a Rs. 20,000 phone. Still, if your needs aren't much and you want one of the most well built devices around with a large display and Nokia's excellent software additions onboard, then the Lumia 625 is a safe bet.
Pros
Elegant design
Large sunlight readable display
Nokia's software additions
Cons
Camera
Average display
512MB RAM