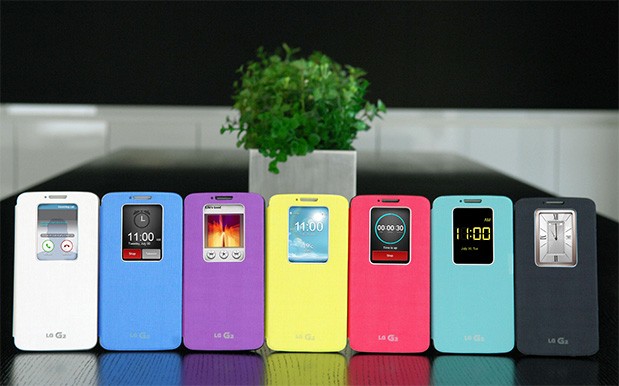 The LG G2 had been officially confirmed as the upcoming flagship phone from LG, but hasn't seen a proper unveiling yet. But that hasn't stopped the company from releasing an accessory called "Quick Window" for the phone, which is launching in New York on August 7th. The accessory, which works just like the Samsung S-View cover for the Galaxy S4, literally offers a quick window into some basic functions and lets you access some mini apps. Sporting various colours, as noted from the image above, the cover will presumably launch to retail along with the device itself.
With this announcement, LG is pitting the device directly against the Galaxy S4, the other Korean flagship, if that hasn't been obvious with all its previous flagship launches. So far, the company hasn't really cracked it, but the recent market share gains must have been encouraging for them to re-invigorate the efforts for a full spec'd flagship launch. Talking of specifications, the device is also supposed to run on the latest and greatest Snapdragon 800 processor, which we saw besting our benchmark tests recently.
httpv://www.youtube.com/watch?v=6-5DrKdyM8c
The Quick Window accessory is likely to be shown off along with the device on August 7th, and we will try our best to get a hands on of it if and when it is possible, till then stay tuned.