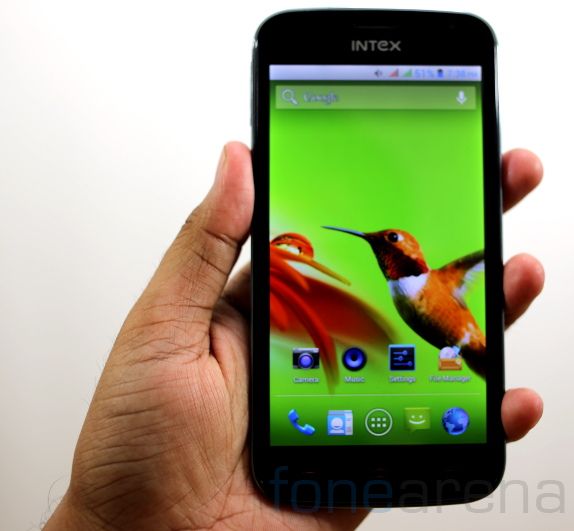 Intex had launched several Android smartphones in the Aqua series last year and earlier this year. It launched the Aqua Wonder quad-core, the company's first quad-core smartphone back in April. The Aqua I-5 that was launched last month is their flagship Android smartphone with a 5-inch qHD display. We brought you the unboxing and the benchmarks recently. The phone is priced at Rs. 11,690, cheaper than most of the similar range Android smartphone powered by a quad-core processor. Is it worth the price ? Let's dive into the review to find out.
Unboxing
Box Contents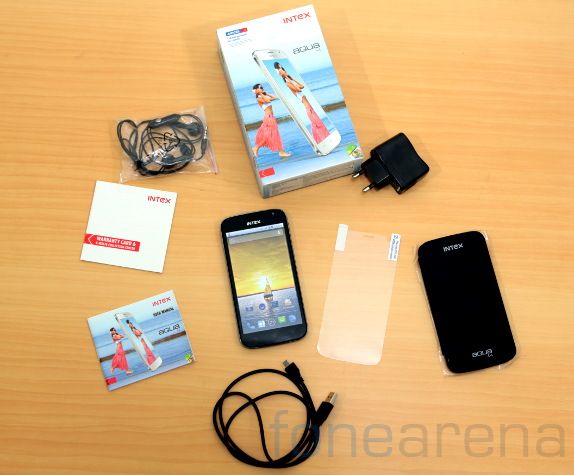 Intex Aqua I-5 smartphone
2000 mAh battery
micro USB Cable
2-pin charger adapter
Headset
Screen guard
Flip Cover
Warranty card
User Manual
Video Review
Hardware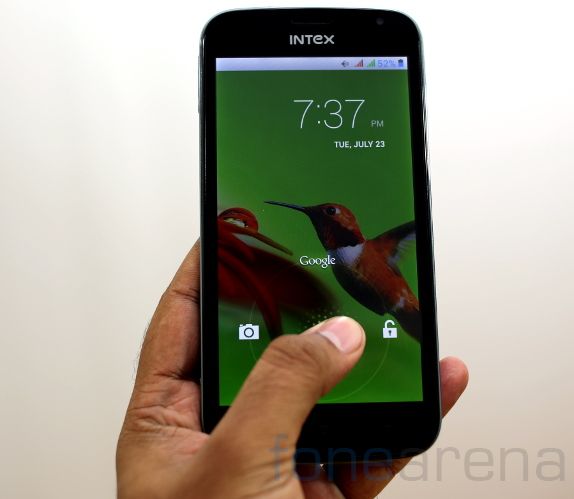 The Intex Aqua i-5 has a 5-inch IPS display at a resolution of 960 x 540 pixel at 220 PPI pixel density. The display is based on one-glass solution (OGS) technology that reduces the phone's thickness by reducing the air gap between the touch sensor, display and the cover glass. The display is bright and has great viewing angles. Since it is glossy, it is a finger print magnet.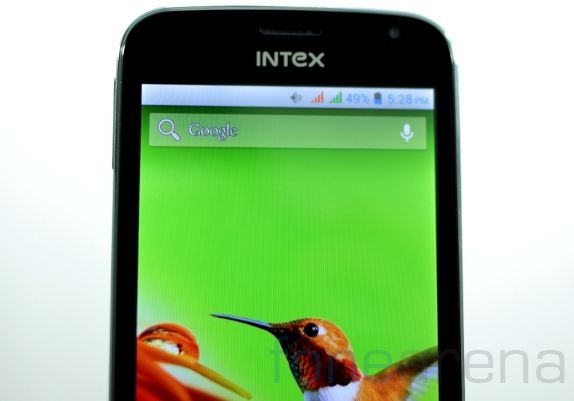 There is an ear piece on top along with a 2-megapixel camera. The Proximity and Ambient light sensors are present next to the camera.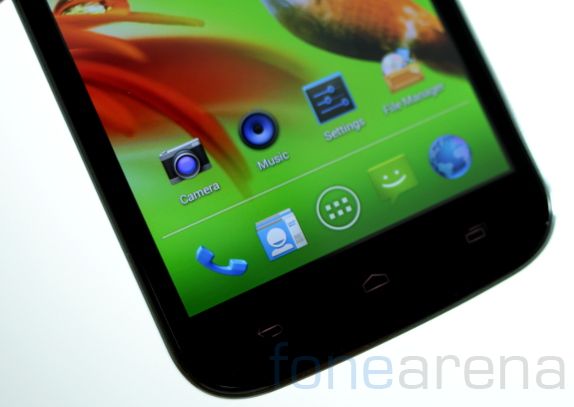 Below the display there are capacitive touch buttons for Back, Home and Menu. These light up and but don't offer haptic feedback when pressed.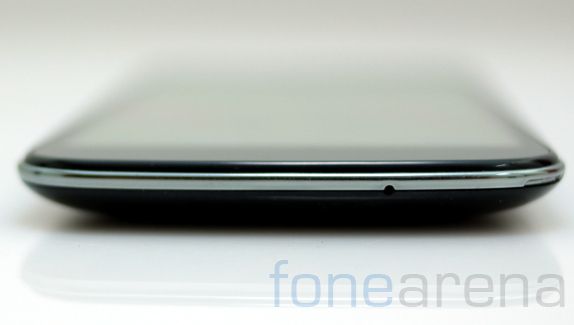 There is a tiny microphone on the bottom rim.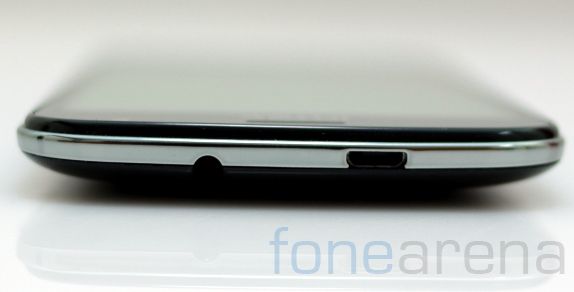 On the top there is a 3.5mm audio jack and a micro USB slot.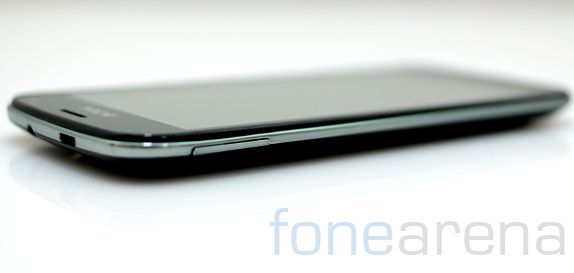 On the left side there is a volume rocker.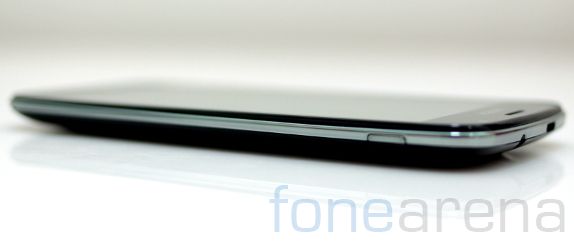 On the right side there is a power button. Since the power button is too small, it is hard to unlock the phone quickly.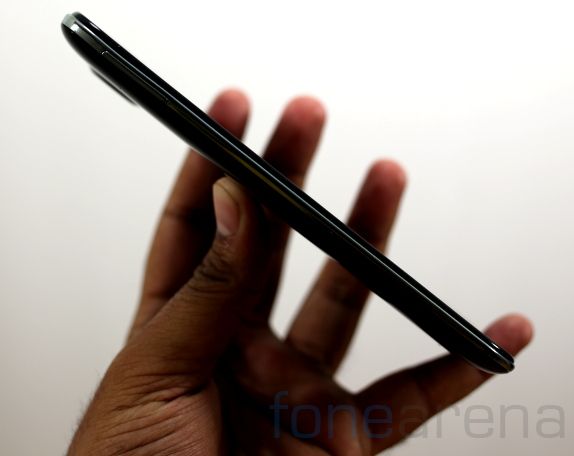 The phone is just 8.8mm thick and weighs 155 grams. It has a chrome rim running on the sides which gives it a premium feel.
Back of the phone houses a 12-megapixel auto focus camera. You can see the hump on the camera part due to the large sensor. There is an LED flash next to it. The back cover is very shiny hence it is a fingerprint magnet. The phone also comes in white color.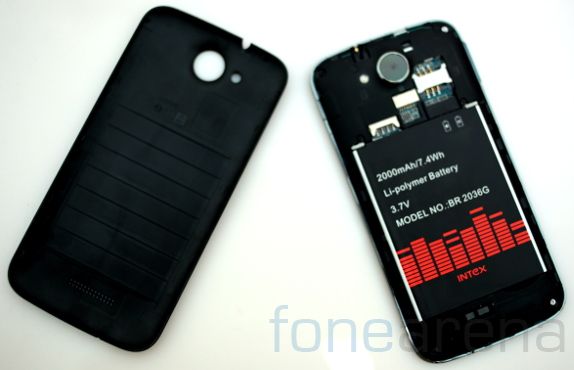 When you open the plastic back cover, you can view the large battery, SIM card SD card slots.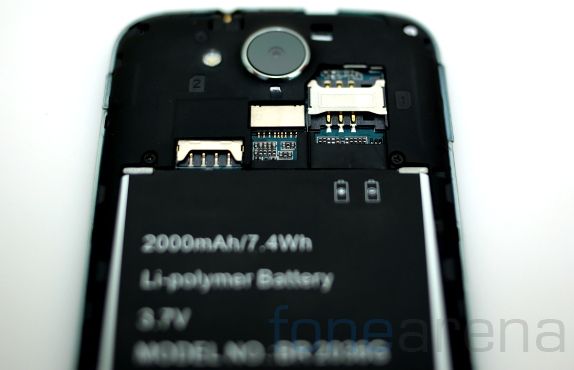 The SIM 1 and SIM 2 slots are placed below the camera. There is a microSD card slot is between them, that lets you expand the memory up to 32GB. The SIM 1 is a normal slot, while the SIM 2 accepts a micro SIM card.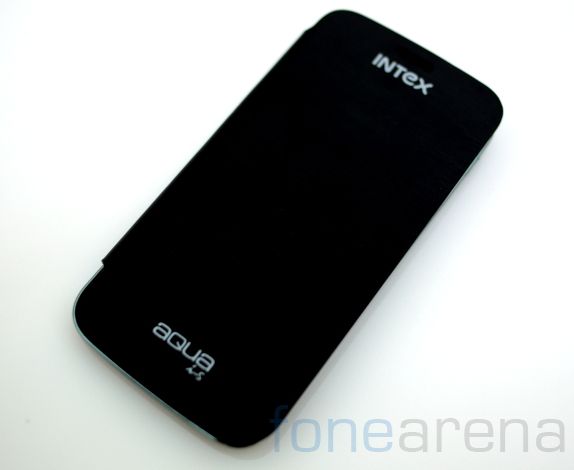 Intex offers a flip cover with the phone, which is pretty useful.
Camera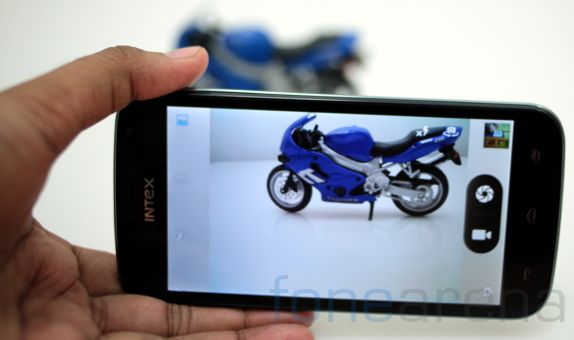 The 12-megapixel camera takes nice shots. Even macro shots were fine. The camera UI is similar to other phone. The camera UI is similar to other Android phones from local OEMs running Android 4.2. Since this is runs on Android 4.2, it support lockscreen widgets that lets you launch the camera directly from the lockscreen. It has a navigation bar on the left pane that lets you change the different camera modes including HDR, Panorama, Burst mode, Smile shutter and more. There is a flash toggle and option to switch between either cameras on the top. You can just swipe to the left to view previously shot images or videos. The settings menu lets you enable GPS location, adjust exposure, white balance, add color effects, change the scene mode and adjust anti-flicker mode. The continuous shot option lets you shoot 4,8 or 16 shots at once. You don't get Google Photo Sphere that is present in the stock version of the Android 4.2.
Here are some camera samples
Even though the phone has a 12-megapixel camera it records videos at a maximum resolution of 720p since it is powered by a quad-core MediaTek 6589M processor. The Electronic image stabilization (EIS) could be enabled from the settings that uses software enhancements to minimize blurring and device shake. The phone doesn't have a secondary microphone so the audio is not crisp.
Here is the 720p HD video sample
Check out the Intex Aqua I-5 Camera Review to know more about the phone's camera in detail
Software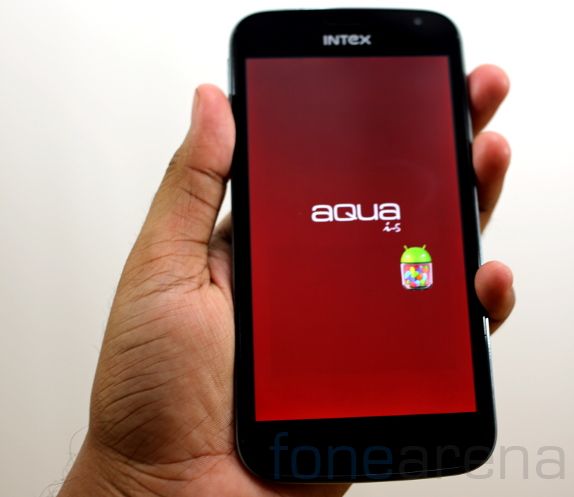 The phone runs on Android 4.2.1 Jelly Bean. So you get lot of features that are not available on the Android 4.1, including lockscreen widgets, Day dream, Quick Settings, Photo filters in the gallery and more.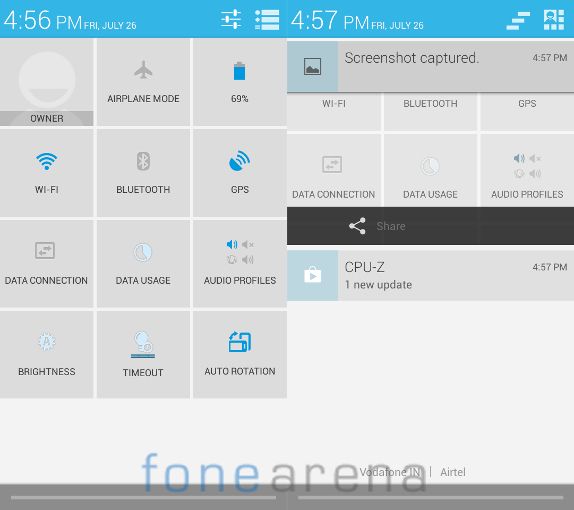 Instead of black background in the top bar and the settings Intex has used White or Grey background. This did not impress me personally. You get the Quick Settings along with the rich notifications. This lets you control Brightness, WiFi, Airplane mode and Bluetooth. In addition there are shortcuts for Data Connection, Data usage, Audio Profiles, Timeout and Auto rotation that are not available in the stock Android. You can hold some of these quick toggle buttons to get to the advanced settings.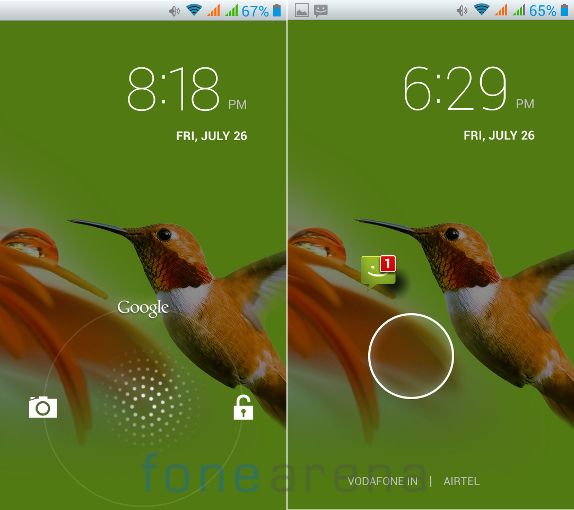 Unlike the lock screen in other phones from local OEMs running on Android 4.2. This has lock screen like Android 4.1 that lets you launch Google Now just by swiping up from the lock screen. You can also launch the camera quickly from the lock screen by swiping to the left side. You can also drag and drop a SMS and Missed call notification directly in the ring in the lockscreen to open it.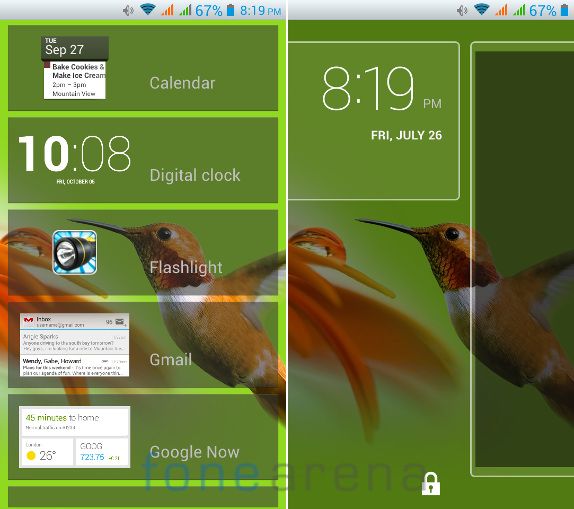 The lock screen lets you add widgets. You can add a range of widgets including Gmail, Clock, Messaging, Sound Search and more. You can also swipe to the right to launch the camera directly from the lock screen. In addition to the Slide, Face Unlock, Pattern, PIN and Password this one has Voice Unlock that lets you record a command and say it to unlock the device. The Daydream option in the display settings acts as a screensaver when the phone is charging or docked.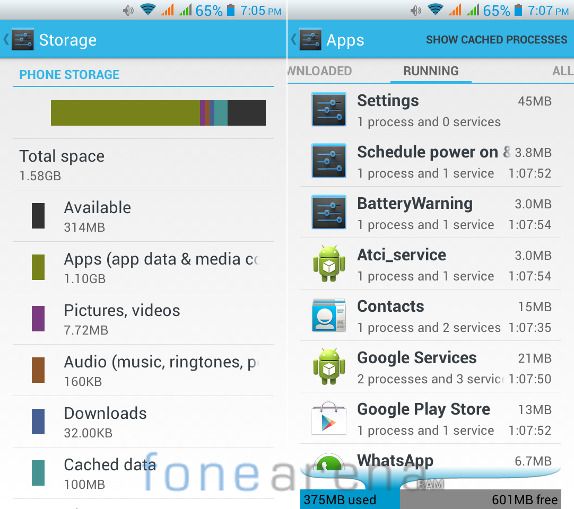 Out of 4 GB of internal storage you get 1.58 GB of user storage. Out of 1GB of RAM, you get 975MB of usable RAM. About 600MB of RAM is free when the phone is idle.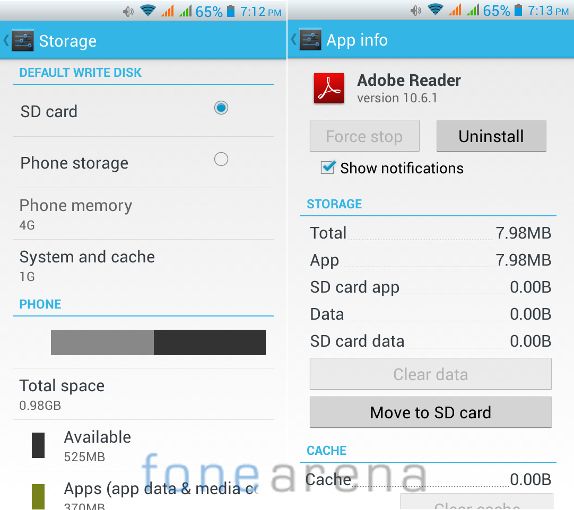 You can also set default write disk and move the apps to the SD card, which is a useful feature.
Apps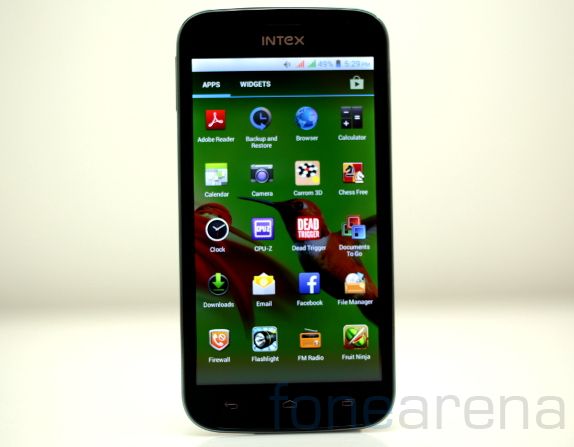 The phone comes with a lot of pre-installed apps.The utility apps include, Calculator, Calendar, Clock, Gallery, File Manager, Flashlight and Sound Recorder. It also comes with the usual set of Google Apps. Other than these you also get pre-installed apps such as Adobe Reader, Documents To Go (to view and edit office files), Firewall app to (block calls and SMS), Flashlight, Intex Play app store, Intex Zone that has Auto Call Record option, Opera Mini browse r, Saavn online music streaming app, WhatsApp and Vault app powered by NQ Mobile that lets you hide Hide SMS, Images, Videos and more. It also couple of games such as Carrom 3D and Chess.
Music Player and FM Radio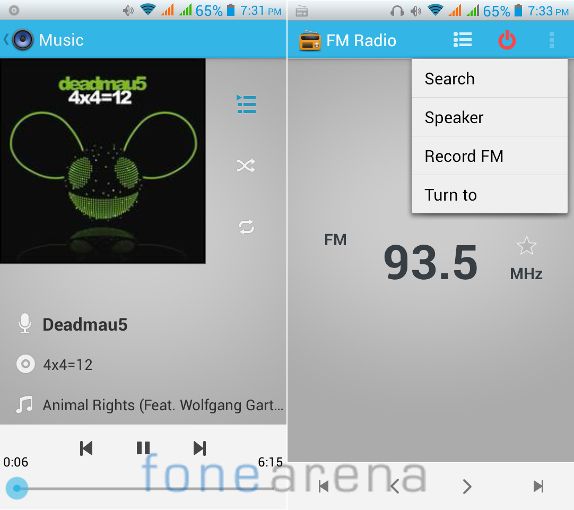 The music player is simple, and can play MP3, WAV, AMR and AAC audio formats. The sound effects equalizer settings has different equalizer presets. You can also enable Bass boost and 3D effect features once you connect your earphones. The FM Radio has option to record, but it lacks RDS feature that is present in most of the phones. Audio output via earphones is good. Loud speaker output is good, but the audio gets suppressed when you place the phone on its back. Both the music player and FM Radio have white background. The video player can play 3GP, MP4, AVI videos. It can handle 720p videos, but it can't play 1080p full HD videos.
Calls and Messaging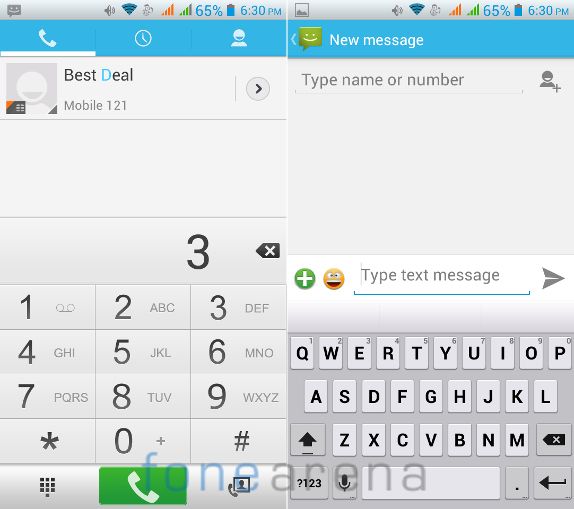 Calls went though fine without any dropped calls. Call quality could be better. Since this is a dual SIM phone, you get options to switch to either SIM cards from the notification bar. The keyboard is stock, but it doesn't come with gesture typing like the stock Android 4.2.
Dual SIM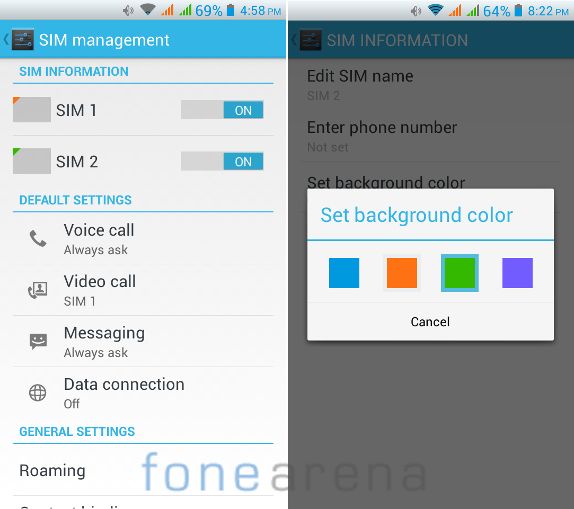 There is a SIM manager option in the settings that lets you set a default SIM for several operations including voice call, video call, Messaging and Data connection. You can also choose 'Always ask' option for voice calls and Messaging that gives you option to complete the operation after you choose either SIM cards.
Connectivity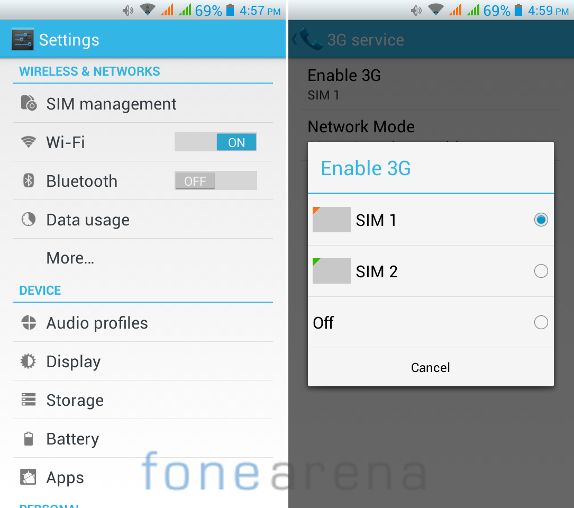 The connectivity features include, 3G, Wi-Fi 802.11 b/g/n, Bluetooth v 4.0 with A2DP and GPS. It has support for wireless display. You can share content from the phone to a HDTV by connecting a wireless display adapter to a HDMI-enabled TV. This comes as default in the Android 4.2.
Performance and Benchmarks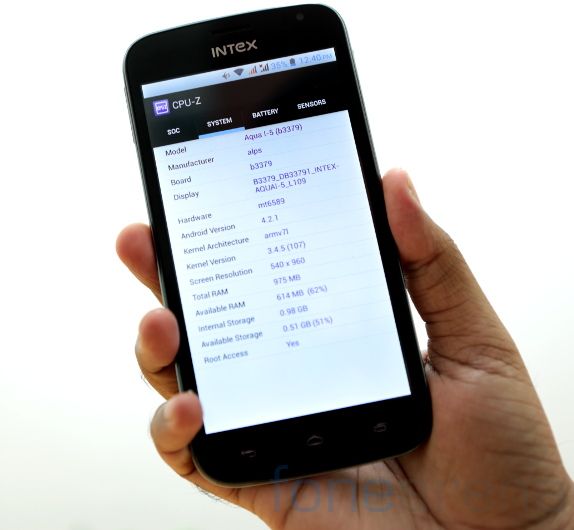 The Aqua I-5 is powered by a 1.2 GHz quad-core MediaTek MT6589M processor and runs on Android 4.2 (Jelly Bean). It has 1GB RAM and features a 5-inch qHD (960 × 540 pixels) display. It topped some benchmarks.
Quadrant Benchmark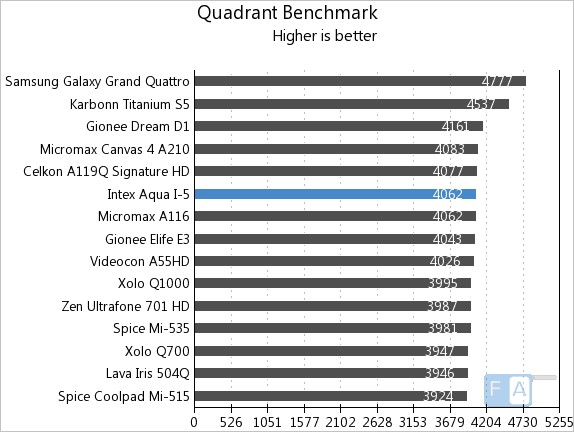 It clocks over 4000 points in the Quadrant benchmark.
AnTuTu Benchmark 3.3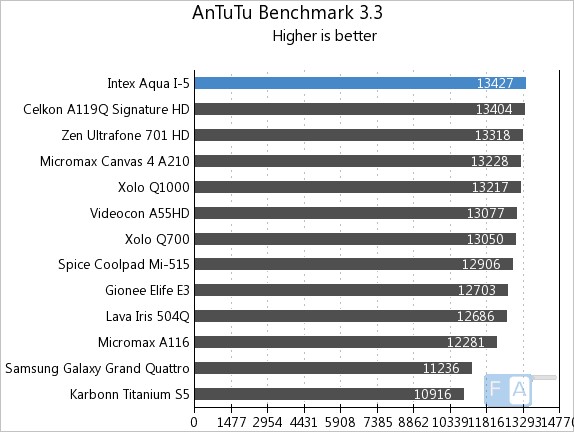 It tops the AnTuTu Benchmark 3.3 with over 13400 points.
Vellamo 2 HTML5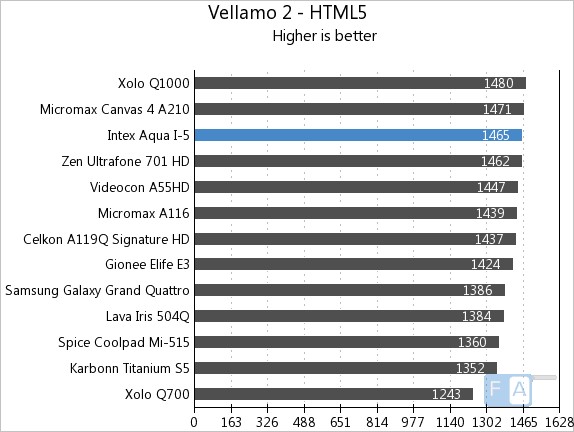 It scores 1465 points in the Vellamo 2 HTML5 browser benchmark.
Vellamo 2.0 Metal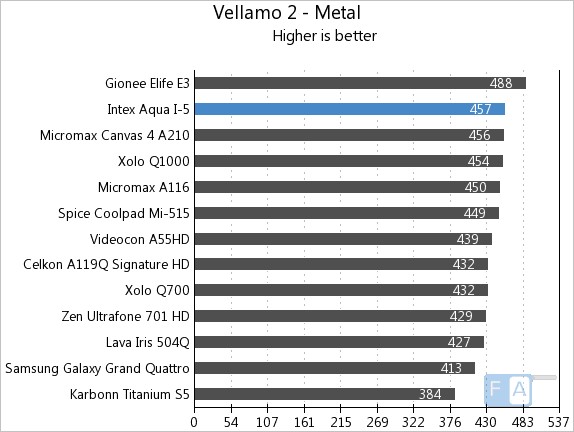 It scores 457 points in te Vellamo 2 Metal CPU subsystem performance test. Check out the complete set of Intex Aqua I-5 Benchmarks here.
We also tried some games which were smooth.
Asphalt 7 on the Aqua I-5
NFS Most Wanted on the Aqua I-5
Intex Aqua i-5 Gaming Review
Battery life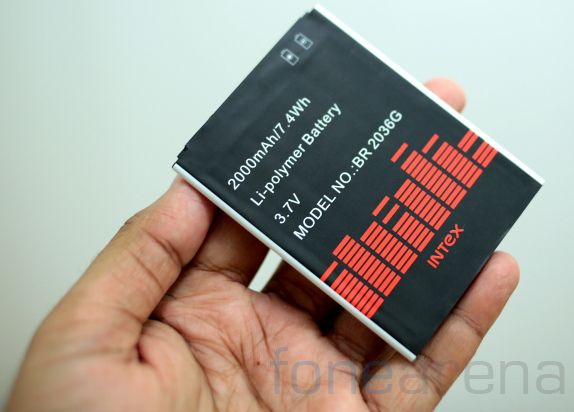 The phone has a 2000 mAh Lithium Polymer battery. It offers one day of battery backup similar to most of the 5-inch smartphones in the market. If you are a heavy user it'll last a less than a day.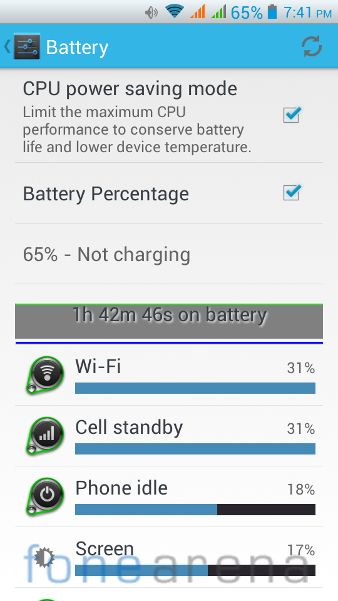 The phone also has CPU power saving mode in the battery settings that limits the CPU usage to conserve battery life and lower the temperature of the device. It works to certain extent, but you can't depend on it. Since this limits the CPU, you need to turn this off before playing games.
Conclusion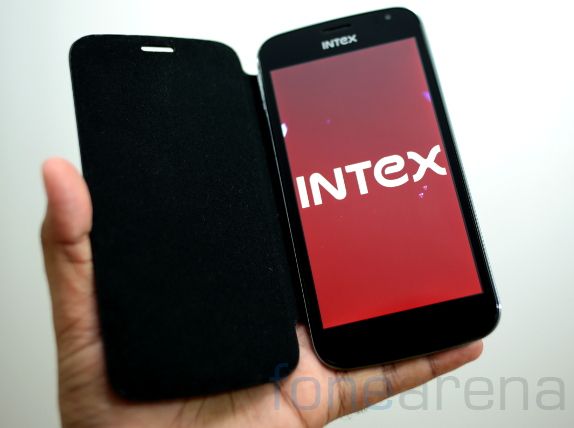 Overall, the Intex Aqua I-5 is a good smartphone when compared to other smartphones in the similar price range. It has good display, camera, powered by a quad-core processor and runs on the latest Android 4.2 Jelly Bean OS. At a price tag of Rs. 11,690, it goes head to head with the Karbonn Titanium S5 that lies in the similar price range. You also get a free flip cover, which is a good thing. If you are looking for a smartphone with a good display, latest Android OS and a quad-core processor, go for it.
Pros
Good display
Good performance
Good camera
Cons
720p HD video recording
Power /lock button is very small