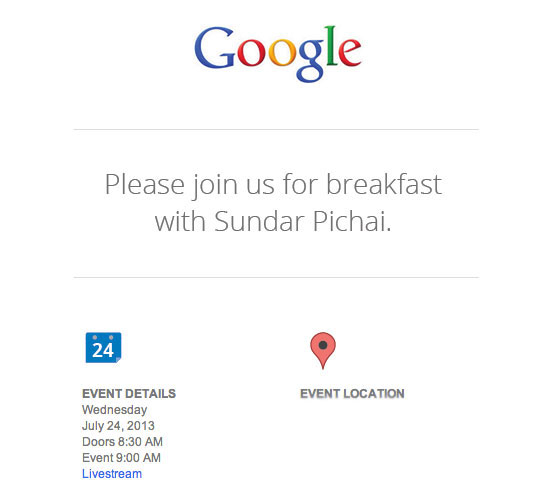 The latest version of Google's Android – 4.2 Jellybean was announced nearly 8 months ago and we did not get to see the new version even in the Google I/O event held during May. However, we may soon get the next version as Google is holding a press event with Android and Chrome's chief Sundar Pichai on 24th July. Google has sent out invitations for the media inviting them to an event in San Francisco.
According to the invite, no solid details were given regarding anything. The invite just said "Please join us for breakfast with Sundar Pichai". Sundar Pichai recently became the chief for Android after Andy Rubin departed. Even at the Google I/O event earlier this year, it was Pichai who took to the stage and gave statistics regarding the number of Android devices activated and the number of apps downloaded.
At the event, Google is expected to announce the next version of Android (most likely Android 4.3 Jellybean) and the next Nexus 7 tablet. The event is expected to be big as the event location is the same place where Google unveiled its Chromebook Pixel. Also the event will be live-streamed on Google's YouTube channel.
Via: TNW
Report contributed by Monish Kumar