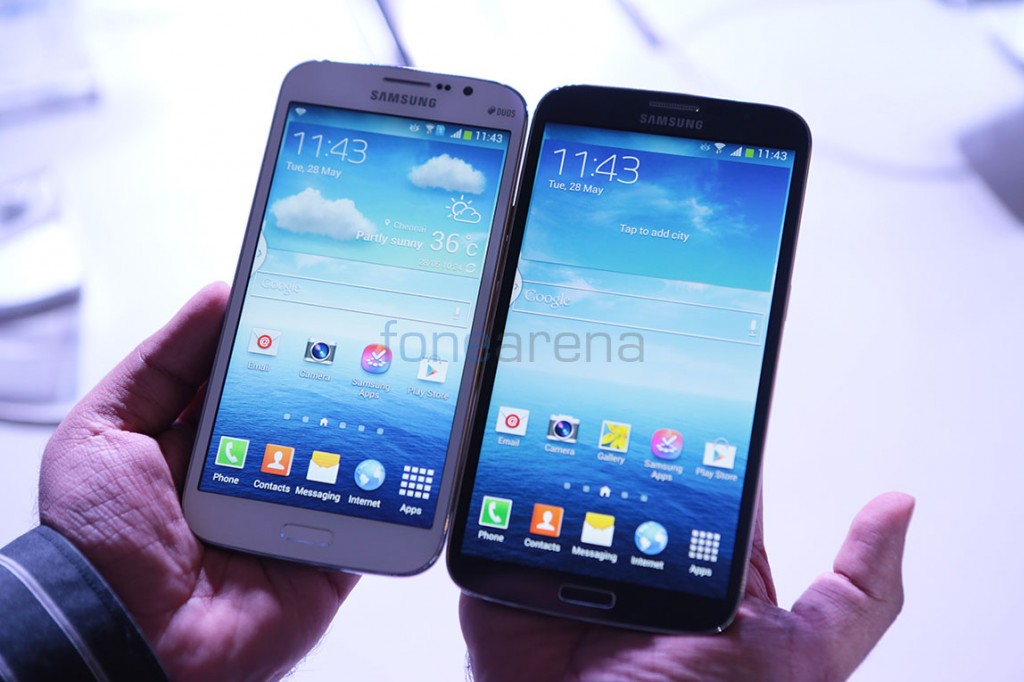 Samsung has launched the two new Galaxy Mega 5.8 and Galaxy Mega 6.3 devices here at a launch event in Chennai. The two devices are expected to serve the purpose of the burgeoning "big screen devices" market which Samsung itself contributed in creating it with the original Galaxy Note. These "Mega" devices are true to their name and they are indeed huge. But there are two Mega devices and I am sure, you, like us, would be confused as to which is which and the exact differences between the two. So, here are some photos comparing the two Mega devices. First up, the video comparing the two –
httpv://www.youtube.com/watch?v=QAP7WV1ld3I

As you can see above in the first picture, both are obviously sporting a similar design, now in line with the design elements of the Galaxy S4 hardware, with a patterned look in the front as well as the back. Talking about the back –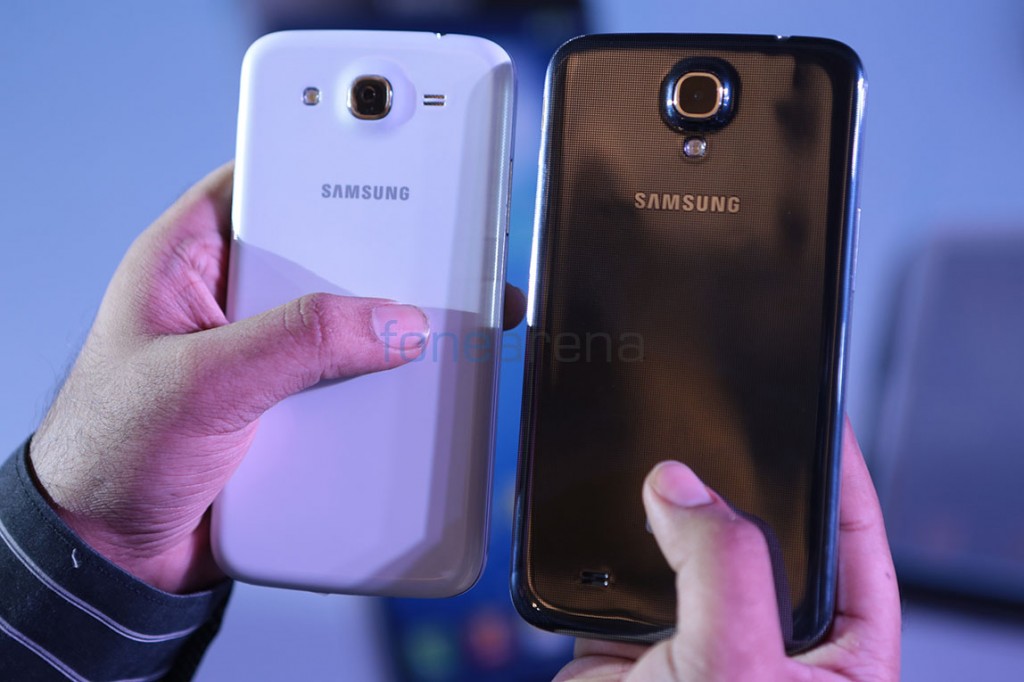 Both are shiny and glossy and have a nice pattern to it. Over at the back both have a 8 MP camera capable of taking 1080p videos, with a single LED flash in tow. The loud speaker positions have changed and beneath the cover, the batteries are different too, with the 5.8 inch version boasting a 2600 mAH battery while the 6.3 inch version sports a massive 3200 mAH battery. The 5.8 inch version launched in India is a dual SIM version, with two micro SIM card slots beneath the battery cover. Both have a micro SD card slot too, with support up to 64 GB capacity.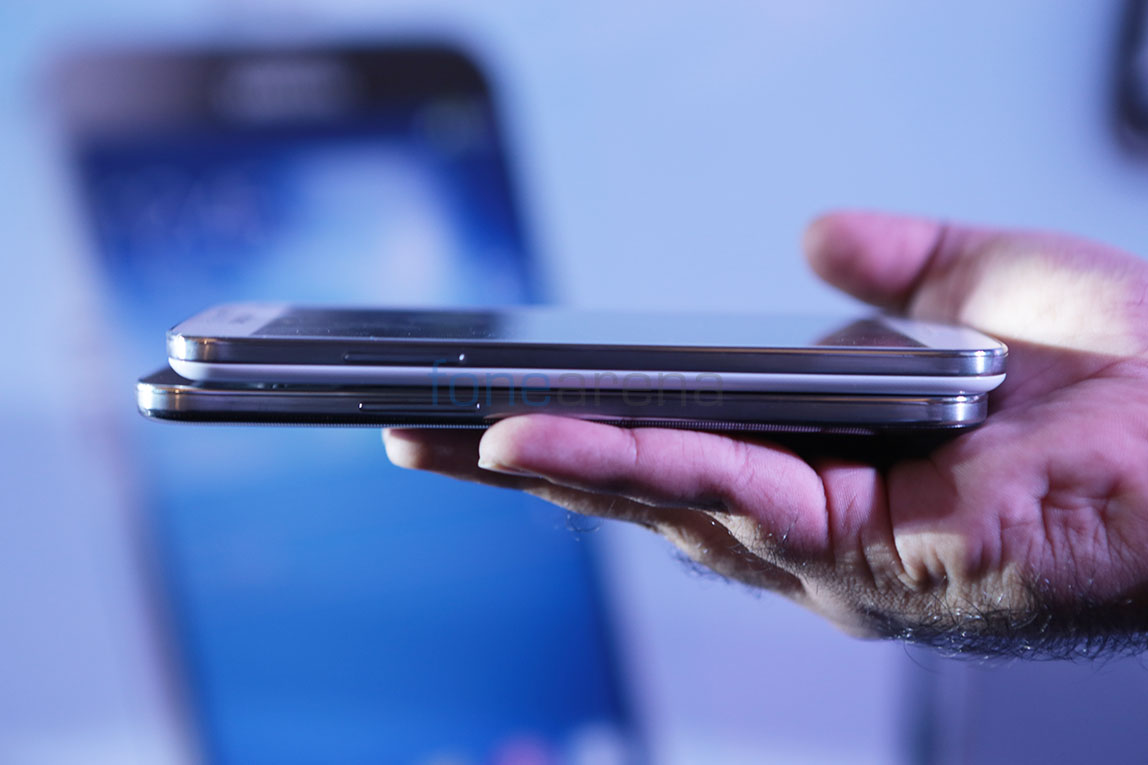 Comparing the dimensions, the 5.8 inch version comes at 9mm of thickness and weighs 182g while the 6.3 inch version comes at 8mm of thickness while weighing a whopping 199g. But the most surprising fact is, the 6.3 inch version feels a lot less heavy than the 5.8 inch version mainly due to the fact that the large surface area can balance the weight out and distribute it evenly. So, in reality, the 5.8 inch feels a lot heavier than the other.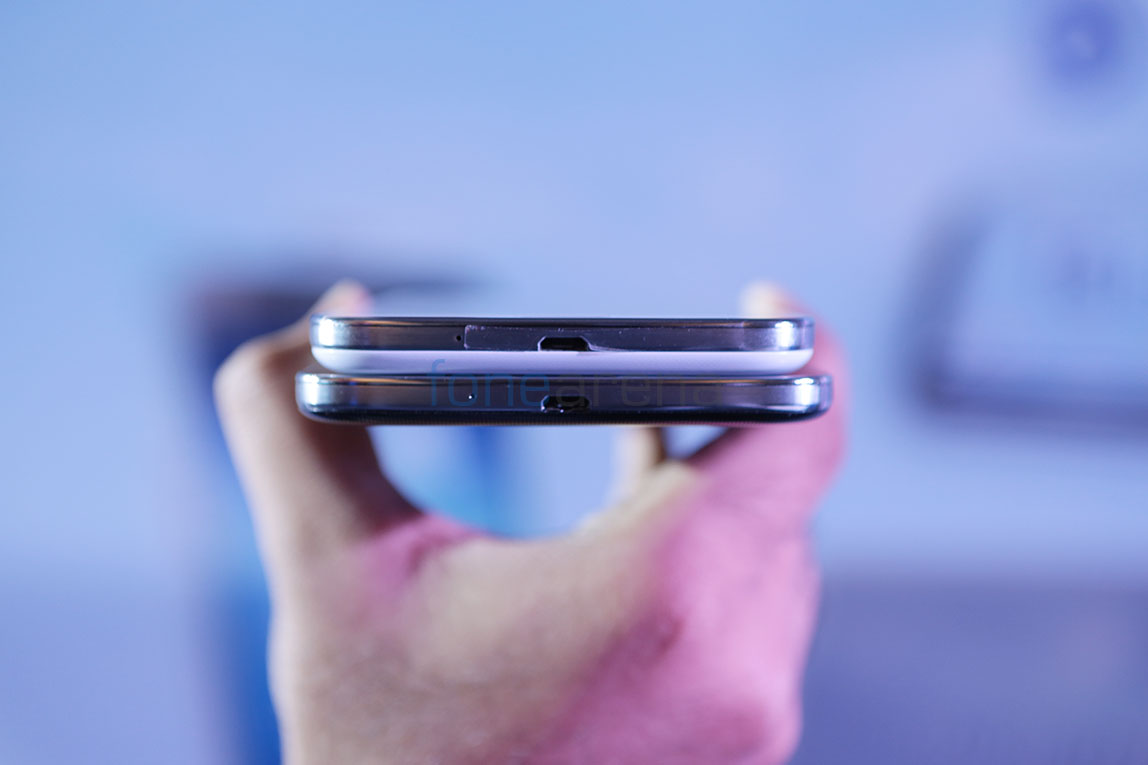 Another interesting addition to the 6.3 Mega that is missing in the 5.8 inch version is the IR LED on the top. Here is a summary of the exact differences between the two –
5.8 inch qHD 960×540 TFT screen vs 6.3 inch Superclear LCD 1280×720 HD screen
8 GB internal memory on the 5.8 vs 16 GB on the 6.3
9mm, 182g (5.8) vs 8mm, 199g (6.3)
Dual SIM (5.8) vs Single SIM (6.3)
8 camera modes (5.8) vs 10 camera modes (6.3)
1.4 GHz Broadcom SoC (5.8) vs 1.7 GHz Qualcomm Snapdragon SoC
2600 mAH battery (5.8) vs 3200 mAH battery (6.3)
AirView, IR LED and NFC present on the 6.3 inch version while it is missing on the 5.8 inch version
Price – 25,100 INR (5.8) vs 31,490 INR (6.3)
Here are some more photos of the devices in comparison –

Bharadwaj contributed to this report.