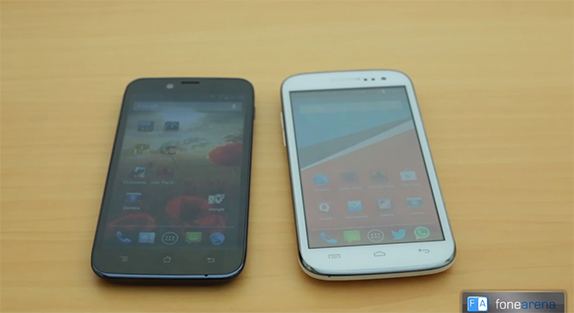 We got to unbox and review the Karbonn Titanium S5 recently and found it to be a good enough phone for the price. Since we had the Micromax A116 Canvas HD lying around, and also since there are a lot of similarities in the form factor and somewhat the price, we decided to compare them both. Here is a detailed in-depth look at the comparison of Karbonn Titanium S5 vs Micromax A116 canvas HD –
httpv://www.youtube.com/watch?v=3RpehhDhbUU
The design of both the phones are similar. Rounded corners and slim profiles make them look remarkably similar. However, the Karbonn has the better build quality and even arguably the design. The only negative we would say, on the Titanium S5 is the fingerprint magnet back panel, but it is so much better than the dirty back panel on the Canvas HD.
Talking of the dimensions, the Karbonn Titanium S5 is 8.95 mm thick which is a lot thinner than the 10.7 mm thickness of the Canvas HD. Overall, we think that the S5 does feel more solid and sleek.
Coming to the display, the Karbonn S5's 5″ 960×540 qHD IPS pales in comparison to the Canvas HD's 5″ 1280×720 IPS. But wait, while the pixel density of the Canvas HD is higher at 294 ppi, the brightness, viewing angles and colour reproduction of the S5 is arguably better. So, which display is better? Depends on your needs,. crisper screen on the Micromax whereas a overall decently performing display on the Karbonn Titanium S5.
Coming to the internals, both these devices are quite different. The Karbonn S5 runs on a Qualcomm chip – the  Snapdragon 200, with a quad core 1.2 GHz Cortex A5 processor and Adreno 203 graphics while the Canvas HD runs on the MediaTek MT6589 chip with a 1.2 GHz Cortex A7 Quad Core processor and PowerVRSGX544MP graphics. Both have 1 GB of RAM and 4Gb internal storage. The performance of both these devices is very similar, but S5 seems slightly smoother and comes out better in some benchmarks, but the Canvas HD is no slouch at all, performs equally good in day to day usage.
The rear facing cameras on both the devices are 8 MP. They are not great cameras by any extent, but the overblown highlights on the Canvas HD is not present on the Titanium S5, making it slightly better. One caveat with the S5 Titanium though, is that the Canvas HD can record 1080p while the S5 can record only 720p. Not a huge difference, but a difference nonetheless. We also noted that the video quality is better on the Canvas HD.
Software wise, both are very similar with a stock like interface and running on Android 4.1.2 jellybean. They are not very feature rich in terms of functionality and extra features offered on other handsets but both have custom apps for dialer and messaging, to use the abilities of the dual SIM functionality.
Concluding, it's a tough choice between the two, if you want a crisper screen and a better video capture, get the canvas HD, else you can settle with the Titanium S5 which is really good in build, display contrast/viewing angles and the still camera. So, that is our opinion, what is yours? Do let us know in the comments section below!