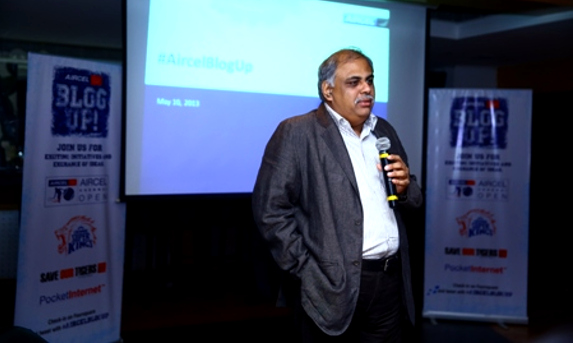 After the successful Aircel Blog Up event in Delhi on March 15th, Aircel conducted the Aircel Blog Up Chennai edition on 10th May 2013. At the event, K. Sankara Narayanan, Regional Head, Regional Business Head, Aircel Chennai & Tamil Nadu said that they are gearing up to start pilot run for 4G LTE services in Chennai by the end of 2013 or early 2014. Aircel has 20 MHz spectrum on 2300 MHz in 8 circles including Andhra Pradesh, Tamil Nadu (including Chennai), West Bengal, Bihar, Odisha, Assam, North-East and Jammu & Kashmir. He also discussed Aircel's other initiatives and offerings in voice, data and VAS.
Key facts about Aircel's data business
Data revenue doubled in CY-2012 YoY
Data contributes to more than 35% of VAS revenue
3G contributes to 40% of total data revenues
3G users grew more than 3 times in 2012
Now there are more than 50% data (2G and 3G) in Aircel
Data usage per person has gone up to 190MB
Aircel is the official sponsor of the Chennai Super Kings. In recent months the operator has launched several initiatives including contests, offers and more.
Aircel's recent initiatives and plans
Aircel plans to launch many such offers and launch several initiatives in coming month. Hope we can expect Aircel to roll out 4G LTE services by 2014.