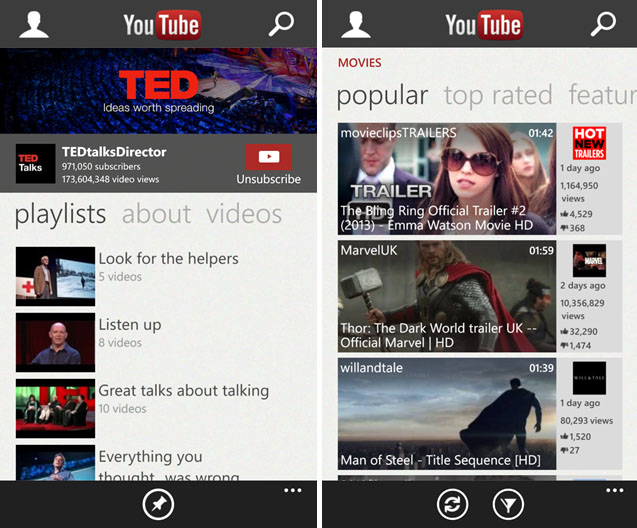 Microsoft and Google have not always been best of friends by any means and that had meant no official blessing for any Google services on Windows Phone. It was a huge pain for people using Google services and they were huge in number. YouTube is also one of the most used Google services, probably next to Gmail, and its official app on Windows Phone, published by Microsoft was a link to the mobile web version of YouTube until today. Now, the official app, still made by Microsoft has gotten a huge update and is finally a real app. With support for every YouTube client feature you'd want, the app has been finally released onto the Windows Phone store.
According to Microsoft, here are the exciting features of the all new YouTube app –
Pin videos, playlists, channels, and even search queries to Start as Live Tiles for fast access. The tile flips to show either the latest video from your subscriptions or the most popular one.
A new and innovative playlist design gives you easy access to videos using a touch-friendly filmstrip.
Just want to listen to a video? It now plays in the background even when the screen is locked.
You can share videos to popular social networks, and via email and text.
In addition to all the above features, Microsoft has also added support for Kids corner, making the YouTube app display only videos that are in accordance with YouTube's own Safety mode. Pretty cool add-on for conscious parents.
Overall it is completely surprising that the app is finally out. Mainly because Microsoft was adamant in saying that Google is not letting them access YouTube metadata and even filed a complaint saying they have a fully functional YouTube app ready, but no go from Google. May be Google has finally let go? Anyways, it is good to see at least one Google service taking up official status with a fully functional app on Windows Phone. We really hope it means a Windows RT app is on the way too.
You can get the Windows Phone 8 YouTube app here, and yes, a Windows Phone 7.5 version is apparently in the works too.
Source Windows Blog